The newest face of CoverBoy breaks the mold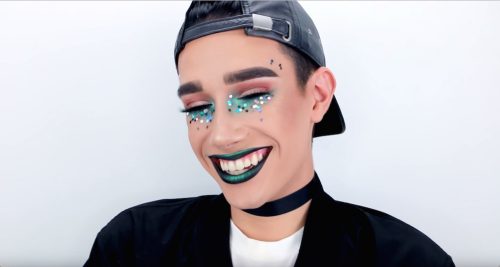 Easy, breezy, beautiful, CoverBoy. This is now the reality for YouTube personality and 17-year-old James Charles as he became the first male to grace the ads of CoverGirl. Charles, who rose to fame for his makeup tutorials on social media, made his CoverGirl debut during a commercial shoot with singer Katy Perry, marking the first time since it was founded in 1961, that a CoverGirl representative will be male. Gender boundaries have been broken in the fashion industry numerous times this year, with celebrities such as Young Thug and Jaden Smith. However, Charles joining the CoverGirl legacy hits a little closer to home.
Growing up, I was obsessed with the hit reality series, America's Next Top Model. Every week I would tune in as host Tyra Banks pushed models to their full potential with outrageous fashion shoots and challenges. When the credits started to roll, it was my turn to put my skills to the test. I had a fire-cracker personality like Janice Dickison, a strut like Miss J and a "smise" like Tyra. My bedroom was my runway, and my mirror was my camera. While some young boys imagined their action figures to be athletes or superheroes, mine were models fighting for the chance to "be on top."
Until now, this was a secret. Being a young black man in society, breaking out of my "man box" was unheard of. As men, we are confined to these little boxes, of what we are "supposed" to be. We are taught to believe that we are hyper-masculine beasts who have no emotions, and prey on women. Men aren't taught to be pretty, in fact, it's an insult. Handsome is more appropriate, and even then, you're walking a thin line. You didn't pick up blush, you picked up a basketball. Oh, and if your friends found out that you were perfecting your runway walk, and uttering your best "easy, breezy, beautiful," you just sentenced yourself to a lifetime of bullying.
What Charles represents is that freedom to be authentically you, and defy societal expectations. Nan Zabriskie, head of makeup and wigs for The Theatre School at DePaul, looks at this progression as something that was a long time coming.
"It's not like this is brand new that boys wear makeup. It's just come to form," Zabriskie said. "It's a continuation of gender flexibility we've been exploring in art. It makes total sense. James Charles is adorable. It's not drag, transgender or transvestite. It's boys wanting to have beautiful makeup on. It's one tool for him to express himself. I think it's fabulous."
University of Minnesota senior Arianna Olsen agrees, believing that media representation is correlated with how individuals associate what is considered societal norms.
"I think it's dope that this dude is in the public eye, but it's not a new thing," Olsen said. "Media is so important in the way people perceive what is okay, and what is not okay. Having a full representation of everything and everyone in whatever they want is a good thing to have."
Many critics have brought to attention how CoverGirl could have used this opportunity to accommodate for other marginalized identities; specifically looking at the absence of people of color and trans individuals in these campaigns.
DePaul University sophomore Leena Almasri acknowledges these concerns, but wants to remind others that any form of progression deserves praise.
"I think any step is a step forward, but it would have been a stronger statement if they used a person that was trans, or a person of color. It's okay because they are trying, but they can try harder," Almasri said.
Charles has his strong social media following to thank for his success. With over 650,000 followers on his Instagram account and more than 90,000 subscribers on his YouTube channel, he not only is a CoverBoy, but a social media superstar. Olsen expresses the power of social media is allowing people, like Charles, to not only become household names but connect to a larger audience.
"Social media is connecting the world and people in a way we haven't before, it's like connection on steroids. Having that connection be so intensified is letting people communicate things that haven't been communicated before," Olsen said.
Never would I have thought the day would come where I would see a CoverBoy. It warms my heart that there is some little boy out there, perfecting his fierceness, and can pick up a magazine or turn on the television, and see Charles doing the same. Men aren't living in the shadows anymore, rather, we are realizing that we can dismantle the boundaries we have been bound in for years. As we continue to break down these walls, we will not only be redefining masculinity, but as Zabriskie relays, we will be redefining what is beautiful.
"One of the things that I hope is that we can have a model for what is beautiful, other than what has been crammed down our throats. It opens up more possibilities for what we consider a CoverGirl is," Zabriskie said. "CoverGirl doesn't necessarily have to mean the most beautiful. Anything that breaks the mold of what has to be considered beautiful, is nothing but good."