Rauner, Madigan fight proxy war in statehouse races
In the shadow of an unbelievable presidential campaign and a high profile senate race, a proxy war that could determine how the state is governed the next two years is underway between Gov. Bruce Rauner and House Speaker Michael Madigan.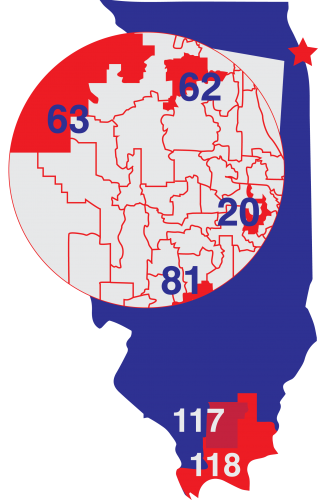 While Democrats will keep the majority in the legislature easily, Rauner and his wealthy allies have poured an unprecedented amount of money into state house races in an attempt to deny Madigan his supermajority, which would allow him to override Rauner's vetoes. While the Democrats currently have supermajorities in both legislative chambers, they only have a bare minimum for a supermajority in the House.

The stakes are high as the makeup of the legislature could be crucial in determining how the state is governed ahead of Rauner's 2018 reelection campaign. 
"Technically, Madigan has a supermajority that could overcome the governor's veto, but he has a couple of people who don't vote with him on the Democratic side," said UIC professor Dick Simpson, a former Chicago alderman. "So he's trying to get secure control of the House and Rauner's trying to prevent that."
Those watching the situation expect somewhere between a gain of two for the Democrats and a gain of two for the Republicans. While a small change in numbers either way, it could have significant ramifications.
Due to gerrymandered districts, the map of competitive races is relatively small, with most in the suburbs and downstate. The Democrats have all but conceded retiring Rep. Jack Franks' conservative McHenry County district to the Republicans, and, a product of their 71-47 majority, are more vulnerable having more seats to defend. Targeted districts include the downstate seats of Reps. John Bradley, Mike Smiddy and Kate Cloonen. 
Smiddy and Cloonen's races were both decided by a couple hundred votes in 2014. DePaul Democrats President Jack McNeil, who worked on Smiddy's campaign that year, believes the key for the Democrat's close victory in the past was a solid get-out-the-vote operation. 
"It's all about field," McNeil said. "From my experience, you could actually sway a moderate or a Republican to vote Democrat if you just had a recent conversation. The problem is that it's hard to get away from the Madigan branding."
Indeed, Madigan has never been more unpopular in the state. Mix that with the resources now at the disposal of Republican candidates and potential coattails from presidential candidate Donald Trump, who's expected to do well downstate, it may be enough to tip those close races in favor of the GOP. 
Rauner and committees under his control have given more than $46 million to legislative candidates this cycle, according to the Chicago Tribune. Allies such as hedge fund manager Ken Griffin have added millions to that number. 
Republicans have used the extra campaign cash to flood the airwaves with anti-Madigan ads, one of the few messages that gets across in a state with a strong Democratic lean. 
The fact that Illinois is a blue state at the presidential level may be the Democrat's saving grace. With Trump being horribly unpopular in the traditionally-purple collar counties, Democrats see an opportunity to pick up seats once thought out of reach. 
"Clinton's going to win by five to 10 percentage points in Illinois, probably 10. And that will be true in some of the suburban districts," Simpson said. "So to put it in simple terms, if the Republicans don't show up, the Democrats are allowable to win those extra one to two seats they're looking for."
Democrats have targeted former State Rep. Ron Sandack's district in Republican-friendly DuPage County as a potential pickup. Democratic challenger David Hose is getting heavy support from the party in spite of the district's Republican lean. 
And Republican Rep. Mike McAuliffe, who represents parts of Chicago's Northwest Side and northwest suburbs, faces a serious challenge from Merry Marwig, who's heavily backed by Madigan and the unions. 
With Democratic presidential nominee Hillary Clinton providing some help from the top of the ticket, state Democrats hope their winning formula of a strong field plan and heavy candidate-voter facetime will come through again. 
"From everything I understand, the main thing for Madigan in a general election is the candidate has to be out there every single day working extremely hard on the doors," McNeil said. "And if they're not going to be on the doors, then there's a better chance you're going to be vulnerable to your voters, that  you don't know the people of your district."
However, Republicans believe they have the winning message by tying Democrats to Madigan and will continue to flood the airwaves with advertising. McNeil was skeptical of that strategy working, however.
"I'm not sure this whole ideas of throwing $15 million into blanket ads is really going to sway enough voters that the Rauner agenda is actually on the side of working class families or that the state is somehow doing better because he's trying to get a Turnaround Agenda. It's going to be district by district," McNeil said.
One thing is clear just a little over a week from Election Day — in Illinois, it's Madigan vs. Rauner.