As far back as she could remember, Abby Corrigan, 18,   always had a profound interest in acting.  With her parents working in the talent industry, coupled with her attendance at an arts middle school and high school, it seems as if Corrigan had always been destined for a place on the theater stage.
Now as Corrigan prepares for her national tour debut in the new production of "Fun Home," a Tony Award-winning musical, she reflects on just how rapidly her career and life have fast-forwarded.
"I've been acting my whole life. I've always wanted to be an actress.  Since I was a kid, since I was in art school, this is what I wanted to do," Corrigan said.  "This experience has been amazing, and it's just hard to believe that I'm here right now, in this production."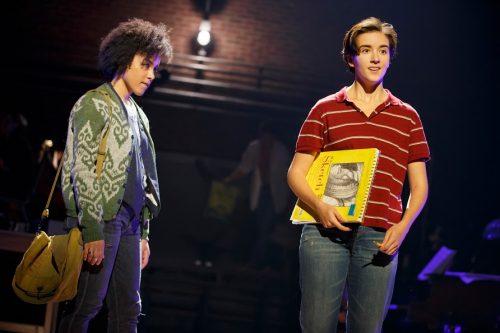 Adapted from Alison Bechdel's 2006 graphic memoir of the same name, "Fun Home" details the life of Bechdel in three different stages of her life as she goes through the discovery of her own sexuality, her relationship with her dysfunctional family and explores the other mysteries of her childhood.  Playing the role of Middle Alison, Corrigan has not only landed a role in a Broadway production, but quite possibly the leading role of a lifetime that may open many doors to come.
Corrigan, who recently graduated from high school, has already realized just how different her life has become because of her role in the play.  She planned to pursue theater through a college or university program, but that plan was thrown out the window once Corrigan was offered the role of Middle Alison for "Fun Home."
"It's crazy to say that this is my first professional job but it is, and that's unreal," Corrigan said.  "It was between this or attending a theater school somewhere.  I chose this in a heartbeat, because this is what I'd be attending college for: to get to this moment and be in a theater production like this.  'Fun Home' is my college."
As Corrigan adapts to her new life working in a Broadway production, the realities behind the work and pressure that a national theater tour requires, has finally hit her.  As she prepares for her debut role as Middle Alison, Corrigan knows she'll have to give it everything she's got.
"One thing that's funny is that no matter the size of the production, the size of the audience in the theater, I still always have that nervous feeling before we open.  I think that's a good thing though, because I'm ready," Corrigan said.  "It feels like I've been preparing for this role for a long long time, research is important.  I can't tell you how many times I've read Alison Bechdel's memoir, in order to really understand this character."
Corrigan prepared and studied for her role as Middle Alison but to her surprise, she connected to the role more than she initially thought.
"It's funny cause my character Middle Alison is going through similar things in the play, that I'm going through in my real life," Corrigan said.  "Every scene that my character is in, is important in how her life is going to turn out.  From discovering her sexuality, changing majors and everything in between, it's really a role of discovery just for myself."
"Fun Home" premieres in Chicago this week for part of its national tour. Corrigan reflected on just how different her life has become.
"It's still hard to believe everything that's happening, but I can't tell you how amazing it is to work with everyone and travel with them across the country doing this production," Corrigan said.  "I've never been to Chicago, so I'm looking forward to our premiere a lot. It's going to be really exciting to do all of this."