Nada Tea offers cozy spot for students
Located just a few blocks off of DePaul's campus at the intersection of Ashland and Fullerton, Nada Tea and Coffee House functions as a spot to quickly grab tea or coffee, or as a spot to stay for a while to enjoy soothing ambiance after a hectic day.
Founded in 2006, Nada is the original Japanese-style tea house in Chicago, as cited on their website. The restaurant has an extensive tea menu including green teas, black teas, herbal teas and tea lattes.
Nada is named after a place in Japan that is famous for its pure spring water.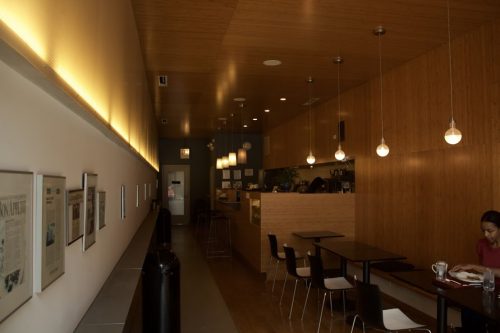 "'Nada Tea & Coffee House' was named after the Nada district of City of Kobe, Japan, famous for sake-brewing using pure spring water from Mt. Rokko (called Miyamizu, water of shrine)," the Nada website states. "We were inspired by a popular local café in the city where coffee is brewed with the water of Nada."
Matcha, a powdered green tea, is used in some of their most popular tea drinks. The Matcha Latte is a favorite of those who frequent the restaurant and is recommended to newcomers.
The beverage was served in an aesthetically pleasing manner. While the drink's green hue may be offsetting to some, the milk foam swirled nicely at the top. Additionally, the dark wooden tray was organized neatly with my mug of tea, a glass of ice water, and a napkin and silverware set.
I noticed this attention to artful visual presentation with everything I ordered. The restaurant owner provides the customer with more things than they even originally ordered — a glass of water, a napkin, a spoon. All were simple additions for the customer. I found this to be a nice touch.
By the time I was done with my visual analysis, the drink was looking frothy, warm, and ready for consumption. Upon sampling, my taste buds were invigorated by the smooth, subtly sweet flavor.
For contrast, I also tried the Assam black tea. Again, I felt taken care of by the way it was served. Without me asking, she also included a container of cream and one of honey. This tea was a bit different than the last because it was not a latte, therefore it was hot water-based instead of milk-based. As steam hovered over the rim of the mug, its full body and malty flavor pleased my palate.
Another highlight of the menu is the food items. Nada has bakery items including scones, muffins and cookies. Their sandwiches, rice bowls and udon noodle bowls make for a perfect lunch option.
I sampled the Nada-style udon noodle soup with Kitsune fried tofu. This flavorful dish contains a hearty sea food broth, scallion, soy sauce, udon noodles, and fried tofu. The dish was simple, yet tasty. I added a bit more soy sauce to my bowl to give it a bit more flavor.
Apart from the food, the interior design of the tea house provided a sense of peace.
According to the Nada website, "with an imaginative combination of materials, such as bamboo and aluminum, an internationally renowned architect, Douglas Garofalo, created an inviting and spiritual atmosphere."
Nada is also study-friendly, with WiFi and outlets near the tables. Classical music played during the duration of my visit.
So next time you need a spot to study, sip, or snack, consider Nada. Its address is 552 W. Fullerton Avenue, and their business hours are Mon – Fri 8:30 a.m. – 6:00 p.m.; closed weekends.