Solidarity with Standing Rock
Over one million Facebook users have checked into Standing Rock Indian Reservation page since last Sunday night after a post about protesting the construction of the $3.7 billion Dakota Access Pipeline went viral. If the pipeline is built, it will hurt the environment and displace thousands of Native Americans.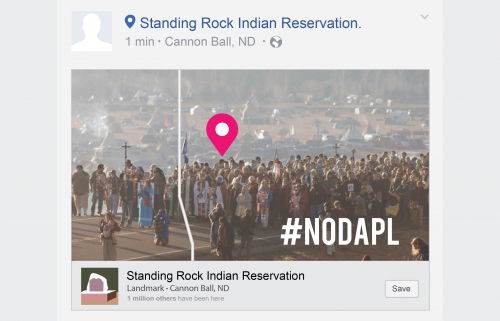 Many question whether or not checking in to Standing Rock (SR) has actually made a real difference, or if it is nothing more than a small but lazy, collective act of solidarity with the Sioux. Since the critique has been widely received, several sites and social media posts have popped up with information on how to become an active participant in stopping the Dakota Access Pipeline's construction instead of being an armchair activist.
Native Americans in North Dakota are struggling against Fortune 500 natural gas and propane company, Energy Transfer Partners. Also involved are the U.S. government and the Army Corps of Engineers in building a pipeline that will aide in moving fracked-oil across a large part of the Midwest — starting in the Lakota Treaty Territory and ending in Peoria, Illinois.
Most of those who have checked into Standing Rock have not actually been to North Dakota at all. Although it is unclear where the original post came from, according to the widely copied-and-pasted message "Morton County Sheriff's Department has been using Facebook check-ins to find out who is at (SR) in order to target them in attempts to disrupt the prayer camps." Activists have urged anyone and everyone to participate in the mass check-in to overwhelm and confuse police.
If the pipeline is constructed it will contaminate the Sioux's clean drinking water supply as well as destroy several sacred sites, including ancient burial grounds. Considering that human rights have never been a concern of the U.S. when dealing with indigenous populations, violence is also no surprise.
"The demonstrations have escalated to hostile treatment from police and militants on unarmed Native Americans," said Mugsy Reynolds, who is a part of the St. Croix Chippewa tribe in Wisconsin.
This is not the first time that Native American tribes have come together to fight for their right to land. Since the first colonial settlers arrived in America in the 16th century, from both Spain and England, indigenous communities have been struggling to resist being stripped of their lands, culture, religious and spiritual practices, languages and more.
"What's happening in North Dakota is a part of a long series of horrible things that have happened to both Native Americans and the environment," senior member of DePaul Socialists Felipe Bascuñán Simone said.
In an eerily similar fashion of violence, police in North Dakota have shot military weapons at crowds of protestors, beaten and killed several protestors, and have even sent dogs to attack Native Americans, women and children included.
According to a small poll of DePaul students and staff, about 18 students and staff said that they checked into Standing Rock on Facebook, while 15 said that they did not.
Most students and staff who said they did not check in to Standing Rock on Facebook said that they didn't do so because they are not aware of what is happening.
However, most said that they are interested in learning more about what is going on in North Dakota. Students want to learn how they can help stop the Dakota Access Pipeline from being built beyond checking in to Standing Rock on Facebook — they want to know how they can make a real difference.
"I don't know what is going on at all, I just know that it's a thing," said junior Steph Lehocky."I definitely wanna get more information about it and see where I can go from there."
Just about everyone knew about the #NoDAPL movement on Facebook, but not everyone completely understood what it was meant for. Due to little to no mainstream media coverage, most are in the dark about the reality of the grave situation at Standing Rock.
"News channels initially refused to air any footage, but because social media has brought the situation to the attention of the whole nation, and now even internationally, they are reporting minimally pros and cons given by the Texas company building it," Reynolds said.
The project "will translate into millions in state and local revenues during the construction phase and an estimated $156 million in sales and income taxes," according to the official site of the Dakota Access Pipeline.
The Supreme Court, has made no decisions on whether or not to stop the construction of the pipeline, one can assume that the interests of Energy Transfer Partners (ETP) lies in profit, and not in human life. On the other hand, President Obama is reported having said Army Corps is examining alternative routes.
"All nations are coming together to really defend Mother Earth, the water, and the Sioux know that water is life, hence the slogan. My tribe have donation drives going on and some have traveled to Standing Rock and D.C. where the court process is taking place," said Reynolds.
Because checking in at Standing Rock on Facebook is not enough, more opportunities for DePaul students to feel involved with #NoDAPL will present themselves in the near future.
"As a gesture of solidarity, I think it was important. The important thing for the people who are involved in this fight is to see that they're not alone," Bascuñán Simone said.
Organizer Lamon Reccord has organized a solidarity rally for Chicagoans which is to be held on Nov. 12 outside of the Richard J. Daley Building downtown.
"Keep an eye out for mass rallies. They're not gonna mean anything unless people show up," Bascuñán Simone said.