Cubs fans reflect on the World Series win of a lifetime
The 2016 World Series ended the longest championship drought in American sports. For 108 years, the Chicago Cubs developed an identity as the "lovable losers." From 1945 until 2016, the Cubs did not make the World Series, and had a couple of heartbreaking stumbling blocks along the way.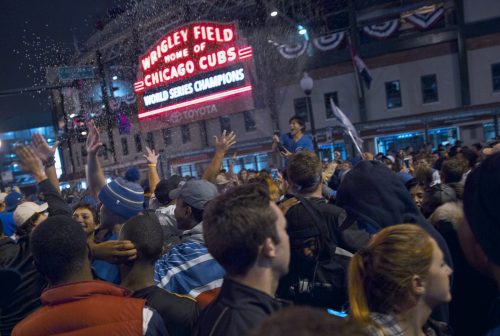 Regardless, the World Series win was the ultimate sports moment for many Cubs fans, fans who became fans in different ways, from all over the country. This win, for many, was more than just a sports achievement — it was one of the greatest moments of their lives.
And it was worth the wait.
In 1908, the Chicago Cubs won their second straight World Series, which was their second overall. They were a powerhouse in the National League in the early 20th century, winning 16 pennants from 1876 to 1945. They went to the World Series seven times between 1908 and 1945 but lost every single time.
There are differing accounts as to how the curse of the billy goat actually started, but here are the basics: William Sianis, owner of the Billy Goat Tavern, allegedly put a curse on the Cubs after he was apparently asked to leave Game 4 of the 1945 World Series because the smell of his goat was upsetting the other fans.
The Cubs went on to lose the 1945 World Series and did not appear in a World Series until 2016. There were numerous incidents throughout the 71 years that lent themselves to appear there may be an actual curse. In 1969, the Cubs lost 18 of their last 27 games after being in first place all season. In 2003, the Cubs were two innings away from a National League pennant, but a defensive collapse after the Steve Bartman foul ball interference sent them home early.
It wouldn't be until 2016 when the Cubs would finally break through the "curse" and go on to win the World Series.
"(It meant) everything," Peggy Martino, 60, said. Martino was one of the many fans buying World Series gear in Wrigleyville the day after the Cubs won.
"First off, (it's) just the idea of the past couple of weeks of everyone coming together and each of us having our own stories. We all have our stories, and it's not just this, it's everything that came before. It's Mark Grace and Bill Buckner and (Ryne) Sandberg and all of them," she said.
The 2016 World Series marked the culmination of 71 years without a World Series appearance and 108 years without a win. Entire lives were lived between championships, and this World Series has also united people from different generations, across all age groups.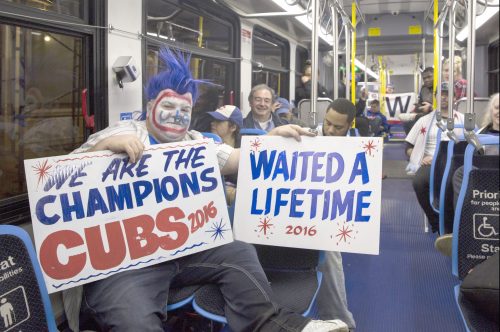 "It was a dream come true," Jeff McCauley, 47, said.
"(It was) something I didn't know if I'd ever see in my lifetime. I've been watching them since I was ten," he said.
The win meant a lot for families with a passed down fandom.
"My oldest son has been a die-hard Cubs fan since he was around 3 years old and he has dreamed of this day," Jodie McCauley, 47 said.
It was a celebration for fans young and old.
"My mother is 88 and my father is 91," Steven Krutz, 54, said.
"They were both born and raised in Chicago and finally got to see a world championship. I wasn't sure if I ever would (see a World Series) because my mother is 88 and my father is 91 and they've never seen it, so why would I?" Krutz said.
It sure seemed like the World Series drought would continue for the Cubs. After four games, the Cleveland Indians led the series 3-1. A comeback from that deficit had only happened four times in the 112 instances of the World Series, and the last instance was in 1985, so history wasn't exactly on the Cubs' side as they headed into Game 5.
But the Cubs won Game 5 in a nail biter, then won Game 6 in a blowout. The series was tied up at 3-3, and the Cubs stood on the precipice of history.
"When they were down 3-1, I thought this was the kind of  team designed to come down from a 3-1," Collin Peterson, 24, said.
"They're this deep and this good. They didn't win 100 games on accident. They're supposed to win these long series."
The Cubs jumped out to an early lead but Cleveland chipped away and tied the game in the eighth inning at 6-6.
"As soon as it hit 6-6 I was like 'oh s***, this is not good,'" Peterson said.
"And I saw these old Cubs fans and their faces started to sour a little bit," he said.
The game went into extra innings and, following a rain delay, the Cubs jumped ahead and led Cleveland 8-6, putting the Cubs only three outs away from a title.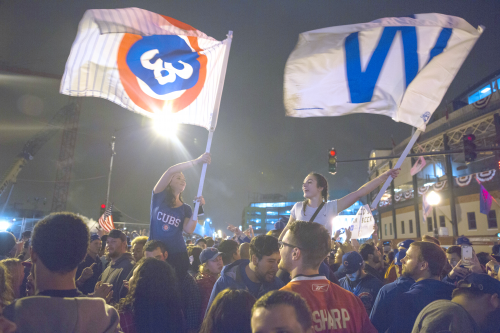 "I was home," Peggy Martino said.
"I work for the theater and I got off early.  So I came in and I just saw the home run, I think it was the third run so I was home and I had the benefit of the couch (…) That's what happens when you're 60. If I was 30 I would've been down (by Wrigley Field)," she said.
So the Cubs got those three outs they needed and won the World Series. It became a can't-miss moment for fans who had waited so long for a title, so people watched it wherever they could, whether that it was outside the bars in Wrigleyville, or streaming it on a plane like Jeff McCauley.
"I was in Midway," he said.
"I was watching it on the plane with a bunch of other Cubs fans too. We were all whooping it up on the plane," Jeffs aid.
Hundreds of thousands of fans swarmed Wrigleyville following the World Series win as the North Side of the city was finally able to celebrate, and even more showed up over the next couple of days.
"I just moved down to St. Louis," Erica Hilton, 32, said on Thursday.
"My husband is a (St. Louis) Cardinals fan and tomorrow is our one-month wedding anniversary which I'm missing to go to the parade. I came up on the train from St. Louis because I couldn't see not being up here for this," she said.
Hilton would be one of five million people who attended the parade on Friday, which became the seventh-largest human gathering in Earth's history, and the largest sports-related one.
It was to celebrate a sports event that was truly historic and it vindicated a fan base that had long-lived to support a baseball team that had solidified its identity as lovable losers.
The next question is what happens to the "lovable losers" next.
Well, wait till next year.