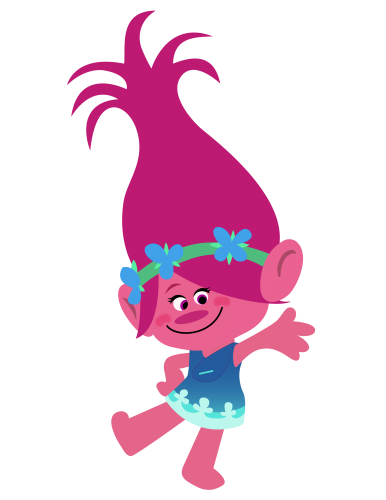 With an extensive history, DreamWorks Animation Studios ("Madagascar," "Shrek" and "How to Train Your Dragon") fires yet again at the animated tag-team duo, journey concept. Failing to sometimes reach the caliber of Pixar Animation Studios, DreamWorks held some weight with their most recent, pop musical release, "Trolls".
Based on the 1958 troll doll concept created by Thomas Dam, "Trolls" follows Poppy (one of the happiest trolls to ever live, voiced by the eccentrically bright Anna Kendrick) and Branch (a gloomy, anxious troll voiced by Justin Timberlake) as they intrude to enemy territory searching for their stolen troll friends who are about to be munched on by the Bergens. The Bergens – who eat trolls to achieve their only knowing way of happiness – will disrupt any raging party held by the trolls to get their fix.
"Trolls" is directed by Mike Mitchell (from "Shrek Forever" to "Deuce Bigelow: Male Gigolo") and co-directed by Walt Dohrn (with writing credits for "Shrek 2" and "SpongeBob SquarePants"). Shortly after a "Visiting Artists Series" took place for the DePaul Animation program, the directors spoke with The DePaulia upon the release of their film on Nov. 4.
Other than the elaborate script, there are many aesthetics that help push the story along in this fresh troll-world, like the music and the colors, how did that integrate itself into production?
Mike Mitchell: Walt started off by asking, "What is this movie about?" We knew we wanted it to be fun and colorful and musical, but what is it about? So we decided that it should be about happiness. It seems like a really good time to explore happiness and discuss happiness. I listened to a lot of TED Talks on happiness.
Walt Dohrn: That was the foundation; this movie is going to be about happiness. That started to define the color of the movie and the look of the movie, even the music and the character designs. Early on, we wanted to have the music play a big part of the film. This property, the idea of trolls, was when Mike and I were brought in; there wasn't any world, any mythology and no backstory.
Justin Timberlake plays an enormous role in the film. Not only voicing Branch, he also serves as an executive producer, and as well a lead role in some of the musical features. How was it working with him and what did he bring to the "Trolls" project?
WD: We thought it would be funny to cast Justin Timberlake as the only troll who doesn't sing and dance. I think it creates a tension for the audience; they're waiting for that moment.
MM: It's Justin Timberlake! When is he going to sing? In our pitch to him, we showed him a lot of art work and presented some scenes that had music in it. He heard the music we had, which was needle drop, jukebox musicals with classic songs in it like Lionel Richie and True Colors, and he went crazy. He was like, "YES! I want to do your voice. But I want more. I want to produce your music."
WD: Maybe. Send us your resume(…) Of course! He's incredible. You know, we had classic songs helping us to tell the story, but we got to certain points of the story where we got stuck. He said that he'll write us a song for that area for the film to help specifically solve these story problems.
MM: He added so much, he 'trollified' the vibe.
Much of the crew, the writers and you guys the directors, have worked on past DreamWorks projects. How has that influenced how this story is told with the concept of a journey and finding happiness?
MM: I think it was a tremendous shortcut. For example, Walt and I, being friends and having done another project before "Shrek," we spend a lot of time together so when we made "Trolls" it was a shortcut to go, 'Okay, what is it with what we want to do with this world?" We both love Hayao Miyazaki films, these Japanese animated films, are you aware?
Yes, like "Spirited Away?"
MM: Yes, "Spirited Away" is our favorite one. Its got creatures in it, has a fairytale world and we wanted to do that – we have friends who work on "Adventure Time" and then with everything in our past – all the artwork(…) let's see if we can blend it all together and put it into a DreamWorks CGI (Computer-generated imagery) movie. To answer your question, even the writers, and almost every project I have ever directed has been with these guys, so it's a short cut when making decisions.
WD: There is story mathematics that we apply. There are rules and formulas to movies, but mostly it is an organic process. It's a lot of trying this, then we watch it, then we tear it down because it didn't work.
MM: Stephen King, I just read has this little fire in the distance and you're running and the writers bring stuff to the fire. Walt comes and throws some stuff into the fire. We're just building this fire.
Those little, metaphorically things ,that are brought to the fire, are those consistent in a way that they are being brought to the fire in previous projects?
MM: We worked on "Shrek" together and what Walt is an expert at is making jokes that an adult laughs at and then that adult looks down at his daughter and she's laughing at the same joke. Maybe not for the same reasons, but that's an example; we tap into everything that we've done in the past. It definitely forms us.
WD: Our writers, they know story structure so they give us that narrative spine that we need to hang the jokes on. Bringing in new people is also really important. It's not just us. Fresh voices, young people, that's all really important to us.