Under Trump, minority students need to unite
Finally the intense and aggravating election is over. But, to the dismay of many of DePaul's left leaning students and the surprise of many voters throughout the country, Donald Trump won the presidency. He not only won it, he beat Clinton like a champion. He powered through the swing states, he brushed past the media's attempt to disqualify him as a serious candidate. He made American women, American minorities, LGTBQ Americans, veteran Americans and disabled Americans feel marginalized throughout his campaign, but he still won. And, to the disappointment of some, but the joy of others, he is now the president — elect of the American people.
Hours after it was announced Clinton made the phone call to Trump conceding, DePaul students walked over motivational messages written in chalk on the sidewalks of the Lincoln Park campus as they navigated to and from classes the following day. The ambiance at DePaul seemed still and abnormally quiet. Come afternoon, some students walked to the red line making way to the impromptu protest downtown outside of Trump Tower organized through Facebook just a few hours after the new nation's leader was announced.
It's been a few days after the election and the question 'what now' needs to be asked. Since last May, DePaul's environment has been racially and politically charged. Just last week, Student Affairs sent out a mass e-mail stating, "racist messages were found in the student center bathroom." Student Affairs has refused to repeat the messages because "racism and acts of intimidation have absolutely no place on our campus."
This may be true, DePaul University is intended to be a respectful space, but in reality this has not been the case. For the past few months various demographic of students have felt under attack since instances of micro-aggression and not so minimal aggression have been present. The infamous chalkings expressing support of Trump's ideals caused students to express an increasing frustration towards Donald Trump and his Republican supporters not only on campus, but throughout the country. All these actions have caused certain demographics of students to feel like they do not belong. But, now with Trump being the official president this sentiment has been blown up across the country. Many Americans that fell under the categories Trump was using as a punching bag have expressed fear and concern about their own future and loved ones.
The results left students like freshman Susana Martinez, who walked around campus the following day with a Mexican flag wrapped around her, in disbelief.
"I thought we were progressing forward but then (after his win) I realized we are going backwards," Martinez said. "It's not so much him, it's the people who voted for him. It's not only uniting our people, now I have to try and make compromises with people I know oppose me."
There was bigotry, sexism and ignorance underlying this whole campaign making it clearer than ever that there is a big disconnect between both parties on what it would take to make America great again. For those who oppose him making America great again is finding justice to the social issues, which were constantly under attack throughout his campaign.
"The outcome shows we are a very divided nation," said Jaclyn Jensen, an associate professor of management in Driehaus College of Business.  For a lot of people what happened on Tuesday was hugely devastating, for a lot of people deeper elements of the electorate were really dissatisfied with some of the big changes in our country, which have been primarily with social justice and promoting rights of people who have been historically disadvantaged and those are big issues."
This is true. We are a divided nation. For students living in Chicago, in a predominately blue and liberal city, it is easy to forget the strong Republican influence that is present only a few miles out of Chicago into the suburbs is and throughout the country. According to the American Political Science Review, Chicago came in as the 57 most liberal city out 67 major cities in America, it could be said we live in a blue bubble.
"There is a cultural gap, voters on each side become apart from each other. To some voters, the impression is society is changing rapidly," said Erik Tillman, an associate professor in political science. "What I think Trump did well was he reaped his economic, cultural and social concerns. He appeals to the "left behind voters, living in shelter cities and rural areas."
But, according to Peter Thiel, billionaire and co-founder of Paypal, who was recently announced as part of Trump's presidential transition committee stated many of Trump's supporters take him seriously as a candidate, but don't take his offensive claims literally.
"It's an interesting way to think about it," Jensen said. "They aren't taking what he said seriously, they are just taking him seriously as a candidate who was pushing for reform and change and pushing back against Washington elite. Does it make what happened softer? Possibly, but it's hard to know because all we know of the president elect is everything he said in the campaign over and over again so it's hard to know."
So for DePaul students who have already been feeling under attack by Trump's vocal harassment and actions taking place on campus. We need to attempt to unite under a clearly divided nation.
We don't move to Canada, we stay in our country and we mobilize. Let us feel the disappointment right now.  Even if there is nothing to fear from a Trump presidency, as Thiel suggested his flamboyance was all an act. All marginalized communities must support each other because as it has been seen on DePaul's campus alone in a liberal city instances of aggression are occurring and they are unacceptable. Trump's presidency is a wake up call to proudly stand up for who you are, while not attacking  those who hold different ideals than us.
"The what now question is hard to answer. He has been a very different presidential candidate," said Tillman."He has never held office before and his campaign didn't go over as much policy as usual. It's hard to guess."
It's a guess we will find answers to as the next four years play out. All we can do now is support each other and stand tall and proud of our ideals. We must follow the lead of Martinez who proudly wore her Mexican flag around her body the day after. We can't let Trump's win bring back the progress that has already been made.
About the Contributor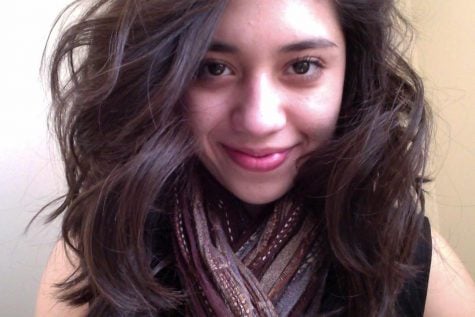 Yazmin Dominguez, Online Editor
Yazmin is the online editor of The DePaulia. She enjoys house music, storytelling, tough editors, and people who can make her laugh. Follow her on Twitter...