One of Hollywood's biggest stars, Warren Beatty, returns to the directing chair in "Rules Don't Apply," the unconventional love story of an aspiring actress and her goal orientated driver, which is forbidden by their employer Howard Hughes.
Set in Hollywood in the 1950s, this star studded biopic accurately portrays one of Hollywood's biggest figures. A disguised love story is told as Beatty, who plays the exclusive eccentric billionaire Howard Hughes, uses two talented young actors to tell a genuine love story.
Lily Collins stars as Maria Mabrey a faith driven actress who wants to make it to the big pictures. The spotlight is all she imagines while her time and faith is tested while keeping up with Hughes' over-the-top requirements for the young actress.
Alden Ehrenreich plays Frank Forbes, a young man who ventured into Hollywood for the chance to invest with billionaire Hughes. Ehrenreich ultimately didn't plan to fall for the beautiful Mabrey especially since he's already engaged.
These two fall in love in a new way that seems real and relatable. Collins and Ehrenreich have many already buzzing films on the horizon like, "To The Bone" from Collins and the untitled Han Solo "Star Wars" film for Ehrenreich. Sharing the screen together alongside a Hollywood legend like Beatty, these two respectfully hold their own and often steal the scene.
The DePaulia had the chance to talk with Collins and Ehrenreich on connecting with their character's struggles and on-screen chemistry.
According to Ehrenreich, whose acting career kick started a few years ago, every film he's been in and every character he's played has ultimately changed him as a person.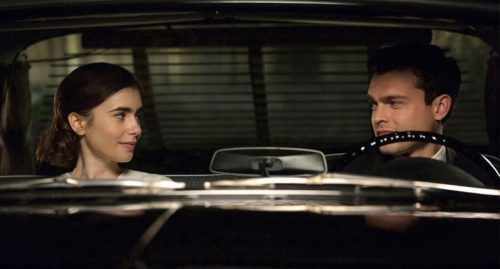 "With each movie, it becomes your life. You take it on, in this first person way where it actually becomes flesh and blood, daily life thing which turns out for me is the best part of it," said Ehrenreich. "When you see something as an audience member it has a certain look and feeling to it. I feel like with each movie that dream I had as a kid changes and is brought into reality. I'm fortunate that I still love it."
And while both actors have certainly found success in their craft, their characters in "Rules Don't Apply" have trouble making dreams a reality, an aspect Collins and Ehrenreich could connect with due to past experiences.
"The hardest part about being an actor is not having a job. As soon as you finish a movie typically you're out of work again and have to look for another job. I was in school for a lot of the time which helped but there was certainty long stretches when that wasn't working," said Ehrenreich.  "It makes me appreciate right now, in this year in particular, a lot more because I have some job consistency. I remember when I got my first movie I was 18, and it was a great experience but I don't think I had the capability to appreciate everything the way I do now.
Different from Ehrenreich, Collins' career path was not always set on becoming a star actress.
"When I was 16 years old I was pitching talk show ideas to major networks because I wanted to be a reporter. I went to school for reporting and broadcast journalism I wanted to be the youngest talk show host," said Collins.  "I would go into these room with older men with pie charts and graphs and pitches, and they looked at me like I was crazy and told me no."
It was through these experiences and connections with their own characters, that the actors not only developed chemistry on screen but a friendship in real life as well.
"Alden just made me feel so at ease so I felt like I can play around, try new things, be emotionally raw and do all these things I've never done before on a film," said Collins.  "It makes a world of difference when your opposite is one that you feel like you can do anything with. It really changes how you move forward. It gave me more confidence to let go more."
"It was a long process leading up to the film so we ended up spending a lot of time together. We definitely developed a friendship and a bond there," Ehrenreich added. "It made it a lot easier."