No. 16/15 DePaul women's basketball can't overcome No. 2/1 Notre Dame 75-61
Hang on for a minute...we're trying to find some more stories you might like.
Lots of things have changed between Notre Dame and DePaul in the last few years. They now play in different conferences and the players are all changed from when they were Big East rivals.
What hasn't changed, however, is the attitude of the games when the two teams play. It was a tough, physical and aggressive game between the No. 16/15 Blue Demons and the No. 2/1 Fighting Irish on Saturday night, and it was a game that Notre Dame pulled away to win 75-61.
"It's been so long," Notre Dame head coach Muffett McGraw said. "It's a very edgy sort of rivalry. There's an edge in the games and I think it's a great rivalry."
Seniors Jessica January and Brooke Schulte led DePaul and the game with 19 points a piece. They also had six rebounds each. January put in 12 of her points in the second half.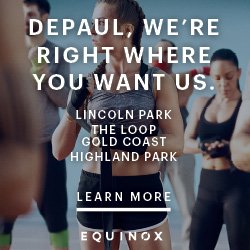 "I'll tell you, (January is) a great player," McGraw said. "She's really tough to guard and she's going so many different ways. Late in the game she made every shot down the stretch that she took, so she's a phenomenal player."
The first half was a struggle offensively for both teams. Neither side was proficient from three as they combined to be 2-16 from behind the arc. The Blue Demons had a scary moment in the second quarter when January went down after a non-contact play and had to be taken out of the game, but after her left ankle was taped up she returned to the game. She said after the game that she had just rolled her ankle.
The Blue Demons hung close to the Irish but Notre Dame maintained a steady lead throughout the first half. They went into the break with the Irish leading 33-27. This was a major difference between the other games DePaul had played against top-5 team, where they had struggled mightily in the first half.
"Obviously playing UCONN we didn't come out very well, we were able to learn from that," January said. "This game we came out with a lot of energy and we were able to compete."
That lead evaporated quickly at the start of the second half on the back of two threes from Schulte. The two teams stayed close until the end of the third when Notre Dame went on a run and extended their lead to 52-42 at the end of the quarter.
The Irish protected their lead in the fourth quarter and did not let DePaul back into the game, despite an up-tempo offensive attack from DePaul. Notre Dame ended up with the victory 75-61.
This game against Notre Dame closed off a gauntlet of games for DePaul where they played four top-20 teams in less than a month.
"We play this level of competition because we believe that if we earn our way into the NCAA tournament, this will best prepare us for the NCAA tournament," DePaul coach Doug Bruno said. "I've really put my players through a lot in the past 14 days with Baylor, UCONN, Syracuse, Prairie View for the children and then tonight."
However Bruno warned that the schedule was still difficult with the rest of the season to go, even without teams like UCONN, Baylor and Notre Dame.
"Just because the rankings might stop, the schedule doesn't," Bruno said. "We've got a lot that's still on our plates."
The Blue Demons return to action in Philadelphia when they take on Temple on Thursday at 8 p.m.