After 2018 governor's race begins with $50 million Rauner contribution, a list of potential candidates
It may be only be seven weeks from the last election, but Illinois political observers are already eyeing the 2018 midterms as Gov. Bruce Rauner faces what could be a contentious reelection campaign.
Given it's the dull week between Christmas and New Years, let's take a look at some possible contenders in the 2018 Gubernatorial Race:
Bruce Rauner (Republican), Governor of Illinois — Despite being a Republican in a blue state, Rauner begins the race as the clear favorite. As Jennifer Duffy of the Cook Political Report puts it: "Do we expect Illinois GOP Gov. Bruce Rauner and Pennsylvania Democratic Gov. Tom Wolf to have difficult races? Absolutely, but first they need announced first-tier opposition."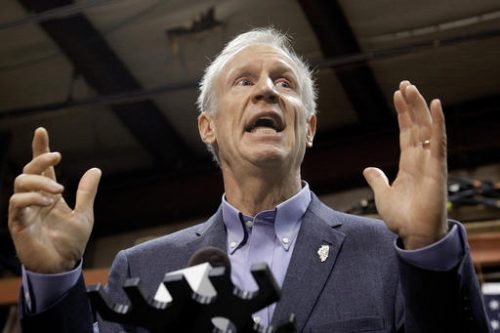 Yes, Rauner's approval rating is underwater and Illinois has a blue lean, but you cannot beat somebody with nobody. Rauner has a few things going for him: time, money and the lack of first-rate opposition.
While a few Democrats are kicking the tires at a possible run (see below), Rauner and his political operation are already in campaign mode. This includes immediate robocall attacks on those few Democrats considering challenging him to a $50 million contribution Rauner made to his political warchest, unheard of two years out from an election.
The message is clear: "I will spend as much as I need to win and I dare you to try and beat me."
With unlimited resources, Rauner effectively controls the rules of engagement in the race. This can sideline potential challengers who do not have the means compete financially, it can speed up the timeline of Democrats with means who are seriously considering a challenge and it means the Illinois GOP campaign apparatus from the 2016 legislative races will remain intact.
And with two years out, Rauner has a chance to work on his image, which has been damaged by partisan battles with House Speaker Michael Madigan and legislative Democrats. Expect Rauner to tie any Democratic contenders to Madigan and/or disgraced former Gov. Rod Blagojevich, both more unpopular than Rauner.
Also, Rauner will play up popular initiatives such as redistricting reform and term limits. Their merits as public policy can be debated, but they undoubtedly play well with the voters.
Chris Kennedy (Democrat), former CEO of the Merchandise Mart — Born into political royalty as the son of Robert F. Kennedy, Kennedy has been one of the consistent names thrown around in the last year as a foil to Rauner.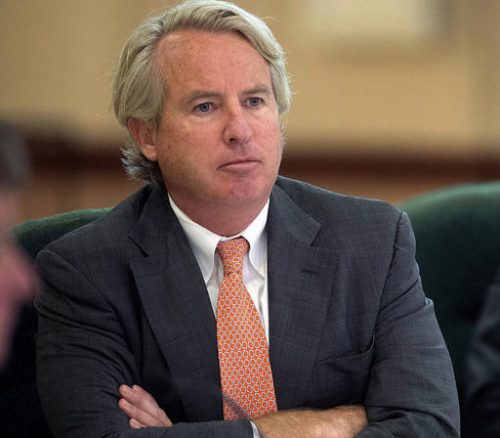 The Democrat has been making inroads with local Democratic and labor officials around the state and has shown up at various political events over the summer, including the Democratic National Convention.
And Politico Illinois reported earlier this month that Kennedy has started hiring staff, including prominent ad maker Eric Adelstein. This is perhaps the most significant sign yet that Kennedy is inching toward a run.
Kennedy, with his ties to the Chicago business and civic community, would probably be able to compete financially with Rauner. Plus, his business background could also be an appealing trait for Democrats looking to peel off the moderate suburban voters that handed Rauner the governorship in 2014.
However, Kennedy's ties to various businesses and civic boards may expose him ironically enough to the same critiques Rauner received when he first ran in 2014.
In particular, I am curious to see if any decisions Kennedy made as the chairman of the University of Illinois Board of Trustees will come back to haunt him. This may be easier for Republicans to do with Kennedy than it was for Democrats with Rauner's business ties as the  records for the former are all public.
J.B. Pritzker (Democrat), co-founder of the Pritzker Group — A member of one of the country's wealthiest families, Pritzker is perhaps the only Democrat on this list who could financially go toe-to-toe with Rauner.
Pritzker has been a large Democratic donor for years, serving as a co-chairman for Hillary Clinton's 2008 presidential run. He's only run for office once before, finishing third in a Democratic primary for the U.S. House seat now held by Rep. Jan Schakowsky.
While the money is there, Pritzker may face skepticism from the base, who could be wary of the precedent it may set by putting up a self-funder against Rauner, who they have criticized for doing the same exact thing.  
Pritzker has already come under fire for his ties to unpopular Democrats such as Blagojevich and Madigan.
Ameya Pawar (Democrat), Alderman of Chicago's 47th Ward — With a self-imposed two-term limit on his aldermanic seat, it's not unlikely that Pawar would explore another elected office. The more realistic jump would probably be a 2019 mayoral bid. But, perhaps sensing that Mayor Rahm Emanuel is more likely to run for a third term than not, Pawar is looking higher.
At the outset, he has zero name recognition outside of Chicago and would have a hard time raising money, but Pawar is smart and could bring fresh ideas to the table. In an open primary, anything could happen. But, he's still considered a longshot.
U.S. Rep. Cheri Bustos (Democrat), 17th Congressional District — Bustos is the protege of U.S. Sen. Dick Durbin and is considered a rising star in the national party.  And, representing blue collar regions like the Quad Cities, Peoria and Rockford, Bustos could help Democrats regain support downstate, an area the party has struggled to compete in statewide races the past few cycles.
The question for Bustos is whether she would be willing to give up her relatively safe House seat and her newfound influence within the House Democratic Caucus, where she was just elected into the leadership.
State Sen. Daniel Biss (Democrat) — A progressive representing Chicago's North Shore, Biss is considered a policy wonk. If Madigan provides the tactical opposition to Rauner, Biss provides the intellectual opposition.
The question, again, is whether or not Biss will be able to raise the money necessary to be competitive with Rauner. He will need to in order to get his name out.
State Sen. Andy Manar (Democrat) — Probably best known for his work on school funding reform, Manar is another downstate option for Democrats. As the former chief of staff for Senate President John Cullerton, Manar has Chicago connections that could help with fundraising, but he would still be considered a longshot.
Tom Dart (Democrat), Sheriff of Cook County — Dart has long been viewed as a candidate for higher office. Most believe his eyes are on City Hall, but some believe he could be answer for Democrats in the governor's race.
He has remained coy on his next steps, but he is certainly someone to keep an eye on no matter what office he decides to run for.
Former Gov. Pat Quinn (Democrat) — Quinn has made no secret he's itching for a rematch against Rauner. But, do the voters feel the same way? In talking to some Democrats, I would say most would rather turn the page from Quinn, an unpopular politician and an uninspiring candidate.
But, if there is a crowded primary field, Quinn cannot be ruled out (*insert the sound of Democrats freaking out everywhere*).
First Lady Michelle Obama (Democrat) — This will not happen. But, with Durbin passing on a run, Obama is perhaps the only Democrat who could clear a primary field and legitimately make Rauner sweat.
This would be the dream scenario for Democrats. But that's all it is at this point, a dream.