'Night Runner' to open at The Theatre School
The Theatre School at DePaul begins their 2017 production cycle with playwright Ike Holter's — recipient of the Chicagoan of the Year for Theater in 2014 — play "Night Runner."
"Night Runner" will run at the Merle Reskin theatre, primarily a location for younger audiences. Recommended for ages nine and up comes the story of Cora, a young 12-year-old whose brother Marcus is taken by a slave owner. Now on the run, Cora is guided by a dark, mythical creature — the legendary Night Runner — that enlightens her to discoveries of freedom, inner strength and hope.
Third year dramaturgy and criticism major Rachel Perzynski discussed her role on the opening production of "Night Runner." During her time at the DePaul Theatre School, she has worked as the dramaturg — dealing with mostly research and development — for the production of "Contractions" which ran in the spring of 2016 and also "Joe Turner's Come and Gone" which ran in the fall of 2015.
"As a dramaturg, my work on a show begins before the very first production team meeting. I analyze the script inside and out, breaking down its structure and themes," Perzynski said. "I also do a lot of outside research and readings. Because the playwright Ike Holter described the play as 'the Underground Railroad meets Marvel,' I read a lot of comics to get a sense of the style and attempted to become a self-made expert in antebellum slavery and the Underground Railroad."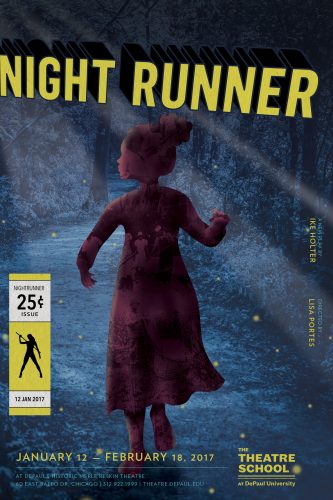 The play features themes that can seem overwhelming for children. Knowing this, Perzynski altered her research for the production to accommodate a younger audience and a smaller space, given "Night Runner" is running at the Merle Reskin Theater in the South Loop. Perzynski worked closely with the director to work out any confusing problems.
Director Lisa Portes, the head of MFA Directing program at DePaul and artistic director of Chicago Playworks, resume ranges from associate director for the Tony Award-winning musical, "The Who's Tommy" which ran in Canada, U.K. and Germany to local Chicago theatre credits at Steppenwolf, Northlight, and the Goodman Theatre. Portes overlooks her DePaul student production of "Night Runner."
"The fact that 'Night Runner' is meant for younger audiences largely impacts the lens through which I read and view the play. When I have attended run-throughs of past productions, part of my job was to view the show as if I were an audience member seeing it for the first time," Perzynski said. "That way, I can let the director or playwright know what confuses me. As a dramaturg on a children's play, I get to attempt to view the run-through as if I were ten years old. Sometimes the notes I give sound something like, 'If I were a ten year old, I wouldn't understand what is implied here.'
Thematically, the play offers a plot line that revolves around slavery. After Cora's brother Marcus is snatched by a slave owner, the play speaks on heroism and bravery in the face of racism in a contemporary light.
The Merle Reskin Theatre actively seeks out younger audiences for their productions. School field trips, camps and other young groups gather at the Merle Reskin Theatre for attending and interacting in DePaul's productions.
"I got to help create the interactive study guide that classes often complete before coming to see the show on a field trip. It was challenging to write about slavery in a way that a child could grasp without minimizing its gravity," Perzynski said. "We also wanted the study guide to reflect how the play defies the ill-conceived notion that enslaved people were passive to the cruelties of slavery."
But in the end, what "Night Runner" represents is a look into the past that's necessary in order to understand our present. "'Night Runner,' based on Harriet Tubman, embodies the superhuman-like strength it took to not only successfully escape enslavement, but to return again and again to help others to freedom," Perzynski said. "Harriet Tubman's heroic example influenced our decision to focus on the historical heroes and abolitionists who fought against slavery in the study guide."
"Night Runner" runs at the Merle Reskin Theatre from Jan 12. to Feb. 18.