Meryl Streep does not speak for marginalized communities
Without even mentioning his name, Meryl Streep turned the attention away from the glitz and glamour of the Golden Globes Award ceremony to speak out against President-elect Donald Trump's repetitive use of abusive language and behavior.
"There was one performance this year that stunned me — it sank its hooks in my heart," Streep said. "Not because it was good; there was nothing good about it. But it was effective and it did its job. It made its intended audience laugh and show their teeth."
Streep called to attention a specific instance during November 2015, when Trump made fun of a New York Times investigative reporter named Serge Kovaleski, who has a muscle condition called arthrogryposis.
Because Trump never misses a beat, on Monday at 3:27 a.m. the president-elect took to Twitter to call Streep "overrated" and insist that he never once mocked Kovaleski.
"I was never mocking anyone," Trump said to The New York Times the morning after the awards ceremony. "I was calling into question a reporter who had gotten nervous because he had changed his story. People keep saying I intended to mock the reporter's disability, as if Meryl Streep and others could read my mind, and I did no such thing."
Immediately, social media sites like Twitter and Facebook exploded with users critiquing Streep's comments. Many viewers seemed to think that the Golden Globes Award ceremony was not the time or place to speak about the country's current political climate, or even that Streep should not be making any kind of political commentary because she is an actor whose sole purpose is to entertain.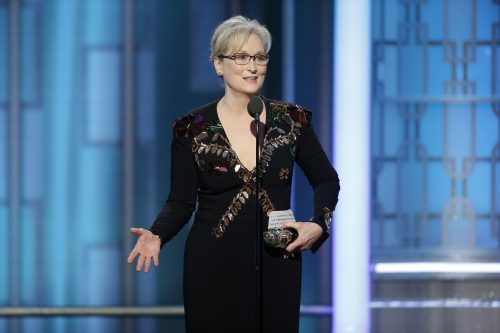 Interestingly enough, like Meryl Streep, president-elect Trump has absolutely no political experience. Prior to announcing his candidacy in June 2015, Trump was the host of popular reality series "The Celebrity Apprentice." In addition to being a reality television host, Trump is also a businessman — he is the owner of many hotels, golf courses, casinos and more.
However, it is important that celebrities like Streep decide to use their platforms to speak out against social injustice and engage in political discourse. This, in effect, will encourage other entertainers — especially those best suited to speak about the injustice they face — to do the same.
"If celebrities don't talk about it, then other people won't talk about it. We need public figures to talk about these issues," said Katia Silva, a DePaul senior majoring in Latin American and Latino Studies.
In Streep's defense, when she is not an actor, she is also a civically engaged person. In fact, throughout the election cycle she vocalized her support for Democratic presidential candidate Hilary Clinton, who suffered an emotional loss to Trump.
"I did watch the Golden Globes, and I am very happy that (Streep) said what she said," Silva said.
"She did a good job of talking about what has been happening the last few months because of the election, post-election, now. She never mentioned his name, and I like that because the more you mention his name, the more publicity you're giving him."
However, Streep did step into deeply murky, problematic waters when she said that an actor's "only job is to enter the lives of people who are different from us and let you feel what that feels like." While it is an actor's job to tell a story, it definitely is not their job to represent and speak for marginalized communities. A disability, skin color, or gender is not something that is up for grabs in the costume department.
Near the end of Streep's speech, she spoke about how Tommy Lee Jones approached her on the set of 2012 film "Hope Springs," and asked, "Isn't it such a privilege, Meryl, just to be an actor?"
In fact, it is an incredibly privileged position to be an actor. Most of the country's population is actually incredibly disconnected from Hollywood, a space that already is lacking in diversity and fails at the inclusion of women, people of color, and those who are differently abled — the least privileged groups of people in the nation.
Not far from DePaul University's Loop campus, residents of Chicago are facing similar problems of eviction, displacement, and homelessness. South Side neighborhood Pilsen, has seen a huge push of its mostly Latino residents out of the city and into the suburbs due to heightened rent prices as a result of gentrification.
All across the country, the people who make up a large part of the U.S. are facing problems of housing inequality, racism and that celebrities like Meryl Streep and Donald Trump will never experience.
"This dissonance between the realities of those who will truly feel the brunt of Trump's abuse and the celebrities who proselytize on our behalf reflects that fact that this is a conversation between the privileged," said Victoria Agunod, a DePaul senior majoring in Women's and Gender Studies and minoring in LGBTQ Studies.
"A celebrity's platform is better used to lift up the voices of oppressed people rather than to speak on our behalf. Streep did not reach out to the reporter who acted as a main character in her speech as a victim of Trump."
While Streep definitely started a nation wide conversation about Trump's language, her execution failed miserably. Likely, it is because most people in positions of oppression cannot relate to Streep's surface-level hurt that she feels by the President-elect's language, beliefs and actions.