DREAMers' future unknown, action must happen now
DePaul considers itself a follower of Vincentian values. During orientation, the very beginning of a student's academic career, we are taught the question  "what must be done?"
In the current political climate, with unpredictable President-elect Donald Trump ready to take the Oval Office by the end of the week, many students are nervous for the next four years. Many students who have been challenged by the unruly president-elect have asked themselves what can they do these next four years.
But, undocumented students present at DePaul and universities across the nation are under tension, rightly so.
In his Ten-Point Plan on Immigration, Trump threatens to repeal the Deferred Action for Childhood Arrivals (DACA) status. According to Ballotpedia, Trump declared his fifth point would "immediately terminate President Obama's two illegal executive amnesties in which he defied federal law and the Constitution- to give amnesty to approximately five million illegal immigrants."
Due to Obama's 2012 Immigration Accountability Executive Action Plan many undocumented youth who fell under certain strict restrictions were able to apply and receive the DACA status.
According to U.S. Citizenship and Immigration Services, this would mean they would receive two-year protection from deportation as well as work authorization. But, with a new president-elect threatening to eradicate DACA, undocumented students who are DACA recipients, otherwise regarded as DREAMers, nation wide are asking themselves what can be done?
At DePaul, there have been a lot of conversations surrounding undocumented students on campus. DePaul University is in a unique position with being a Catholic university. The steps DePaul will take to regulate the right's of its undocumented students will speak a lot of what values DePaul's as a Catholic university truly follows.
"I think in the next four years, undocumented students will face many obstacles. The spaces in predominantly white institutions, such as DePaul, may get toxic and it may lead them to question the sense of 'home' many have developed here," Michelle Ramírez, senior and double major in Latin American and Latinx studies and sociology said. "However, it is this time that is so crucial for everyone in which we will see those that really see the humanity in each other."
Undocumented students were not the only ones asking the direct question of what immediate action need to take place. DePaul professors Maria Ferrera, Francesca Royster, Bernadette Sanchez and Laura Kina responded to the social concern of DREAMers' unknown future by creating petitions requesting university action.
The petition called for DePaul to become a sanctuary campus. As the petition stated:
"These actions would fall in line with Emanuel's declaration yesterday that the city of Chicago will remain a sanctuary city. We are also extremely concerned about the mental health and well-being of our students, faculty, and staff. Since the election, suicide hotline requests have doubled in Illinois and nationally. Counseling centers are overwhelmed with the volume of people seeking help."
The petition released by the Critical Ethnic Studies Department garnered 2,200 signatures out of the 20,255 Facebook users reached. Keeping in close contact with DePaul administration prior to the petition's release, a statement by president Rev. Dennis Holtschneider, C.M. stated he would follow behind Mayor Rahm Emanuel and take action to protect undocumented immigrants, but he did not declare DePaul as sanctuary campus.
Not declaring DePaul a place of sanctuary for its undocumented student did not appear to be a sufficient response because of DePaul's strong emphasis on Vincentian values. DREAMers are a part of DePaul's community who face more challenges, either financially and academically. With the incoming Trump administration, they will face more. Not declaring DePaul's campus a sanctuary will add more unneeded tension to their academic career.
Professor Kathleen Arnold drafted a second petition to declare DePaul a sanctuary campus, to use the St. Vincent de Paul Church as an on-campus shelter from Immigration and Customs Enforcement (ICE), and to prevent Public Safety from cooperating with ICE.
DePaul not declaring itself a sanctuary campus, this can entail the possible repercussions of DREAMers being detained and potentially deported to a country they are not familiar with. Their education and future in this country, a country that DACA recipients have called home since a young age, are at risk. They will be living in fear and anxiety of what their life will become without DACA.
This reveals the unfortunate reality of the extra hurdles and maneuvers undocumented students face, actions most young Americans take for granted. Actions, such as attaining a diploma, a chance pursuing professional passions for now, simply attending class without the fear of not arriving home because of potential ICE raids during these next four years.
Due to DePaul's Catholic-led, Vincentian values the university could have the potential to be on the forefront of the undocumented student movement in Chicago. But, according to Ballotpedia, Trump's fourth point in his Ten-Point Immigration Plan will "block funding for sanctuary cities." Since DePaul is a private institution, risking getting federal funds cut would be detrimental to the population of students who rely on federal loans.
"There is a very real fear that federal funding might be taken away in retaliation by the new administration. Our university is already at risk because we do not have a large endowment to fall back on should federal funding be taken away," Kina said. "We are a primarily tuition driven institution. Our students are everything to us but these events have shown us that we need our alumni and donors to support us too by helping DePaul build a larger safety net for our students."
If becoming a sanctuary campus can entail potentially losing federal funding two groups of students at DePaul, undocumented and those who rely on federal loans, fall under jeopardy. And while DePaul has not declared itself a sanctuary campus there are many other methods DePaul, can do for its undocumented students.
Jesse Mumm, professor in the college of liberal arts and social sciences and organizer of Sanctuaries in Practice, an event dedicated to answering questions arising around the word 'sanctuary,' says DePaul can do much more for its undocumented students.
"There is a wide range of things that we can be doing differently to recruitment access, retention, specifically the role and responsibility of the institution not just undocumented folks but when any of these (marginalized) groups are targeted. How do we protect students from members of our own community who would marginalize or attack them," Mumm said. "That's a discussion that's already been had this past year. It's not at all a settled question(…)We can create safer and safer spaces even if we can't create perfectly safe spaces, but that's not a reason not to try."
It is a difficult position for DePaul, a Vincentian university, to be in. Although, Holtschneider has declared DePaul is working on comprehensive immigration reform rather than creating symbolic act, both, are still equally important.
"Our undocumented peers are much more than 'dreamers' they don't just dream, they achieve," Ramírez said. "They persevere and they will overcome these systems and individuals whose success is founded on the oppression of others. It will be a journey that as a challenging and overwhelming as it can be will further their passion, self awareness, and the fire in their resistance."
Students need to know where exactly their university stands on such a demanding social issue such as the unknown future of their fellow DREAMer classmates. The immigration reform DePaul is completing is reflective of how the university will possibly handle future controversies under a Trump administration.
The current struggle DREAMers are facing sheds light on just the beginning of the many injustices that are to come these next four years.
About the Writer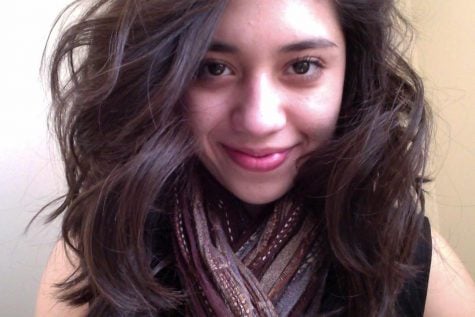 Yazmin Dominguez, Online Editor
Yazmin is the online editor of The DePaulia. She enjoys house music, storytelling, tough editors, and people who can make her laugh. Follow her on Twitter...