DePaul takes home 85-69 victory against Xavier
Standout performances from Brooke Schulte and Jacqui Grant steered No. 21 DePaul (15-4) to an 85-69 victory against Xavier (10-8) on Sunday afternoon to give the Demon's their eighth consecutive conference win.
"I was really proud of our team's readiness to play," head coach Doug Bruno said after the game.  "That's so important because every one of these Big East teams has the talent to beat everyone else."
Senior guard Brooke Schulte put on a show in the first half, dropping 20 points to go along with a dominant nine rebounds and three steals.
"I can't thank my teammates enough for getting me the ball when I'm open," Schulte said postgame.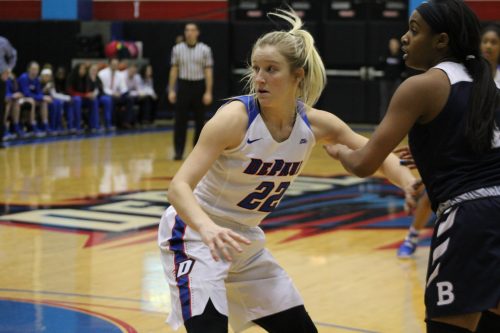 Schulte would tac on eight more points and two more rebounds by the final buzzer, locking down her first double-double since DePaul's December 28th meeting with Georgetown.
DePaul's Jacqui Grant posted her seventh double-double of the season, finishing with 17 points and 13 rebounds.
"We all really take pride in that anyone can really step-up," Grant said.
Xavier's efforts were led by sophomore guard Raeshaun Gaffney and senior forward Maddison Blackwell scoring 22 and 14 points respectively.  Gaffney, the team's leading scorer on the season, was held to 38 percent shooting on 18 attempts.
Rebounding was a point of concern for Xavier from the start, especially on the offensive end of the floor.  Through four quarters, the Musketeers only managed to rein in six offensive rebounds and ceded 19 offensive rebounds to DePaul.
Xavier's struggles on the glass may be attributed to their leading rebounder, Leah Schaefer, leaving the game with a lower-leg injury shortly after tip-off.  She would return later in the game, but finished with only two points and one rebound.
DePaul's only struggles came from three-point-range, where they only managed to convert on six of 29 attempts.  However, their inefficiency shooting as a team was overcome by a sheer volume of shot attempts, managing to fire off 19 more shots than Xavier.
With just over four minutes left to play, Bruno pulled his starters and sent his bench out to close the game with a comfortable 27-point lead.  Xavier proceeded to score 11 unanswered points, cutting DePaul's lead to 16.  There was no dramatic finish, but Xavier's final push concerned Doug Bruno enough to re-enter his starting line-up.   
"I have a deep affection for human beings that make effort," Bruno said, "I have just as much distain for individuals or groups of individuals that don't play hard… there is only so long that I can watch it."
"At DePaul, there is no such thing as garbage time." Bruno said, "I don't care what the score is, if you're earning a scholarship… you play to win that possession."
35 seconds after the starters returned to the floor, DePaul scored on a jump shot from Amarah Coleman.       
"We have some possessions that are really, really good, we have some possessions that are absolutely not and we are still getting that cleaned up," Bruno said, "In the big picture, I'm just proud of our readiness to play."
With Sunday's win, DePaul remains undefeated in conference play (8-0) and strengthened their hold on the Big East.