Trump's immigration orders spark protests nationwide
Hundreds gathered outside the Chicago Department of Homeland Security office downtown Jan. 26 in protest of President Donald Trump's executive orders ordering construction of a wall on the Mexico-United States border and fast-tracking deportation of undocumented immigrants.
ANSWER Chicago, an organization focused on ending war and racism, partnered up with People United Against Oppression, Black Lives Matter Women of Faith, and Rise and Organize for "Emergency Protest: Defend Immigrants & Build Wall of Solidarity" event.
Speakers including Pedro Guerra, a civic engagement leader for Rise and Organize, addressed the protesters outside the Homeland Security building before the march. He spoke with his back to the Chicago police officers on bikes prepared to follow the marches and prevent disruptions in traffic.
"My grandfather came from Mexico on a visa and worked to put my mom, my two aunts and my uncle through school," he said. "And now they work for the government, putting over 100 years combined (in government service). So if anybody tells you we don't belong here, they're wrong."
He also spoke of the importance of the protest and others taking place across the country.
"We know that unity comes with numbers and with numbers comes power," Guerra said. "Look to your left, to your right, in front of you. You are not alone. We are here and we are here to stay."
Fellow member of Rise and Organize, Angelica Magana, also spoke to the crowd. An undocumented immigrant herself, she thanked the protesters for the support and solidarity.
"Through such a dark and ugly time, I don't know how I would be able to move forward had I not met so many of you," Magana said. "Thank you."
When ANSWER coordinator John Beacham spoke, he said "the power that be have gone too far" and directed the protesters to begin their march to the Federal Plaza. But the location had a different name for the evening.
"(It's the) People's Plaza tonight," Beacham said.
After the march, Magana stood on top of a bench and spoke to the crowd gathered at the Federal Plaza and vowed to defy the president's actions on immigration.
"I belong here and I plan to stay," she said. "They're going to have to drag my dead, cold body out of this country before I leave. And I swear to you, that is a promise."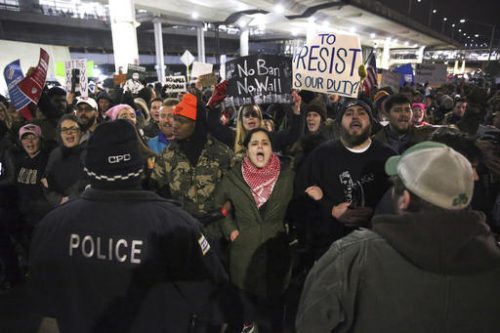 Syed Hasan, a founder of People United Against Oppression, also spoke. "When we look back at history and see that a racist president ruled over us, (we'll know that) we were the people that stood up," Hasan said. "We were the people that stopped Trump from coming down to Chicago. It doesn't matter what he says (or) how many executive orders he signs. It only makes us stronger. Strength is not in the government; it's in the people next to you."
Trump's executive orders continued the day after the emergency protest. According to the New York Times, Trump's Jan. 27 executive order on immigration "barred Syrian refugees from entering the United States, suspended all refugee admissions for 120 days and blocked citizens of seven Muslim-majority countries, refuges or otherwise, from entering the United States for 90 days: Iran, Iraq, Libya, Somalia, Sudan, Syria and Yemen."
The executive order was met by criticism worldwide and protesters gathered at airports across the United States in opposition of the ban. According to ABC7, 18 people were detained and held at O'Hare Saturday night due to the ban and thousands of protesters shut down traffic to the international terminal, calling for the authorities to release the 18 persons detained.
Airports and streets in Miami, Minneapolis, New York, Cleveland, Washington, Los Angeles and Dallas also had protesters in their streets and airports Saturday. The night before Trump's second set of immigration orders hinted at a resilient resistance going forward in Chicago.
In the face of potential deportation, Magana was defiant. "I'm here to stay," she told the Federal Plaza protesters. Her declaration was met with cheers.