Through photojournalism DePaulia photographer has hope for future
I still remember the exact moment I saw my shot.
In June of last year, I was assigned to cover the 47th Annual Chicago Pride Parade. I had never attended the Pride Parade, and had absolutely no clue what to expect. I grew up in small town Illinois, and by the time I finished my undergraduate degree in 2012, I could count the number of individuals I'd met from the LGBTQ community on one hand.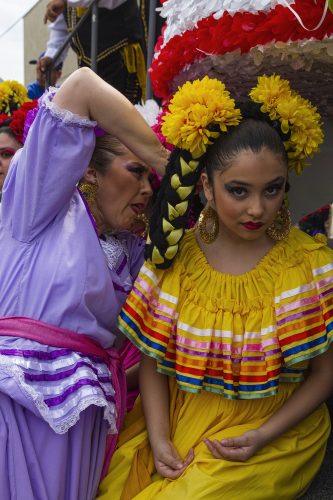 Throughout the day I'd been struggling to find that one image that sparkles – something the really embodies what it is I'm there to shoot.
With the din of house music in the background, I looked down the line of floats waiting to enter the procession and saw a figure gyrating on top of a float. This man was the definition of confidence – Michelangelo's "David" with extra sass, rippling pecs and wearing just a pair of boy shorts that left only minor details to the imagination.
Behind his float was another which displayed an enormous, violet banner which read "NO HATE" in three-foot-high canary, gold letters, although the "NO" was obscured from sight. It was the perfect juxtaposition of love and hate, and I stood there snapping for what felt like minutes as he thrusted and moved to the bass.
When he climbed down from the float, I followed him to get information for a photo caption. But when I stopped him and explained myself, his face changed. He seemed different from the man I saw dancing – he had taken off his sunglasses, and his bravado was gone. His shoulders were pitched forward and his voice shaky.
"I don't know. I don't think I can be in a big newspaper, my coworkers don't even know that I'm gay. What if they recognize me? I don't want to get fired. But, I mean, you can't tell it's me with the glasses on. And it's 2016 – they can't fire me for this, right?" he asked, shifting his weight back and forth. "I just don't know."
Despite reassurance from a few members of the crowd, he still wasn't comfortable.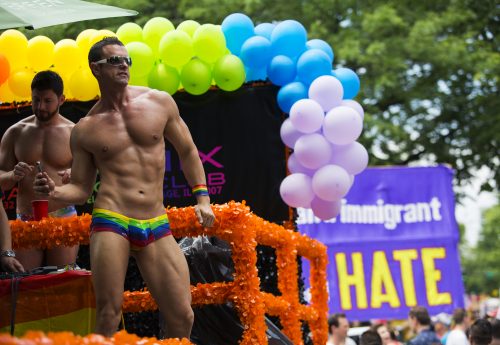 After explaining the photos would only be running in a student newspaper he eventually relented, but the mark he left on me was very real. Less than ten minutes ago he was dancing, unafraid of who he was and who he loves, showing off his body that he's clearly spent hundreds of hours in the gym sculpting. Now he's standing in front of me, unsure if that version of himself is acceptable to the world outside the bubble of safety that is Pride.
As soon as the shades came off, reality set in and he was afraid. This was a kind of fear I never have and never will experience in my life, but I just had a small window into his life, one that challenged me to feel something new.
While working as a photojournalist for the DePaulia, I've covered a hugely diverse portfolio of stories, from a group that brought puppies to campus to relieve the stress of finals, to Black Lives Matter prayer rallies held in remembrance of those who've lost their lives. I've had to shoot a wide range of situations and met so many interesting people – many of whom I'd never meet in my daily life.
However, my job is a lot more complicated than just walking up, snapping a couple photos and going home. To tell a compelling story and put my readers in the moment and to make them feel something real and visceral, I have to understand everything that came together to make the moment a reality.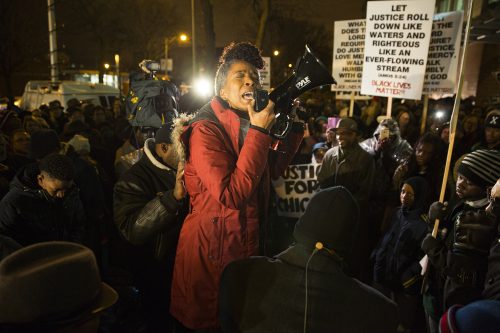 Many times that's taken me outside of my comfort zone. At first, this was a challenge but the more I connect with people who hold different views, the more passionate I become about causes I didn't previously understand. If you asked me five years ago, I'd have probably said I was indifferent to Black Lives Matter or marriage equality because those movements were so far away from my life experiences.
That's the beauty of meeting someone, genuinely listening and leaving your preconceived ideas at the door, it allows you to see a cause or a person in a completely different light. It's difficult to hold onto a position of apathy when you're standing in front of a family grieving the loss of their son or see a child take in the lights of Wrigley Field for the first time in their life.
That's the thing — objectivity is one of the most important journalistic values, but that shouldn't be confused with a lack of passion.
We chose these careers because we love people and want the world to understand each other and what's happening around us. The more I photograph people, the more optimistic my worldview becomes. In this country's current climate empathy is invaluable.
In a time when human-to-human interaction is becoming less frequent, it's important to step out of our comfort zone and to genuinely try to understand each other, especially those who are different than we are, and we might not quite see eye-to-eye with. If we can work towards this ideal, the future is something to be excited about.