Fixing Chicago's "carnage"
Hang on for a minute...we're trying to find some more stories you might like.
His name is displayed in five bold letters across one of the most impressive buildings in Chicago. Placed on the seventh tallest building in the world, standing 1,362 feet tall, the letters T-R-U-M-P are visible for all the downtown area to see. Although President Donald Trump's name is in the center of downtown Chicago, one of his most recent Twitter proclamations suggests he is not as in touch with the city as the presence of his building might be.
On Jan. 24, Trump announced via his Twitter account, "If Chicago doesn't fix the horrible 'carnage' going on, 228 shootings in 2017 with 42 killings (up 24 percent from 2016), I will send in the Feds!"
When asked to explain his cryptic tweet in an interview by ABC news, Trump offered no explanation other than "I will send in what we have to send in."
The president's statement is a bit naïve when it comes to tackling the root of the issue, because "the feds" are already here in Chicago. In every major city, federal agents from the Drug Enforcement Administration (DEA), the Bureau of Alcohol, Tobacco, Firearms and Explosives (ATF) and the Federal Bureau of Investigation (FBI) are already in place to assist local police departments, and are most certainly working in conjunction with the Chicago Police Department (CPD).
Junior Griffin Roberts agrees with Trump's statement.
"I believe more manpower would be useful, for sure," Roberts said. "It would help combat crime in the short term, but I think more long-term solutions lie in law enforcement related strategies and educating the public on how to attempt to prevent crime to the best of their personal abilities."
Although the issue of violence, particularly gun and gang-related violence, is indeed a plague on the city of Chicago, the problem is not a lack of federal agents, but rather a lack of funding and an unbalanced allocation of the city's resources.
"I think that the long-term solution to end violence in Chicago is by focusing on education especially in areas with less average incomes," freshman, Brandon Cote a freshman said. "As well as creating more community programs to keep kids involved and stay out of trouble.  I also think that more gun control is required. Not restricting access, just more background screens  and verification to make sure they are mentally sound."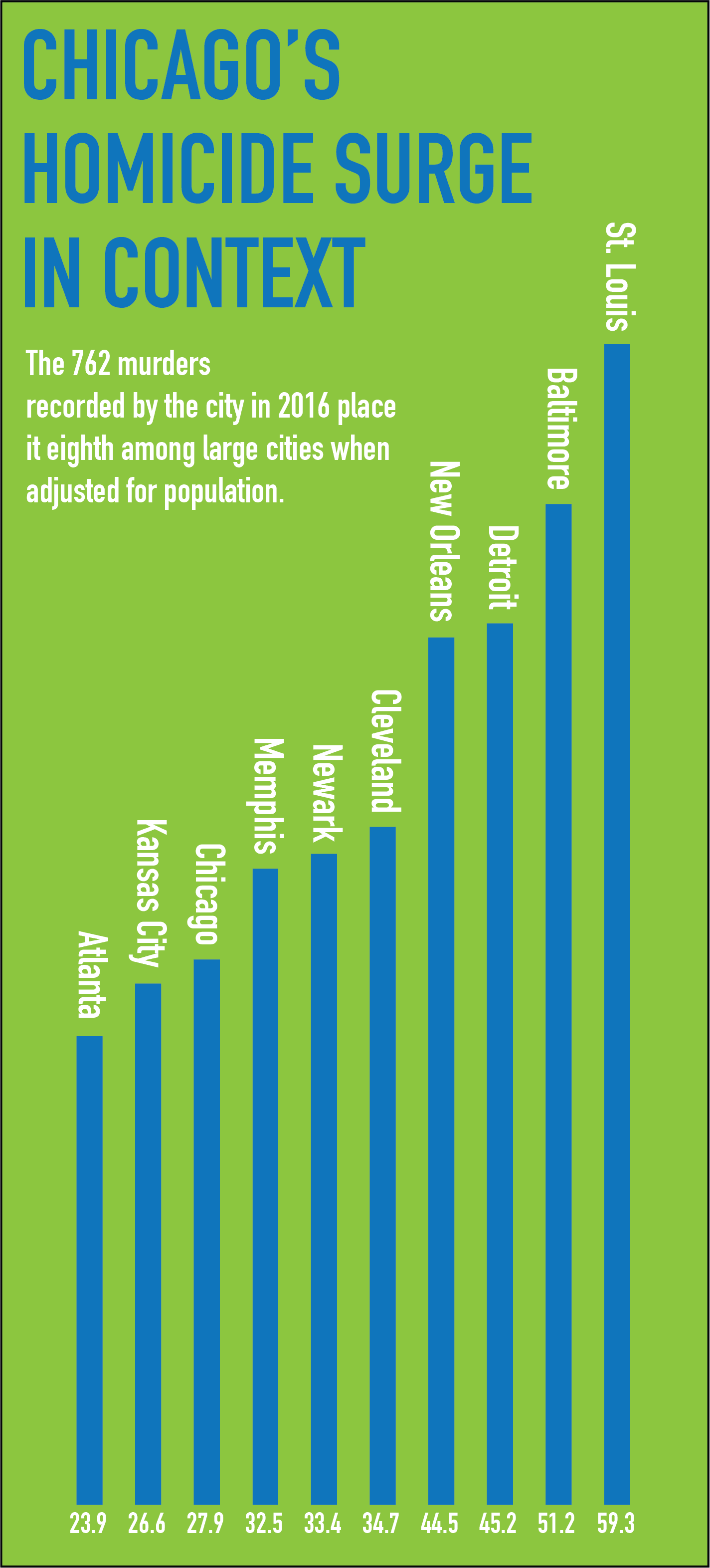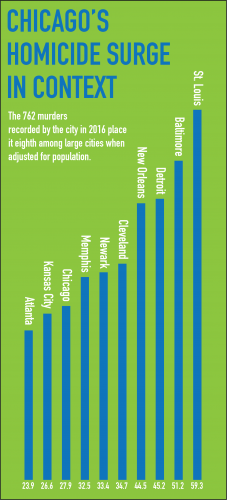 While Trump is convinced extra armed forces are the solution, the question needs to be asked whether  his concerns about the city of Chicago are justified.
Just one month into 2017, and the city of Chicago has already seen 52 murders and around 300 shootings. This is slightly higher than last year at this time, according to ABC7 WLS Chicago.  It unfortunately justifies the president's concerns.
While these numbers are staggering, absolute numbers alone do not properly represent the crime rates in Chicago.
According to the Trace, a nonprofit, news organization that dedicates itself to news coverage related to guns and violence, when comparing the number of murders to the total population of the city, St. Louis, Missouri is the highest. Chicago ranks eighth in the nation as of 2016, down one place from 2015. While crime has been declining over the past few years, 2017 has brought a spike in shootings and violence to Chicago compared to this time last year.
There is no doubt that something must be done to stop the violent crime that plagues the city, particularly in many of its South and West Side neighborhoods. If the Feds are already here, then they aren't the answer. The solution to Chicago's crime problem requires much more than increased man power.
"Chicago and New York have very similar numbers of officers per capita, four per thousand; but Chicago only has 50 cops per square mile and New York has 114 cops per square mile," Robert Stokes, the director of the School of Public Service at DePaul and an expert on crime prevention and police-community relations, said. "Chicago is more spread out and less dense, which makes it more difficult to effectively patrol spatially."
Instead of sending more law enforcement to Chicago, Trump would do better to work with Mayor Rahm Emanuel and CPD to address the distribution of police across Chicago's neighborhoods per each neighborhood's respective crime rate.
Emanuel has not kept silent in response to Trump's threats. Opposed to recruiting more federal agents, Emanuel voiced that he is seeking more federal funding to create youth programs, after-school activities and summer jobs for people who live in high risk areas for criminal activity. His hope is that these programs will lead at-risk youth towards positive lifestyles and away from the lure of crime.
However, Trump's recent revocation of federal funding for cities that remain sanctuary cities after his executive order  on immigration may mean even less money for Chicago to work with. When asked what route the city should take when approaching the issue of violence, Stokes offered a similar solution to the one Emanuel proposed, adding that stricter gun laws should play a bigger role when addressing the high number of shootings that occur daily in the city.
"Chicago needs better avenues for opportunity for disadvantaged young people and adults in the city, (whether) it is better education or jobs. But, that does not appear to be around the corner, and we may see the opportunity structure for poor people actually get worse with industrial mechanization, right to work laws and unevenly funded education systems," Stokes said. "Moreover, if everyone has a gun, it sort of makes sense to shoot first before you can get shot, right? There appears to be a basic human impulse towards survival. So, better gun control measures would make sense."
It is clear that just one solution, such as bringing in more federal agents, is not what Chicago needs to thoroughly combat the violence.
Sorry Mr. President, but Chicago will not be intimidated by your threats, and regardless, sending in the feds will fail to make things better — the feds are already here.
However, it is comforting to know our nation's newest leader is seeking to improve the safety of our beloved city. For the sake and safety of Chicago and all its citizens, we can only hope that federal aid will come in the form of financial help and not increased manpower in law  enforcement.