West Loop sandwich shop offers fair prices and simple lunch
The West Loop/Fulton Market area has always had a bit of a fancy and pricey reputation. After all it's here, within a roughly three-quarters of a mile span from Morgan Street to Halstead Street., that some of the city's most critically acclaimed restaurants call home.
From Roiser to Duck Duck Goat to Momotaro and many more, the hot spots of Chicago's West Loop is a prime location for Chicago's foodie elite.
But in an area of complex ingredients and spices, pricey and high costs, what happens when you're looking for something a little more rustic, a bit simpler?
A quick, in-and-out, grab-and-go kind of place that doesn't stoop to the level of fast food but that also doesn't involve liquid nitrogen or Michelin stars?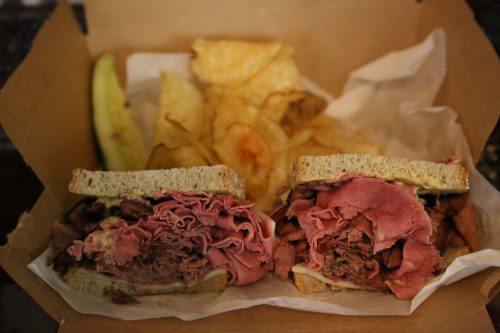 The Corned Beef Factory at 1009 W Lake St – just off the Morgan CTA El stop –will have you covered.
It's impossible to get simpler than a menu with a mere six items that consist of: Corned Beef, Reuben, Pastrami, Italian beef, hot dog and Tom and Jerry (a half Pastrami, half corned beef combo sandwich). Technically there's a few smaller items, including a turkey sandwich with mayo and Swiss, a turkey reuben and fried "honey puffs" (which are really Greek donuts or loukoumades), but the point still stands.
The Corned Beef Factory is simple from the food on its menu down to the way the restaurant is designed.
There's no seating, just a standing-only countertop, so either order in advance for pickup on their app – that gives you your first sandwich free upon download – or eat shoulder-to-shoulder with other working professionals who pile in before the 3 p.m. closing time.
The brisket – tender and thinly sliced – is, of course, the star here at The Corned Beef Factory. It's sandwiched between two pieces of rye and served with your choice of regular or spicy mustard, along with a pickle spear and thin, salty house-made potato chips, and Swiss on the corned beef, or grilled with Thousand Island dressing and sauerkraut on the Reuben.
The pastrami is similarly excellent, piled high for optimal bite enjoyment, though it fails in regards to the optional ingredients of the brisket.
Whether you're getting the brisket or the Tom and Jerry or any other sandwich, be sure to wash your meal down with an organic soda pop from Tractor Soda Company over at the drink station, and you're good to go.
If you're not looking to take the trip down to the West Loop, it was reported back in November that Corned Beef Factory was looking to open up a sister sandwich shop in Millennium Park sometime this year.  And while it's unknown if the shop will follow the original's closing time or cash only policy, it would easily be a great addition to the many lunch spots located on Michigan Avenue.
In the meantime, be sure to check out the Corned Beef Factory's West Loop location because it is one of the best tasting and fairly priced lunch shops in Chicago.
About the Contributor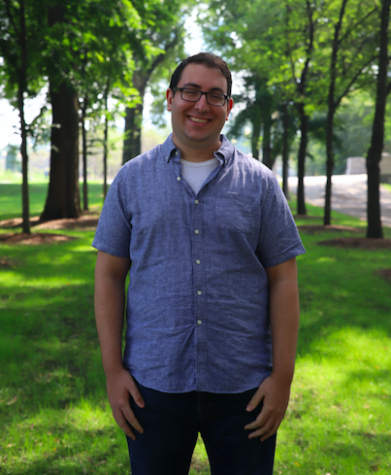 Brian Pearlman, Nation & World Editor
Brian is the DePaulia's Nation & World editor. He enjoys reading about international affairs, diplomatic strategies and more importantly the people...