You say potato, I say potahto: New bistro offers comfort food
With a little over 30 vendors ranging from barbecue to Greek to Japanese, the Chicago French Market — located at 131 N. Clinton St. — provides plenty of options to hungry Loop commuters.
As of Feb 1, the latest addition to the market's roster is The French Lunchbox, a bistro-themed spot that melds haute-inspired flavors with that most American of dishes: the humble baked (and stuffed) potato.
Chef and co-owner Gide Merriman, who runs the stand with his wife Jenn, comes to the Market from Bistro Bordeaux in Evanston, where he was once executive chef.
What eventually became The French Lunchbox was initially floated as a more traditional French bistro — but that all changed when the decision was made to come to the French Market, where Café Marché is a mainstay. Merriman decided to preserve the French theme, while bringing French food to a more approachable level.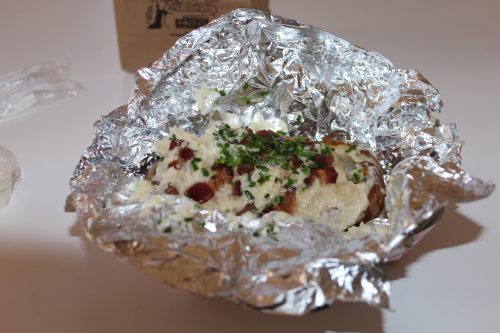 "If you go to France, a bistro or a bistro setting isn't as fancy as we try to make it (in America) — the same with the trattoria for Italians," Merriman said. "It really is a place on the corner with worn-in tiles where you go to have drink. It's open late. The food is generally simple."
That mantra carries over to the potatoes, each of which are placed in a paper boat and swaddled in tin foil. Don't be fooled, though — a carnival corn dog this is not.
In the "classique" — which is French Lunchbox's version of a conventional loaded potato at, say, Outback Steakhouse — chives, sour cream and shredded cheddar cheese accompany a delicately creamy, almost velvety potato interior. It would be unfair to describe it as akin to mashed potatoes; this is something entirely better, improved even further by the addition of thick cubes of bacon lardon for $2 extra.
The "brie fondue" variation takes the "comfort food stuffed into an extra-large potato" ethos even further.
The silky potatoes are here coupled with copious chunks of chicken breast, ham and spinach before being layered with a delicious brie cheese sauce. It is rich to the extreme, without overpowering the other flavors.
Other varieties include Merriman's take on "hachis parmentier" (French Shepherd's Pie), "crevette 'n' grits" (which features shrimp, grits, cheese, and jalapenos) and a vegetarian "poutine aux champignons" with button mushrooms, cheese curds garlic confit and mushroom gravy.
It also happens to be the only place in the Chicago French Market where you can get Dark Matter Coffee, a fact that Merriman is very proud of. The partnership has yielded a unique blend available only at French Lunchbox, sourced from two different South American countries.
"It's taking the stuffed potato to the next level," Merriman said. "We're trying to create something that is new, which is very difficult in the Chicago food scene. It's exciting."
About the Contributor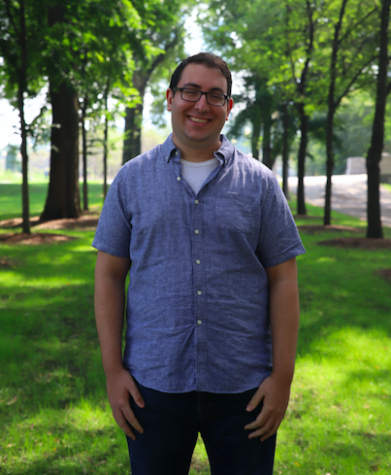 Brian Pearlman, Nation & World Editor
Brian is the DePaulia's Nation & World editor. He enjoys reading about international affairs, diplomatic strategies and more importantly the people...