DePaul hopes Wintrust Arena will boost ticket sales
Last week, DePaul's Athletic Department hosted two "Lunch and Learn" information sessions in the Loop and Lincoln Park to give faculty and staff an inside look at the amenities and benefits of the university's new $200 million basketball arena.
The newly named Wintrust Arena is located near McCormick Place on the Near South Side, bringing Blue Demon basketball into the heart of the Windy City.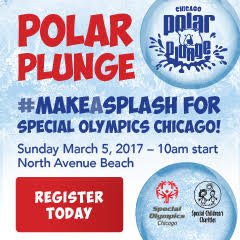 DePaul's Associate Athletics director for Ticket Sales and Operations Marty Murphy said the change in location is a key benefit of the new arena, making home games more convenient for students. The arena is also more attractive for Chicagoans without a connection to DePaul who want to take part in something "new and special," which could help fill seats at home games.      
DePaul men's basketball currently plays their home games at Allstate Arena in Rosemont, committing students without a private means of transportation to upwards of three hours of travel time (roundtrip) on the Blue Line.  For the 2017-18 basketball season, students will only need to take the Red Line from Lincoln Park to the Cermak-Chinatown stop and walk about three blocks to the arena, sacrificing no more than an hour of travel time. DePaul's Athletic Director Jean Lenti Ponsetto and Murphy both say student attendance should increase considerably in the coming seasons. DePaul averaged 5,514 paid attendance (people who bought tickets) in 2015-16, which has dropped to an average  of 4,793 this season.
DePaul is taking a new approach to the student section in the new arena, doing away with the classic lower-level seating behind the basket that brings students closer to the court.  Student spectators at Wintrust will be seated in the Demon Deck, which is elevated to the second deck, still behind the basket.  However, Murphy says there will be separate student seating for upperclassmen in the lower levels behind the basket.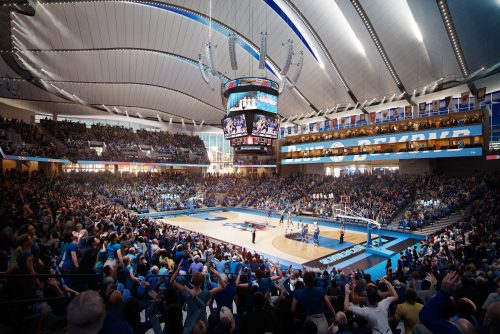 Murphy says those concerned that students will no longer have quality seats will be pleasantly surprised by how much more intimate the new arena will feel.  Downsizing from over 11,000 seats at Allstate to 10,387 seats at Wintrust, spectators will feel closer to the action with seating better designed for basketball, he said. Unlike many student sections with views obstructed by the backboard and personnel along the baseline, the elevated seating offers an unobstructed view of the court. 
Speaking to faculty and staff in Lincoln Park on Wednesday, coach Dave Leitao said, "We want to create a winning basketball atmosphere."  DePaul hopes to leverage a similar advantage to Duke University's Cameron Indoor Stadium, which is roughly 1,000 seats smaller than Wintrust and notoriously difficult to play in for teams on the road.
From a basketball perspective, the combination of a new location and a more alluring atmosphere promises to help with recruits.  Chicago has a rich basketball history, and many of the top high school prospects in the country but offers almost zero competitive Division One men's basketball.  DePaul's athletic department believes a greater spotlight for college players in the city of Michael Jordan will bring fresh, young talent into the program.
DePaul's women's basketball team is scheduled to play six regular season games at Wintrust next year, including a high profile match-up Murphy was only able to hint at.  "I can't tell you who it is right now," Murphy said. "But let's just say they win lots of games — in a row."
In unrelated news Connecticut — the winningest program among all men's and women's collegiate sports ­— recently clinched 100 straight wins. 
"DePaul has the best facilities," women's basketball head coach Doug Bruno said Wednesday, "Our facilities are engaged with faculty and staff 24/7."
Leitao echoed Bruno's thoughts saying, "(Wintrust Arena is) for DePaul University, not just DePaul basketball."