Women's basketball coaching staff brings stability
The DePaul Blue Demon's women's team is one of the most successful collegiate teams, coming off three straight Big East championships and 14 consecutive NCAA tournament appearances. While many players have come and gone, the coaches have remained stable for the most part, and not just  head coach Doug Bruno.  Associate head coach Jill M. Pizzotti has been on the Demon's bench for five years.  Assistant coaches Bart Brooks and Candis Blankson have been on the staff for 10 and 15 years respectively.
"The first prerequisite or ingredient to having good team chemistry is to first have good staff chemistry," Bruno said.  "So, I just think it is very important that you hire quality people to be on your staff and then you work very, very hard to keep them (…)
I think one of the ways to keep your staff is to let them know that you're going to support them and any desires they have to become head coaches elsewhere.  So when the season is over, after the last game within twenty-four hours I usually meet with the staff to say 'Are you intending on coming back or do you want to go look for something elsewhere and I'll do everything I can to help you become a head coach somewhere else (…) But I have been blessed to have a great staff my entire coaching career."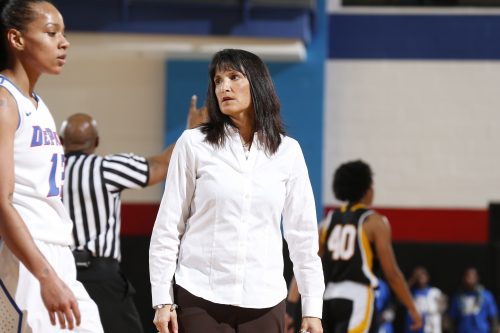 The strategy must work as clearly his staff has stuck around.  But just ensuring to help them move forward is not going to be enough to keep them to stick around as long as many of the staff members have.  Keeping the staff together involves building relationships between all the members.
"In all relationships, the longer you work together the more comfortable you get with one another and if you are not getting more comfortable then it probably needs to in a different direction anyway,"  Bruno said.  "So, experience together is important, but three areas of life that I just believe in are if you want trust, don't ask for it, I believe you give it.  If you want loyalty don't talk about it and ask for it, give it.  If you want respect, don't ask for it, demand it, give it.  And I think by giving trust and giving loyalty and giving respect to my staff, which I try to do, that comes back in return."
The message has certainly gotten across and created bonds between the staff.  Coach Pizzotti, a former head coach, came here to be the associate head coach because of her relationship with coach Bruno.  Despite being one of the newer members, she feels the trust between everyone.
"It all really starts with coach Bruno," Pizzotti said. (Blankson) having been a player hear and then staying the next 15-16 years, Bart's been here 11 years, Lisa (Ryckbosch, Director of Professional, Corporate and Community Relations) is going on her 16th year, so just the fact that there is a lot of familiarity with each other and we go from Doug's lead, there is a lot of trust among the staff  and Doug shows us a lot of trust and then we just give it back to each other."
Of course, the on court success would not be possible without the players.  Having such consitiency and chemistry among the staff members has huge positive affects for them as well.
"Stability is always important in all relationships, but with the team I think the stability has (…) made a real positive impact on our success and when every player who plays for us gets recruited by us, it just means a lot," Pizzotti said.  "In this profession you hear a lot about kids being recruited by one particular coach and then playing for someone else (…) and that's from the head coach or assistant coach, but here at DePaul these kids get recruited by us and then we are here to help them and coach them throughout their college career."