SGA no different than administration, students call for action
The Student Government Association (SGA) released a statement Feb. 9, that fell short on addressing actual demands or a plan of action to protect undocumented students.
Although soaked in good intentions and inclusive language, SGA's statement echoed the same sentiments already made by DePaul President Rev. Dennis H. Holtschneider, C.M. In January, the president's office sent an email to students, faculty and staff following President Donald Trump's executive order on blocking travelers from seven different predominantly Muslim countries.
"Students, faculty and staff members from the affected countries have made DePaul their home away from home and we fully intend for that to continue," Holtschneider wrote.  "We will take every action within the law to protect everyone within our community (…) just as we remain unwavering in our support of undocumented students during these uncertain times."
However, many students would agree with the fact that all of this does not feel as if it is enough in terms of protecting students who are most at risk.
Undocumented students like freshman Brenda Gonzalez wish that the Office of Financial Aid would step up to the plate and offer more support for students like her who are already struggling to make ends meet.
"I want free or affordable health care, unlimited visits to (University) Counseling Services to help cope with all of this chaos," Gonzalez said.
As the governing body of all students who work in conjunction with administration, SGA's exact amount of power can be questioned. But, they can and want to do a better job of making sure unique student voices can be heard.
"I would say it is extremely easy to get frustrated with DePaul, but I think sometimes we have to take a step back and realize that behind the institution (is) people," Michael Lynch,a junior and senator for SGA. "We still have work to do."
Lynch is right: A good channel of communication between students and DePaul administration is necessary and would benefit students in need — and this is often SGA's exact purpose.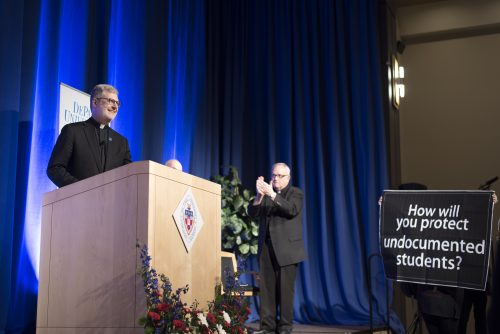 A revamping of how SGA relays important messages must be in order immediately, considering that members of U.S. Congress have expressed an alarming concern for all undocumented after meeting with a top Immigration Customs and Enforcement (ICE)  official on Thursday morning.
Rep. Lucille Roybal-Allard (D-CA) said a statement that "every undocumented person in America is now vulnerable to arrest and removal as a result of the president's orders."
In the case that an ICE official should show up on campus, they are to be directed to the Office of General Counsel (OGC) according to Gracie Covarrubias, SGA Senator for Mission and Values.
Wednesday afternoon, a Facebook post in an unofficial DePaul group sparked fear and frustration among students with rumors of an ICE agent being spotted on one of DePaul's campuses.
Covarrubias was able to confirm that the visit was for a prearranged meeting with a DePaul community member and that visits like this are not out of the ordinary. OGC sent an email to Diversity Council, which Covarrubias is a part of, notifying them of DePaul's default policy for cooperating with ICE.
Why didn't SGA or DePaul administration publicly address this incident? If all who say they want to protect and serve immigrant communities at DePaul, why aren't they following up with the necessary information to ease campus wide anxieties?
DePaul University has not and does not appear as if it will declare itself a sanctuary campus, despite Mayor Rahm Emanuel confirming in November that the city would remain a sanctuary for immigrants and refugees.
That same month, over 2,000 people signed a petition by the Critical Ethnic Studies program calling for DePaul University to declare the campus a sanctuary for undocumented students, staff and their family members.
Without a doubt, a significant portion of DePaul community members do not want ICE agents anywhere near or on campus.
"Sadly, if ICE or other agents have legal appropriate paperwork then they can enter any site in America and search and/or seize property or individuals," professor Matthew Girson, wrote in an email.
That being said, the question that hangs in the air is now, what more can and will DePaul – and the university's new president – do  to keep immigrant and refugee students, staff and faculty safe?
"I want the university to publicly state that they will not cooperate with ICE or DHS whatsoever," Gonzalez said.
Thursday morning, the identity of DePaul's new president Amado Gabriel Esteban, Ph.D. was made public to the DePaul community with an announcement ceremony that was met with protesters carrying signs asking some important questions, such as, "How will you protect undocumented students?" and "Will you finally uphold Vincentian values?"
This is the great thing about attending an institution like DePaul: we will always have our Vincentian mission to fall back on. The mission of St. Vincent de Paul, no matter how dated it feels, calls us to be and do better than this. DePaul University should be held responsible for protecting and even failing to protect its most marginalized students.
"One of the great things about my position is that I can always ask myself, 'How does this relate back to the mission?'" Covarrubias said.
Covarrubias and Lynch expressed their desire to work directly with students to avoid social media scares and widespread misinformation. This, of course, requires communication and participation from both SGA and the general student body.
We can start by first giving a voice to the students who are directly impacted by a presidential administration that is sending our country's most vulnerable in a downward spiral.
"I would lastly ask for DePaul to listen and open and keep spaces opened for undocumented students seeking a safe space where we can just be," Gonzalez said.