For the first time in its history, DePaul University will not be led by a Vincentian priest.
The new president, A. Gabriel Esteban, will be the 12th president of the university, following Rev. Dennis H. Holtschneider, C.M. who announced he would resign as president of DePaul effective summer of 2017. Esteban is set to begin in his new role in July.
DePaul Trustee and Vice Chair Jim Ryan as well as a search committee comprised of board representatives, university administration, faculty and students led the search for a new president, according to a university press release.  The selection process was a "hybrid search model", creating a mix of both open and closed aspects of the search.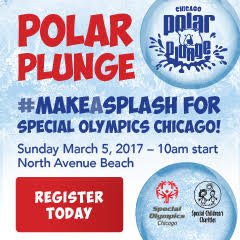 In a forum hosted by Ryan and Chair of the Board of Trustees William Bennett in October, members of the search committee emphasized their dedication in finding the most qualified and effective leader of the university, regardless of religious affiliation.
"The present bylaws of DePaul don't require the president to be Vincentian or even Catholic," Rev. Edward Udovic, C.M. said during the forum. "What we need to do is find the best candidate, Catholic or not."
Professor Fr. Patrick McDevitt, who is also a member of the Vincentian order, said having a lay president for the first time in the school's history will not change the mission and values of the university.
"DePaul has been led for 120 years by Vincentian priests so this spirit is in our DNA, it's in the DNA of everything," he said. "DePaul is going to inform the new president, this new president will learn from the institution and they will get it because it's in the DNA. There's no way to gut this."
Founded in 1898, DePaul University began as an institution made to provide marginalized Chicago communities with higher education opportunities.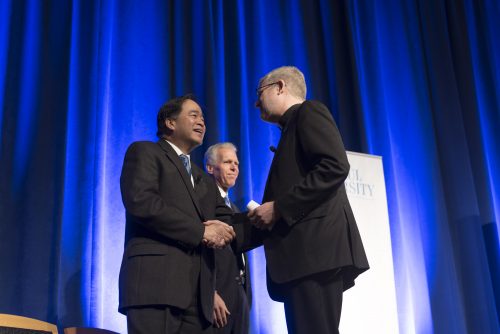 McDevitt said DePaul is unique because of the catholic, Vincentian and urban mission the university was founded on. Catholic principles, especially a Vincentian outlook, would be difficult for anyone to inherit.
"I think the challenge of the next president is going to be both not to just preserve history and our spirit but actually build upon it and make it relevant for today's world," McDevitt said.
Regardless of religious affiliation, McDevitt said there would always be a learning curve for administrators new to the university and its mission.
"Any president that goes to any institution, he or she becomes the student. They will be talking to students and to faculty and staff and say 'what does this mean?' that Vincentian spirit and ethos is different."
McDevitt said a lay president provides an opportunity for the university to welcome a "friendly outsider" who may offer a different perspective.
"DePaul came from a neighborhood that was immigrants, that was poor, we set up a school for people who were immigrants and coming to this country who were struggling. That's our history," he said. "What's going to be interesting is having somebody that's never been a part of this. They will bring different questions and challenges which I think is exciting."
Historically, the university president has been the institutions lead Catholic representative, but with a lay president, McDevitt said the university would likely add a position to the administration.  For example, St. John's University in New York, another Vincentian university, created a new position to maintain their Vincentian mission.
But some students feel as though a Vincentian priest would have emphasized the universities' mission more than a lay president would.
"DePaul loves to proclaim their being the largest Catholic university in the country, but truth is, the university acts against Catholic teaching in most policies and running of the school," DePaul junior Jenna Humphries said. "Most people don't know DePaul is Catholic because the rhetoric is so opposite. I think that having a lay leader would only make matters worse."
Humphries said she's worried about the university staying true to its mission.
"If DePaul wants to claim its Catholic title, the least the university can do is have it be run by a religious man of the order that bares our name," she said.
In spite of concerns over the future of the university's position in the Vincentian community, McDevitt said at the end of the day DePaul is ready and excited for the change.
"Being a part of the community, walking around campus, being seen, being approachable, all of that is going to help make the new president influential," he said. "This is Chicago, Chicago is a city of neighborhoods, a city of neighbors and you've got to become a Chicagoan. Chicagoans are neighborhood people and DePaul is a neighborhood."