A screenwriter is constantly thinking of a story. Stories are what connects people. For generations and generations, stories were passed down, and then those stories were passed down even further. We pass them on to our family, our kids, our grandkids, enabling them to learn and grow. People learn through stories, and people constantly seek them out.
For one DePaul screenwriting professor, his relationship with his son Mason, fits this. They shared stories together and it was unique.
"Dads and sons sometimes play catch, but for Mason and me, throughout his whole life, our 'catch' was pitching jokes and stories to each other," Chris Parrish said.
Parrish made a crucial trip out to Los Angeles after earning his bachelor's degree. He chugged away, utilizing every opportunity he could get his hands on. It's that first paid writing gig that any screenwriter will hold dearly to their heart and resume.
"I was hired to write the still unproduced sequel to 'Teen Witch,' which apparently did really well on video, it has some sort of cult following. At the time, I was paid two grand, and to me, that was like J.J. Abrams money. I was pumped," Parrish said.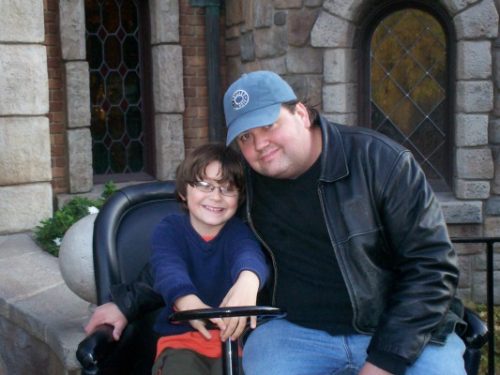 As the ball began to roll and the lines of dialogue were produced, Parrish's experiences in L.A. helped him, making connections and building opportunities. This was all a part of the plan.
That plan was working accordingly. Parrish sold spec scripts and wrote episodes for "The King of Queens" and "American Dragon: Jake Long" as well as working as a story analyst for New Line Cinema, Paramount Pictures and 1492 Pictures.
"My wife and I are both from the Midwest. Before we moved out (to LA) in 1992, the plan had always been to come back to Chicago and try our own productions," Parrish said. "After about 18 years, my kids were getting older. My wife said, 'we wanted to do this forever, let's go back to the Midwest. Let's go back for a year. If it doesn't work, we can just move back to LA.'"
That time to move back to the old stomping grounds in Chicago was now. Parrish had secured a gig at UCLA'a Extension teaching screenwriting and it was time to bring that to the Midwest. It was that plan that didn't go as accordingly.
"After about six months of living in Illinois, our world shattered," Parrish said.
Shooing away specks of dust and eraser shavings on his desk, Parrish re-situated himself in his DePaul desk chair and continued.
"My son Mason was diagnosed with an inoperable brain tumor. Everything just stopped," Parrish said.
That 18-year-long plan that Parrish and his wife Ilisa had initially planned, was completely re-routed.
"Ilisa and I spent the next year entirely living in children's hospitals, or the Kohl's House or the Ronald McDonald House, taking Mason to radiations, doctor appointments and sleeping in his hospital room," Parrish said. "That was essentially all of 2011. And I don't remember much of 2011. It was spent in hospice taking care of my son."
Throughout Mason's life, he was a storyteller. He would often critique films that he saw, offering alternative story structure to enhance his liking. One of his memorable critiques comes from his "Night at the Museum" analysis.
Parrish, recalling a memory from L.A. said, "I was driving him to school one day and he had just seen 'Night at the Museum.' He said, 'you know dad, I liked that movie but why did they set it in a museum? Museums are really boring. Why didn't they set it in an amusement park? And why is it about Ben Stiller? Why wasn't it about his son? His son should have been the star.'"
Mason and his father, always pitching stories to one another and thinking of stories, now had an idea. And it diverts back to the initial plan of returning to Chicago.
"He was the most naturally gifted storyteller I've ever known," Parrish said.  "I've met Larry David, I've worked with some incredible people, some great talents, and a lot of talent comes from experience. And Mason didn't have any experience.  He was still a phenomenal storyteller. He just had that gift."
In 2011, Mason died at the age of 10 from Diffuse Intrinsic Pontine Glioma, or DIPG, a rare form of pediatric brain cancer.  From there, Chris Parrish and his wife went looking for a way to celebrate and honor their son's life.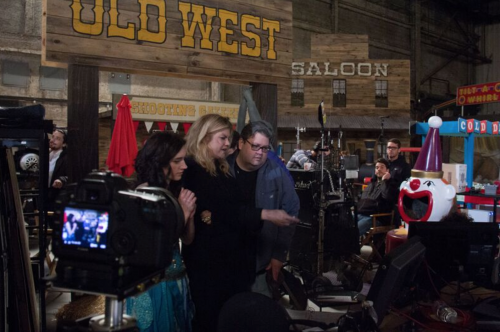 "After Mason passed away at 10, my wife and I wanted to find a way to honor his memory," Parrish said.  "I came up with this unrealistic, impractical, long-shot idea. I sold screenplays and had stuff made both in TV and film, but I said to my wife, 'what if we tried to make one of Mason's stories into a movie? What if we took that money, the profits, and fund his foundation, fund pediatric brain tumor research and provide handicapped accessible vans for kids that are dealing with catastrophic illnesses?"
The film takes place in an amusement park, centering around three young kids, both in reference to Mason's analysis of "Night at the Museum." The three youngsters' adventure through the amusement park because of rumors that Al Capone's hidden fortune is stashed away there.
"I pitched this idea to Vince Foglia," Parrish said.  "I didn't think guys like this existed, I swear to God. I said, 'I want to do this movie. All the profits would go to charity.' And he said, 'I'm in. How much do you need?' And Vince Foglia is a man of his word. He financed Mason's movie, which is "Thrill Ride". It's Mason's story."
Written, directed and produced by Chris Parrish, with the story credited to Mason Parrish, per IMDb, is "Thrill Ride" which stars Kristen Johnston ("3rd Rock from the Sun" and "Bride Wars"), Lucas Jade Zumann ("20th Century Women" and "Sinister 2") and Tim Kazurinky ("Saturday Night Live").
The production, which featured many DePaul students and alumni, worked together in all sorts of new areas on a film set to make this dream a reality. Much of the cast and crew worked for little to nothing, saving a buck whenever they could.
"Thrill Ride" is an entirely Illinois-based production. After initially planning on shooting at Chicago's Cinespace, the production was moved to Chicago Studio City after "Batman v Superman: Dawn of Justice" came into town. Parrish and his crew built an elaborate amusement park set in the studio.
"Really, this impossible goal of making a Hollywood action/fantasy with CGI, dragons, fight sequences, water slides and lasers, was made," Parrish said.  "It was made with folks pitching in and really being so unbelievably generous. I will always be in their debt."
The film is represented by Paradigm Agency. Currently, "Thrill Ride" is being represented to major distributors and networks and is securing its way into a major film festival.
While some fathers do play catch with their son, Parrish gathered ferris wheels and tilt-a-whirls to make one of Mason's stories come to the big screen.
"There were a lot of instances with Mason that were just really unique," Parrish said.  "I wanted people to remember Mason as a boy who was sweet and generous who loved others. He never had a sour attitude, even when he got sick. I can count on my left hand the amount of times he actually got down about it. His spirit and his energy were something that was present when making this film. I think it had an influence. His positivity had an influence in this impossible task of getting completed. I don't have a logical explanation other than, my kid is awesome."