DePaul hosts Spanish Mass, a first for Ash Wednesday
In a landmark moment, DePaul students, staff and faculty gathered in Lincoln Park's Saint Louise de Marillac Chapel to embody the true meaning of Catholicism through the first ever Spanish-language Ash Wednesday Mass: universality.
Father José Gregorio García Rubio, a Vincentian in residence and English Language Learner student from Cúcuta, Colombia, broke bread and shared a message of the importance of humility during Lent. The homily rang especially true for students who got to experience DePaul history in the making as those to attend the Spanish Mass.
During the 40 days of fasting that Catholics partake in leading up to Easter Sunday, parishioners are expected to give something up, whether that be something physical like chocolates or something more abstract like cursing.
But at DePaul, some students who grew up in Spanish-speaking households have been forced to give up celebrating Ash Wednesday in a language that is familiar to them.
"There are a lot of students that were raised going to Spanish Mass, and it just feels comfortable for them. It's nice to have an option to go to mass in one's native language," senior Katia Silva, who attended Wednesday's Mass, said. "Other churches have Spanish Masses at different times, and given that 18 percent of the student body are Latinx students, it's nice to see that representation on campus of being able to praise and have a space for ourselves, even if it's for an hour."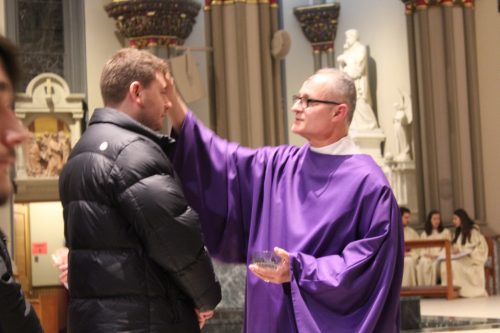 According to DePaul's Enrollment Summary for fall 2016, which is distributed by Enrollment Management and Marketing, 18 percent of freshmen and 21 percent of transfer students identified with Hispanic or Latino ethnicity. Latino students make up the largest group of students of color at DePaul, with African-American students making up only seven percent of incoming freshman of and 10 percent transfer students.
But as more Latino students continue to file into DePaul, it only makes sense for a university like DePaul, whose mission includes embracing diversity, to create opportunities for students to practice their faith in a way that is familiar to them.
"We have a huge Latinx population here and it would be a disservice if we weren't reflective of that," Joshua Smyser-DeLeon, coordinator of faith formation and Latino student outreach in Catholic Campus Ministry (CCM) said. "For our Latinx students, going to mass in English is something that may be unfamiliar to them. That's not something that is a part of their community, a part of their culture, a part of their upbringing."
In order to continue holding Spanish Masses at DePaul, García Rubio said that the tradition will thrive as long as the Latino community feels as though they have a relationship with the priests of St. Vincent de Paul. For students wanting to continue to practice their faith in Spanish, this means working with students and staff in CCM.
Matthew Verive is one of those students looking to make connections and support the tradition of Spanish Mass. Verive mentioned that working with the General Assembly of the Vincentians last summer opened him up to a world of new languages and Catholic traditions from around the world, which gave him a new appreciation for the Catholicism's central idea of universality.
The liturgical music assistant for CCM, Verive said that putting together the worship aides for the Spanish-language Mass was at first a challenging task.
"We had a couple different parishes from around the area that sent their worship aides for Ash Wednesday to give us an idea of what music to use," Verive said. "After kind of melding those together, we were able to get something that speaks to people who might regularly attend a Spanish Mass."
Verive hopes that CCM will be able to host Mass in a variety of other traditions soon, including Irish Catholic or Polish Catholic ones.
"I'm truly hoping that we have more Spanish Masses throughout the year," Verive said.
Despite feeling nervous to preside over his first Mass at DePaul, when asked if García Rubio would be interested in making Spanish Mass something that is offered regularly, he happily obliged.
"When I saw many people at this Mass I was very happy," García Rubio said. "We hope that God is in this place where the Mass is celebrated, but we need to have real communication."
Spanish is just one of the many bridges that help to connect people to God, Garcia Rubío said.
"When you speak one language you're not only speaking the language," Garcia Rubío said. "In your language, you have your culture. We have more than communication, (because) we share a culture."
García Rubio noted that Latin-American Catholics will have similar traditions that can be understood in Spanish along with life experiences, like coming from an immigrant family, for example. Many Latino students like Smyser-DeLeon, a DePaul alum, juggle multiple responsibilities such as commuting daily between home, work and school.
"Looking back, I would've liked to feel welcome in (CCM)," Smyser-DeLeon said. "I didn't connect with or see anyone like me then (…) but this is how progress works: one step at a time."
While many students still feel the same kind of disconnection to DePaul that Smyser-DeLeon felt during his time as a student here, celebrating the Spanish Mass appears to be one of the first steps in making students feel comfortable with claiming DePaul as their own.
"It does give us that space and representation that many Latinx students have been asking for," Silva said. "Within my group of friends we don't really see ourselves represented on campus, but when we are given these spaces it feels like home.