U.S. and Russia respond to Syrian attacks
President Trump ordered the launch of 59 Tomahawk missiles toward an airfield in Western Syria on April 6 in response to what happened two days prior in the town Khan Sheikhoun.
Early Tuesday morning, chemical bombs carrying sarin gas, a nerve agent, were dropped on Syrian civilians. U.S. officials believed the bombs were ordered by the Syrian government, headed by Syrian President Bashar Al Assad. Sarin gas is generally considered a weapon of mass destruction, and the death toll from the April 4 bombing reached 70 people, including children, and was one of the deadliest strikes since the start of the Syrian Civil War in March 2011.
DePaul senior and founder of Students Organize for Syria at DePaul, Stephanie Bittar recalls when she heard about the attack.
"I remember I was in class and had CNN on my phone and it flashed," she said. "All I could think of was oh my gosh, all these families, all these kids(…) It was really terrible."
While Bittar doesn't know anyone in Syria now, it is where her family is from. Her mother and father moved from Homs – a city in Western Syria about 100 miles north of Damascus, the nation's capital – 21 years ago for the Caribbean. Eventually they made their way to Lincolnwood, Illinois. where the Bittar family calls home.
American intelligence tracked the planes that carried out the chemical attack and assessed they were Syrian government warplanes that came from the Al Shayrat airfield in Western Syria. Bittar doesn't agree with these reports.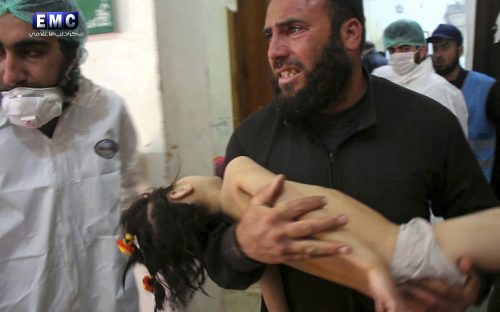 "There needs to be more investigation done in regards to the chemical weapons attack," Bittar said. Bittar and her family support the Syrian government and do not believe Assad is behind the attack. An uncle of hers works within the government there, and has explained to her in the past "land controlled by the government is the most safe(…) compared to land controlled by ISIS."
"(The U.S. government) has to look at the Arab world as a whole and see who is behind the chemical weapons attack. It could be ISIS, it could be anyone," she said.
Political science professor at DePaul, Richard Farkas, who specializes in Russian and Eastern European politics, disagrees.
"Our intelligence services are very professional and not politically motivated. If they've reported to the administration they have evidence the regime (carried out the chemical attacks), it is likely the regime did that," he said.
The strike was quickly condemned nationwide with all eyes watching and waiting for Trump's response. In 2013 — when Trump was a real estate mogul and reality TV show host without access to the United States' entire defense coalition — he decried U.S. involvement in Syria:
"We should stay the hell out of Syria, the 'rebels' are just as bad as the current regime. WHAT WILL WE GET FOR OUR LIVES AND $ BILLIONS? ZERO," Trump tweeted.
More recently during the 2016 presidential election, Trump, in response to his vice presidential candidate at the time, Mike Pence, asserting the U.S. should take a stronger stance against the Assad regime in Syria, disagreed saying "Syria is fighting ISIS." In a later interview with the Guardian, Trump said, "What we should do is focus on ISIS. We should be focusing on Syria."
However, opinions and beliefs changed when presented with gruesome images of dying babies and children. 
The 59 Tomahawk missiles, made by Raytheon Co., costs about $1 million apiece, experts say. While not quite billions, the solo air strike at the airfield in Syria was a nearly $60 million decision made from Trump's resort Mar-a-Lago in Palm Beach, Florida, where the president was meeting with Chinese President, Xi Jinping.
"We are considering an appropriate response for this chemical weapons attack. A serious matter requires a serious response," Secretary of State Rex Tillerson told reporters from Florida on Thursday before the missiles launched.
Meanwhile, more than 5,000 miles away in Moscow, Russian officials were reporting a different story. Jeffrey Marcus with The New York Times said:
"Citing their own monitoring systems, (Russian officials) say a Syrian airstrike around noon on April 4 hit weapons-storage facilities on the eastern outskirts of Khan Sheikhun under the control of insurgents…"
President Vladimir Putin blames Syrian insurgents for the chemical attacks and not Assad, who the Russian president has allied himself with closely.
The LA Times reported that, "before the White House ordered airstrikes in Syria, Russia had been the most dominant outside military force, participating in a bloody military escapade aimed at propping up Syrian President Bashar Assad and his government."
Under Barack Obama's presidency, the U.S. said Assad must go and supported Syria's main opposition alliance, the National Coalition.
Since the recent attacks in Syria, Trump's attitude toward Assad has shifted to align more closely with his predecessor, causing tension between him and Putin after the two were previously on good terms.
Now that Tillerson has met with Putin at the Kremlin in Moscow, tensions remain between the United States and Russia, and professor Farkas brings insight as to possible explanations for Putin's actions politically.
Farkas has taught at DePaul for 45 years. He explains while there are surely a number of factors for why Russia remains allied with the Syrian government, one factor is historical.
"The Soviets had a close relationship with some of the regimes in the Middle East," Farkas said, "(it) stems from the fact it was a balancing of interests with the United States supporting Israel. The Soviets found an opportunity to support some of the regimes that were hostile to Israel."


While Farkas admits that premise is not central today, it creates a starting point.
"What's operating today in Putin's policy is he's getting pressure from the right wing in Russian politics saying he has to re establish some influence and prestige (they) had in years past, (which takes the shape of) visibility in foreign affairs and allies."
As for Assad, Farkas said that to Putin Syria's current state under Assad is a given.
"(Putin's) learned political instability – any kind of regime change – is negative from Russian foreign policy perspective," Farkas said.
Any opposing force, were it to come to power over Assad, would present a "wildcard" to the Russian administration, a risk Putin is not likely to take.
"When (Putin) looks around the world and sees civil war like the three-way civil war in Syria," Farkas said, "he's going to come down on the side that prevents regime change."
However, Farkas said Assad was probably not the only one whose decision influenced the chemical attack. "It's never quite as simple as one man making decisions of every sort and variety."