DePaul alum takes students behind the scenes of "Moonlight"
Theatre school alum and playwright Tarell Alvin McCraney made his way back to campus on Friday for a special screening of his Oscar-award winning film "Moonlight," hosted by The Center for Identity, Inclusion and Social Change.
McCraney sat before audience members immediately after the screening for a Q&A session, moderated by program coordinator Johnny LaSalle.
McCraney spoke about his time as a student at DePaul, growing up in Miami and some of his first pieces as a playwright. Students like Olivia Wright, a film major, were inspired and able to pull from his stories and advice to begin to think about what is achievable for them.
"It seems like something dumb to do, but it doesn't hurt to try to ask questions and to get my voice out there for a career. I'm definitely going to try to do my research, go to more screenings and talk to more people," Wright said.
Attending DePaul was a part of McCraney's journey to success, but he also reflected on the experiences that led him to start writing and eventually create a film that was about his own life.
"Moonlight" follows main character Chiron through three essential chapters of his life where he struggles to understand both his sexuality and his journey to becoming a man. Additionally, the film explores what masculinity is expected to look like in low-income, black, Cuban communities.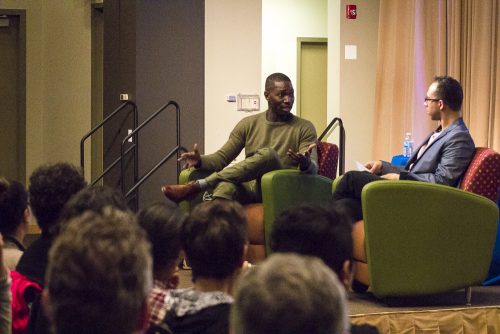 With just a $1.5 million budget, "Moonlight" has been and is making waves in the film industry.
The 89th Academy Awards, which took place in late February, shocked it's 32.9 million viewers when announcer Warren Beatty mistakenly announced "La La Land" as winner of the best picture award. Moments later, Beatty's mistake was corrected and "Moonlight" was announced as the winner.
"It's weird to have an Oscar in your house," McCraney said. "It really just means at the end of the day that something shifted and hopefully we can continue after that shift."
McCraney said that when he wrote the original script for "Moonlight," which was then called "In The Moonlight Black Boys Look Blue," he wasn't even thinking about winning Oscars.
"What you never want to be is chasing the awards. You always want to focus on the work," McCraney said. "We didn't make this film with any intention other than to focus the lives of two black men in a part of Miami that nobody knows about."
The film's director, Barry Jenkins, grew up just three blocks away from where McCraney did in Miami. During the filmmaking process, McCraney said that he and Jenkins weren't thinking of intentionally making the film something of an observation on society and culture. Although Jenkins and McCraney are different in many ways, the filmmaking process shed light on all of the ways that the men are similar, which McCraney attributes as the source of "Moonlight's" success.
McCraney spoke of how significant this was for him, since "Moonlight" is his first ever film. He reflected on how the movie first premiered in a small studio in Miami, later went on to be screened in front of thousands at an Ontario theater, then eventually won an Oscar.
I'm definitely going to try to do my research, go to more screenings and talk to more
"(Jenkins) was like, "I'm going to do my best to show you you," but he was also like, "Wait, this is me too,'" McCraney said. "What this says is that all of the boys in that neighborhood were dealing with the same things."
Some students, like Kendall Sprinkle, came to the screening to see "Moonlight" for a second time.
"My biggest takeaway is that even in you thinking you're not relatable, you're still relatable," Sprinkle said of McCraney's sharing of his own story. "Finding your own niche in the world is not a glorious path. Sometimes it's really mundane, sometimes it's really upsetting and frustrating."