Your Chicago summer hot spots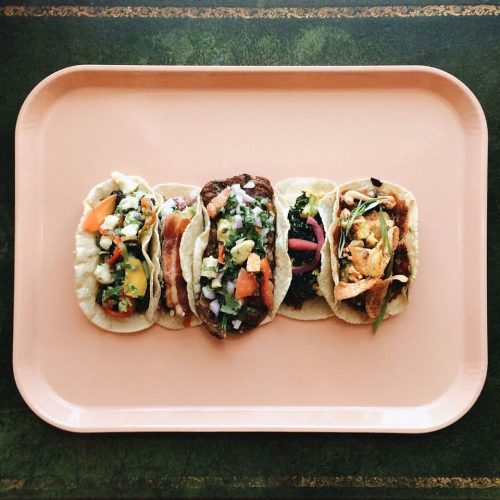 Let's Talk about Tacos
If we're being honest, tacos are good year round. However, according to senior Aquita James, summer is the "secret ingredient" that completes the experience. "Federales is my favorite," James said. "The atmosphere and drinks are on point."
Nestled in the heart of Fulton Market (180 N Morgan St.), this funky, modern warehouse has an urban beer garden and serves Mexican barbecue-style tacos (four for $18), fresh seafood ceviche ($14-$16) and tequila-based cocktails ($8-$14).
Another nearby favorite, Antique Taco, serves a seasonal menu of gourmet tacos out of its shabby-chic spot at 1360 N. Milwaukee Ave. "I get the sweet and spicy chicken tacos ($8) and a rosemary margarita ($8)," senior Morgan Edwards said. Blueberry baskets, paper straws and mason jars complete the summer mood.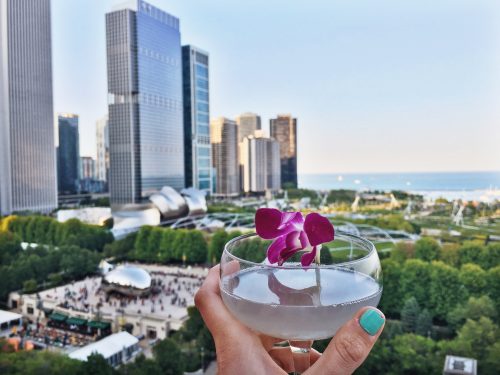 Instagram-able
These days, it's all about aesthetic. As operator of the food and drink account @smorgibord, Morgan Edwards knows a thing or two about post-worthy places.
At the top of her list is Cindy's Rooftop — the jewel in the crown of The Athletic Association Hotel (12 Michigan Ave.). With panoramic views of Millennium Park and Lake Michigan, this rooftop restaurant with an open-air terrace is a must when your parents are in town (and footing the bill).
Edwards' drink of choice is Howl at the Jun ($15) with beefeater gin, jun kombucha, grapefruit and sparkling rose — but the real ticket is the backdrop.
If there's one place in the city to pay high prices for drinks in favor for a great view, it's Cindy's.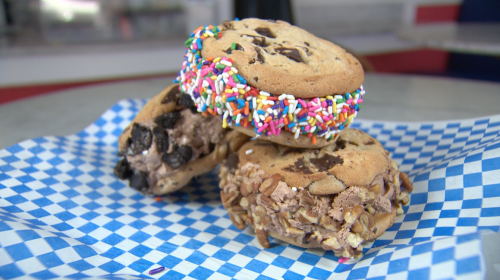 We Scream for Ice Cream
'Tis the season of ice cream, and DePaul students have the scoop on where to get some. "Everybody loves Margies Candies," junior Daphne Resulta said. The homemade candy and ice cream parlor has two Chicago locations, one in Bucktown (1960 N. Western Ave.) and one in Uptown (1813 W. Montrose Ave.). The shop is known for its jumbo sundaes ($59.95), which include 25 scoops of ice cream and your favorite toppings.
"Bobtail is really cute," Resulta said about the homemade ice cream shop in Lakeview (2951 N. Broadway St.) "It's a hole-in-the-wall, diner-style place." Specialty flavors include Signature Sunset with merlot ice cream, Lakeview Barhopper with Dutch cocoa and Jack Daniels and Daley Addiction with vanilla ice cream and butter fudge swirl. Try all three flavors for $5.99.
Game Changers
As much as we love the classics – like Kelly's and Kincades – summer is a good time to switch up where you and your friends watch the game. Reehl recommends posting up at Woodies Flat (1535 N. Wells St.). The two-story spot has a collegial vibe and a creative menu with daily specials like $5 burgers on Mondays, half-off wings on Wednesdays and $5 mimosa bombs on Sundays.
If you'd rather play than watch, Reehl suggests checking out Acebounce, the Ping-Pong playground just south of the Chicago River (230 N. Clark St.). "It's the only one like it in America," says Reehl. The clubby British import serves up new-American fare, craft cocktails and some mad Ping-Pong game. Depending on when you and your friends are looking to play, expect to pay between $25 and $39 dollars an hour for a table.
The best of both worlds, Barrelhouse Flat has TVs on the first floor and pool playing in the second-floor lounge. Just north of the Lincoln Park campus (2624 N. Lincoln Ave.), the joint has a classic speakeasy vibe and serves an upscale version of bar food, including truffle frites ($10), poutine ($14) and currywurst ($10). "It's a classy take on a sports bar," says junior Daphne Resulta.