Record Store Day sparks discussion on students attraction to vinyls
In this digital age, where streaming services are competing for listeners, not much attention is given to vinyl. Millennials are more concerned with their Daily Mixes on Spotify, or the next album that is an Apple Music exclusive. However, for one weekend, students turned off their laptops and went old school as they celebrated Record Store Day. 
"Record Store Day is an incredibly important day in the DIY music scene, because it focuses on individuality in the face of a changing music landscape- doing things your own way, with the people you appreciate, making music you love that doesn't need to be commercially viable to be quality music," Danielle Starkey, a PRAD student and veteran of Record Store Day, said.
The holiday brought out people of all ages for limited release vinyl records at record stores around the city.  The hype for Record Store Day is usually unreal — doughnuts and other circular foods are offered to those perusing the records in musty-aisles at record stores. Stores announce their special editions long before the actual day to hype up disk-heads. Live performers camp out in aisles next to shoppers looking for the next great record.
For those who may not know, Record Store Day is a celebration of the unique culture that embraces vinyl and the thousands of independently owned records stores that house LPs, or long plays, in the U.S. and worldwide. Saturday was the 10th anniversary of the cultural celebration. 
"Independent record labels are a big part of the scene and the spirit of DIY. In many cities with a strong DIY scene such as Chicago, Grand Rapids and (Philadelphia) lines can be seen stretching around the block and often, musicians will play mini shows during the day. It's definitely a day that's important to many in the community," Starkley said.
Despite students coming out to browse for their favorite records, lines on Saturday reflected more of a older fan base.  This comes as no surprise with many students not even knowing the holiday existed. Warner Music Group's Label Services Representative for Midwestern America, Robert Callahan is well aware of the difference in Record Store Day participation between generations.
He noted that Record Store Day sees a lot of people between the ages of 30 and 50. When discussing the reasoning behind this epidemic, Callahan recognized the technological changes in the music industry.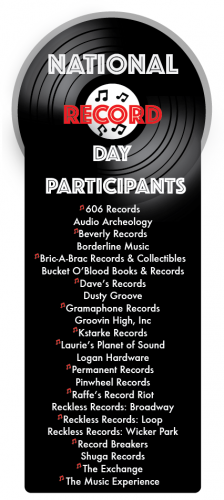 "Streaming has drastically changed the consumption of vinyl, and millennials have not had as much experience with vinyl to begin with," Callahan said. , 
Millennials may be more interested in vinyl for purposes of exhibition and displayable tastes of culture.  To them, the matter may concern aesthetics rather than the intrinsic and practical utility of the product they are buying. Callahan spoke of the financial concerns that may influence the college demographic as well.
"Whereas 30 to 50 year olds may spend hundreds of dollars on Record Store Day alone, sometimes college students don't have the financial resources to go out and buy vinyl," Callahan said. "This year, attempts have been made to help resolve the problem by lowering such costs."
Regardless of the technological changes in the music industry and the financial costs that can be associated with the sale of vinyl, Callahan pinpoints the main cause for the lack of participation amongst millennials to the simple fact that "up until this year, there was not enough that was being done to promote Record Store Day to college students."
This not only includes engaging students on college campuses through promotions, Callahan said, but making available titles that are appealing to college crowds. At a university like DePaul which is housed inside of the urban empire of Chicago, there is definitely a hype for hip-hop and other forms of urban music amongst college markets.
However, Callahan said that most vinyl sales tended to focus on other genres of music.
"Though the urban market hasn't embraced record store day as much as other markets have, we also haven't given them enough reasons to embrace it," said Callahan.
Callahan and others in the music industry believe that this year's Record Store Day is attempting to engage more urban youth in cities like Chicago by offering a wider selection of titles. College students are notably excited about Lil Uzi Vert's 2016 mixtape, "Lil Uzi Vert Vs The World," being released as a deluxe LP. Others that are getting attention from the college demographic include Prince's "Purple Rain," reissuing on 12" vinyl, as well as titles from Fat Joe, Busta Rhymes, Andre 3000, and the Red Hot Chili Peppers.
Reckless Records' various locations provided live music and other cool items were given away throughout the day, offering attendees a unique and enjoyable experience. 
Matt Jencik, an employee of Reckless Records on Broadway and an avid buyer of vinyl himself, looks forwards to this "holiday" every year. 
"This is a great opportunity to support the store. We are very excited because this is our most popular day of the year," Jencik said.
Although millennials have less incentives to go out and buy tangible music nowadays, participating in Record Store Day brings them into a larger tradition.