Spring style must haves
Hang on for a minute...we're trying to find some more stories you might like.
From bright colors to shorts, spring is here.
DePaul students are trading in their winter time North Face blues for sunny days and colored hues. Here's the inside scoop on what the must haves are for people to bring in spring fashion the right way.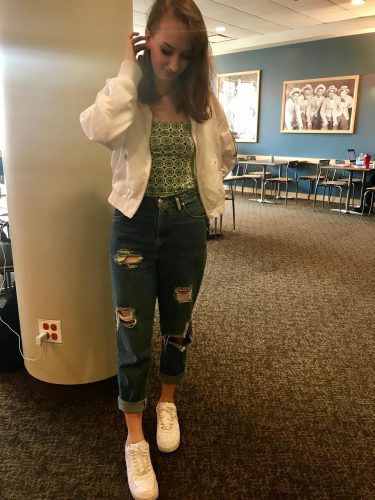 KATHERINE FRANKSEN
Whether students go out to fashion or thrift stores, spring 2017 has awakened everyone's inner model to let the streets of Chicago be their runway.
"Tube tops and anything off the shoulder tops are a must have for spring," freshman Katherine Franksen said. "I have to have colors but I love to match my colors in my outfit so if my shoes are white then something else has to be white too."
With an upbeat season in temperatures, spring brings splashes of colors, patterns and neutrals to create happiness in every piece of clothing picked. Spring 2017 fashion plays on '80s and '90s fashion trends with a modern spin.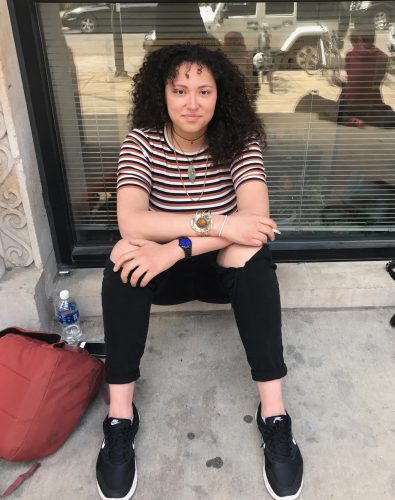 HALEE CURTIS
For many ladies and their friends laying across the quad or getting their iced coffees at Brownstone, spring is the time for crop tops, jewelry and high-waisted shorts. From the "girly-girl" to the "comfortable but cute; fashion is always a statement.
"My spring style is ripped jeans, t-shirts and a jacket, preferably denim, with a good pair of Nikes or Adidas," said junior Halee Curtis.
The jeans and jacket look not only provides comfort but also warmth as the windy and chilly temperature of spring comes blowing in.
SHAMAMAH KHAN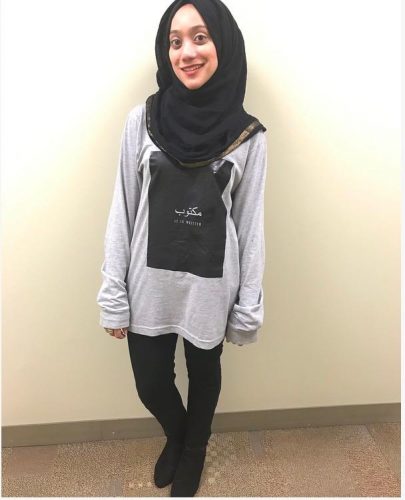 With any great outfit comes great accessories to make it go from an eight to a 10. With chokers on girls minds and necks, and men making sure every sneaker is clean, accessories are a major part of any outfit.
"My Shamamah necklace and my rings are a must for me because I will not leave my house in any season without them," sophomore Shamamah Khan said.
The aesthetic for an outfit goes way beyond putting on clothes, but accessories are just as important to women as they are to men. "Overall it's the outfit that makes you look good but it's the accessories that will give your outfit that pop it needs to make people look and compliment it," senior Jarvis Wallace said.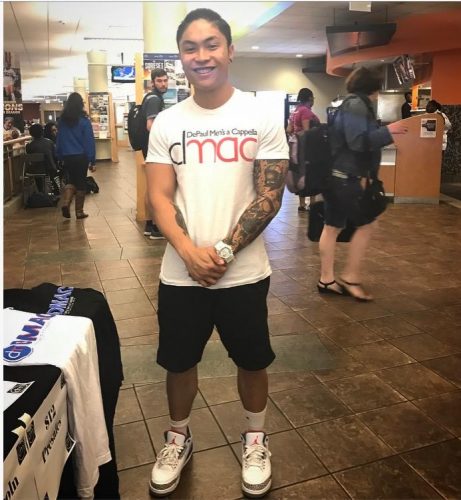 DANNY GBUR
Spring fashion isn't just a one-sided everyday fashion show just for ladies. As men hit the gym to get their bodies ready, they trade in their sweats and biker jeans for chinos and shorts with  graphic tees or short sleeved button downs. Danny Gbur, a member of the DePaul Men's A Capella group, loves to stay fresh from showing off his tattoos to making sure every sneaker is as clean as he is.
"I have to have shorts, a fresh pair of (Jordans) and if I'm hitting the gym looking right for the beach, a tighter shirt to show off the muscles," Gbur said. "My tattoos add to the aesthetic and when the sun's out, I can rock my ink because it is nicer outside."