Women's tennis headed to Auburn
Hang on for a minute...we're trying to find some more stories you might like.
DePaul's women's tennis team was selected to play Auburn in the opening round of the NCAA Tournament this Tuesday, after earning an automatic spot in the tournament with a victory at the Big East Championship. This is their third NCAA tournament berth in the last four years. Both players and coaches were surprised by the selection, saying they expected to play a team within Midwest.
"I got to be honest, I'm a little shocked," head coach Mark Ardizzone said after the selection show. "I really thought we would go either to Michigan or Ohio State because those are both drivable sites for us, but I'm excited."
Junior Keisha Clousing, who won the final match to clinch her team a berth into this year's tournament, echoed her coach's remarks. "I think we were definitely surprised," Clousing said.
"First we thought we were going to play Ohio State or Michigan, but after that bracket closed up we got paired with Auburn and I don't really know much about them." Both Clousing and Ardizzone say they are more familiar with teams from the around the MidWest and in the Big East, but that doesn't necessarily put the Blue Demons at an immediate disadvantage.
"I think this is actually better for us," Clousing said. "Now we can go (into the NCAA tournament) just completely open-minded and go (into the NCAA tournament) just completely open-minded and just play our game."
"We know nothing about them and they know nothing about us," Ardizzone said. "I think we are extremely loose and we've got absolutely nothing to lose. I don't think we will play scared and I think we will play to win and see what happens." DePaul will make the trip down south with an interesting mix of veteran leadership and youth star power.
"It's really unique," Ardizzone said. "I think we have three veterans and three rookies, so I think it's incredibly good that our younger kids get a taste of it." "Ana (Vladutu), Yuliya (Shupenia), (Patricia Lancranjan), they know what to expect (and) they know what to do when we get there (…) they will be on a regular routine.
The younger kids will be a little bit wide-eyed, but we have such good leadership that they'll get everyone in place and we'll be ready to go." Senior Ana Vladutu is at the center of that veteran leadership. She was named Big East Player of the Week twice this season and will make her third appearance in the NCAA Tournament this week. "It's definitely going to be a great experience," Vladutu said. "We're not going to think about it too much.
We are just there to play and prove that we are good and we deserve to be in the (NCAA Tournament)." Coach Ardizzone said it has been a struggle to overcome injuries this year and the journey to this point in the season has been incredible. "I think when we lost to Georgetown a few weeks ago, we really came together," Ardizzone said.
"To play an SEC team in the top ten in going to be a tall task, so we are going to give them everything we've got and take it one match at a time." "I don't think we have any expectations results wise," Clousing said.
"I guess my only expectation is that we are going to play our butts off and see what happens." The Blue Demons will square off with the no. 11 Auburn Tigers on Friday, May 12 at 1 p.m. in Auburn, Alabama.
About the Writer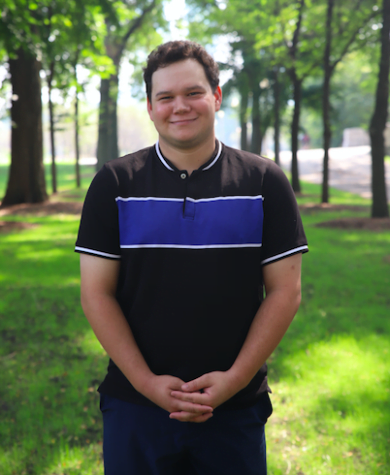 Shane Rene, Editor-in-Chief
Shane is the Editor-in-Chief of The DePaulia and an undergraduate student studying journalism and political science. He was born in Australia but doesn't...