2,052 miles to San Juan, Chicago's historical proximity to Puerto Rico requires us to start paying attention
When Hurricane Irma blazed through several Caribbean islands before finally hitting Florida this weekend, one of the many impoverished places that it grazed was Puerto Rico. As Chicago has one of the largest Puerto Rican communities in the United States, the long lasting effects of Irma on the Puerto Rican economy will reach far beyond the state of Florida.
A colony of the U.S., Puerto Rico often goes unnoticed in the media. In fact, while Irma was first forming in the Atlantic Ocean, most news reports completely ignored the fact that several U.S. territories including the Bahamas and the Virgin Islands could potentially be completely wiped off of the map — just like what happened in Barbuda.
Like the Puerto Ricans in Humboldt Park who are facing  issues of gentrification and displacement, those living in Florida and on the island seem to be the last concern of the Trump Administration. Although Chicago shares a history  that is tied quite intimately with Puerto Rico — Oscar López Rivera's second home is Humboldt Park — that does not excuse the city from being concerned with Puerto Ricans in Florida and on the island.
As Irma storms through Florida, Elaine Duke, acting secretary of Homeland Security said on Saturday that it will trigger, "one of the largest mass evacuations in American history" — over 6 million have already been asked to leave the peninsula. The Category 4 storm with winds up to 145 mph is expected to leave mass amounts of damage.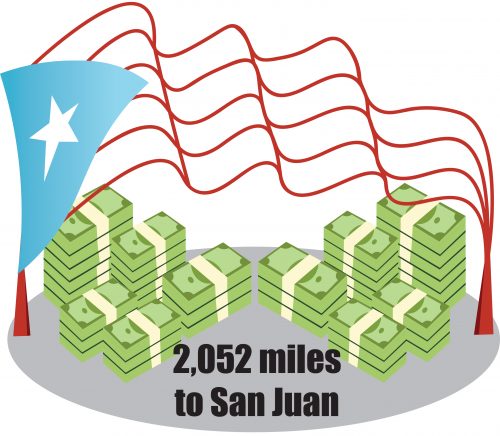 As a result, the Trump administration decided on Friday to temporarily waive the Jones Act, a law that was signed just over a century ago. The Jones Act of 1917 requires business owners on the island to purchase items from American-made ships with an all-American crew, which hurts more Puerto Ricans than it actually helps. Of course, this makes the price of goods escalate and limits businesses.
Waiving the Jones Act — which was also done after Irma had done her damage in Puerto Rico — ensures there will be fuel to support lifesaving efforts, restore services and improve infrastructure (in Florida) in the wake of the storm, Duke said.
It seems pretty obvious: the last thing that Puerto Rico needed was a hurricane. San Juan, Puerto Rico's capital, along with the towns of Loíza and Fajardo have faced significant damage as a result of the hurricane. On Sunday, Primera Hora reported that at least 79 families in the Mediania Alta neighborhood of Loíza are now homeless thanks to Irma's damage.
"The U.S. really has never cared about the state or well-being of Puerto Rico and the people who live there. I think the lack of action in assisting Puerto Rico despite the fact that the people who live there are U.S. citizens just further sends a message that Puerto Ricans are seen as completely un-American," sophomore Alejandro Hernandez said.
"That is, until cases like the Olympics or World Baseball Classics where Puerto Rico competed for or even won Gold medals. That would be the only time I'd see mostly white Americans recognize Puerto Rico as a part of the U.S. by either downplaying or outright claiming our success as a U.S. 'victory.' When it comes to just about everything else though, especially for problems that the U.S. is responsible for, it's our problem and ours only."
The Puerto Rico Oversight, Management and Economic Stability Act (PROMESA), was signed into law by the former President Obama at the end of June 2016. Because Puerto Rico is not an official state, the island cannot file for bankruptcy, which leaves millions of Puerto Ricans to struggle against all odds. The bill, aimed at tackling the island's $70 billion debt crisis, lowered the minimum wage for Puerto Ricans 24 and under to $4.25, compared to the federal minimum wage, which is $7.25.
The word "promesa" in Spanish means "promise," alluding to the hope of getting Puerto Rico out of it's debt crisis. That promise is one that many Puerto Ricans feel the PROMESA bill will not be able to keep, especially under the Trump administration.
"I think that PROMESA, at it's best, is a simple band-aid solution that in no way is really going to solve all the deep rooted problems affecting Puerto Rico," Hernandez said. "At it's worst, it's just another way for the colonizers of Puerto Rico to just flex their power since it's essentially an unelected board of people who aren't even Puerto Rican calling all the shots in regards to the debt crisis."
That being said, it must be made clear that the Puerto Rican people are not poor, the government is. Blaming the $70 billion dollar debt crisis on just over 3 million people is not only irresponsible, but it's indicative of the attitude that Americans have had toward the island since day one. A gallon of milk on the island costs anywhere between five and seven dollars thanks to heavy taxation and product regulations.
"Puerto Rico's debt has only gotten worse since PROMESA was enacted," Hernandez said. "More schools have gotten shut down, the unemployment rate is still around 11 percent, and it just seems like more and more public aid is being slashed with no avail."
It's been over a decade since the recession in Puerto Rico began, and in the last 14 years more than one million Puerto Ricans have left the island and claimed Florida as their new home in an attempt to escape the economic crises. Pew Hispanic found that approximately 600,000 Puerto Ricans have relocated to Florida since 2000 — up from about 400,000 — to make a grand total of over one million. The question that is now up in the air is exactly how many Puerto Ricans will be displaced yet again, but this time by Irma.
Although Irma has passed, the damage is far from over. Now, over hundreds of thousands people in Puerto Rico are still without power and clean water, which means that as time goes on, NPR reported on Thursday, that several parts of the island will be without power for six to eight months.
About the Contributor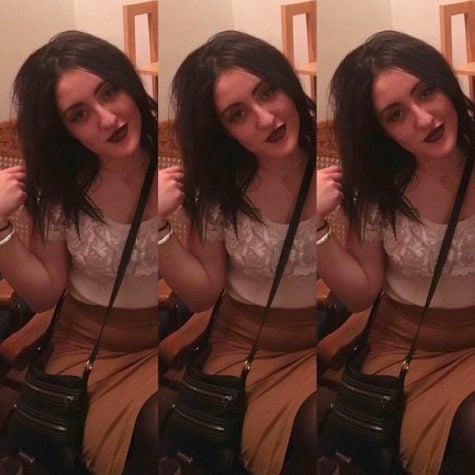 Amber Colón, Editor-in-Chief
Amber is the Editor-in-Chief at The DePaulia. When she's not working or in class, you can find her binge-watching The Office or napping in her Edgewater...