Portable pockets are popping up all around the city
Customers rotate in and out of a modern fast-casual restaurant called 5411 Empanadas. Some of the people coming through order with haste and begin to eat their carefully crafted empanadas as they walk out the door while others sit down to enjoy their Latin American-inspired hand-pies.
Located on Southport Avenue, 5411 Empanadas is one of three shops, including Café Tola and El Mercado, within the same half-mile stretch on the street specializing in empanadas and helping to make the versatile and convenient Latin American staple rise up in the food scene.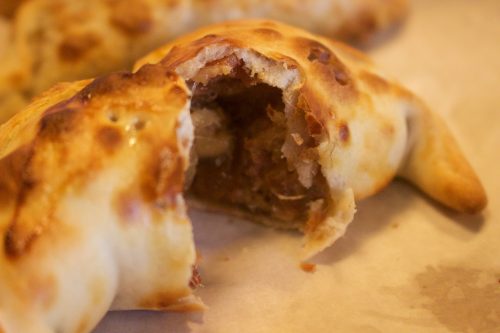 Derived from the Spanish word empanar – meaning to wrap in bread – empanadas are portable pockets of flaky pastry dough stuffed with a variety of fillings ranging from savory seasoned meats, vegetables and cheeses to sweet fruits and sauces. They compare to similar products in other cultures such as Indian samosas and Italian calzones.
The Spanish hand-pies have their origins in southern Europe where they can be traced back to Galicia, Spain and smaller cities in Portugal. Colonizers then carried the food to Latin America where they soon became a staple in countries such as  Argentina, Cuba and Colombia.
Empanadas are now spreading across Chicago with shops like 5411 Empanadas and the others along the stretch on Southport Avenue, as well as places like Lito's Empanadas in Lincoln Park and Irazu in Bucktown, serving the piping-hot and portable pockets.
Despite being a Spanish cultural staple for centuries, the product is just starting to make waves in the mainstream and can still catch the public off guard. Andy Schneeberger, a worker at the 5411 Empanadas on Southport Avenue, says their shop services several uncertain customers.
"Many of the people who come into this location ask 'what is an empanada?' and when I tell them, the get really excited and tell their friends, and I think that's how they're spreading," Schneeberger said. "They're a new and different product to the public that are delicious, quick, small and convenient, and I think that's why they're catching on."
With a name inspired by the international dialing code for Buenos Aires, Argentina, 5411 Empanadas is a small chain restaurant with five locations throughout Chicago specializing in baking traditional Argentinean empanadas. The business opened their first permanent shop in 2012 and quickly expanded, also landing a location in Miami and a location in Houston with much of the draw coming from their menu.
One major appeal of the Latin American dish is its versatility. The pastry can contain any number of fillings, making them perfect for experimentation with unique ingredients and bold flavors. At 5411 Empanadas, customers flock for interesting fillings such as ratatouille, malbec beef, mushroom, thyme and blue cheese. With 15 unique flavors to choose from, it's hard to just pick one or two.
Kyle McCutcheon, 21, made his first venture to the restaurant due to a friend's request. After taking several minutes to gaze over the expansive menu, he ultimately decided on a ham and cheese empanada and a bacon, date and goat cheese empanada which he enthusiastically claimed as his favorite.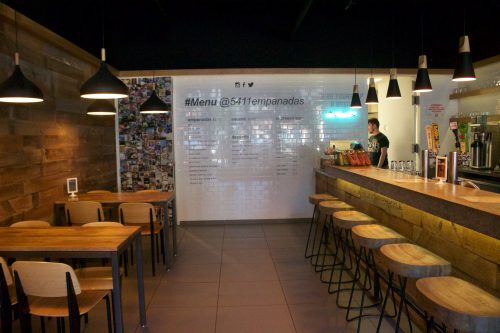 "I wasn't expecting it to be sweet, but it was kind of sweet and I have a sweet tooth, so it was a nice surprise inside," McCutcheon said. "I feel like that kind of represents me. Like, 'not what you expect,' because with me what you see isn't always what you get."
"I like that there are a lot of options, but I also like that they're portable and cheap," McCutcheon said. Although McCutcheon enjoyed his empanadas sitting down, he definitely appreciates how they can satisfy a busy lifestyle as well.
"Empanadas are great to take on the go, so they're great for people who feel like they have a lot on their plate that day, no pun intended," McCutcheon said. "I think part of the appeal is that I can enjoy them just the same whether I am relaxing or in a rush. I would be able to get them quickly if I was in a hurry, and I feel like I'm in a hurry a lot."
Food writer and Restaurants and Bars Editor at Time Out Chicago, Elizabeth Atkinson, is certainly drawn to empanadas with 5411 Empanadas being her standby for lunch and swearing by the "malbec beef, all the way."
"I think that people pick up empanadas because they're easy to eat and delicious. You don't need a fork, which makes them even easier and more accessible," Atkinson said.
In her time as a food writer, Atkinson has reported on food trends such as sushi doughnuts and an upcoming Chicago cafe dedicated to marshmallows. Although some of the food she highlights is rather unusual, she finds there to be a certain familiarity with empanadas.
"There's an approachable version of 'stuff wrapped in bread' in plenty of cultures—dumplings, pierogis, pies—and empanadas fit in nicely to that category," Atkinson said.
Their convenient size allows for customers to start with one at the beginning of a meal or eat two or three for a full course, and the versatile simplicity of an empanada makes them ideal as menu staples.
"They're good appetizers on Latin American menus," Atkinson said. "Chicago's getting an influx of new Latin American spots, and [empanadas] are easy to stick on menus."
With many Americans living fast-paced lifestyles, convenience and portability has become more desirable than ever. Those seeking timely service, however, do not necessarily want to compromise quality in the process.
"I'd say a lot of fast-casual stuff probably influences the way American's are eating lunch food items," Atkinson said. "But some people are still looking for more upscale dining, so local chains like 5411 Empanadas fit into that."
With a public hungry for variety and accessibility, empanadas are unlikely to fade away anytime soon.
"Empanadas are here to stay," McCutcheon said. "As long as they're around, I'm always down for a bite."
About the Contributor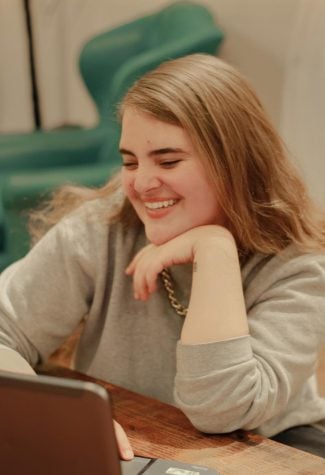 Rachel Fernandez, Managing Editor
Rachel Fernandez is the managing editor for the DePaulia, a dedicated millennial and a vegetable enthusiast. She is passionate about mostly everything,...