Changing Title IX, interim measures threaten student success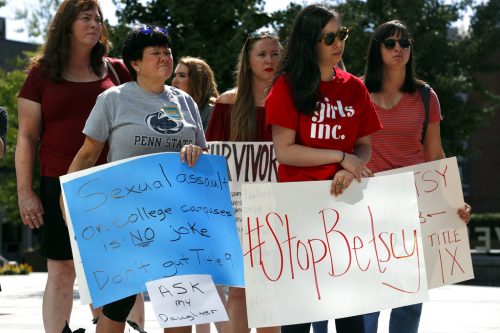 On-campus sexual misconduct has been placed into the spotlight with Secretary of Education Betsy DeVos announcing that certain Title IX regulations will be rolled back; specifically in the ways a school must investigate a case of sexual harassment.
Title IX is a set of regulations passed in 1972 that restrict schools or universities from discriminating against students on the basis of sex. After its adoption, the legal and administrative interpretation of Title IX agree that sexual misconduct and harassment constitute as discrimination.
Title IX is a scarcely discussed topic.
"I think they talked about it at orientation," said student Audrey Flinn.
While DePaul students are receiving information on Title IX, it is not being retained.
The national college community lacks an understanding of policies relating to sexual misconduct and their impact on students' lives. While these Title IX policies do not affect many students on a daily basis, the overall effect of them is greater than perceived.
In 2011, the Obama administration released a letter to schools and universities to set guidelines for how institutions should investigate and prosecute sexual misconduct on campus. The letter was referred to as the "Dear Colleague Letter," because of its salutation that began as such.
The "Dear Colleague Letter" was used as a guidebook by the Department of Education in investigating non-compliant schools, despite the letter's legally non-binding nature. Any non-compliant schools risked losing federal funding and thus chose to apply the letter to their policies as best they could.
The letter covers a large scope of topics. It defines consent, provides guidance on when and how to conduct an investigation, gives instructions for school trials, dictates the requirements of a Title IX coordinator, and provides guidance in creating prevention and disciplinary programs.
While it was good for the Obama administration to address on-campus sexual misconduct, it trampled over a student's right to due process.
The letter encourages schools to enact interim measures in order to prevent any further harm to the person who filed the claim of sexual misconduct.
At DePaul, interim measures available to a student after an accusation can include a no-contact directive and possible changes in class schedule, residence or interim suspension.
"This is regardless of whether a situation involving sexual or relationship violence may result in a policy violation or disciplinary response, and regardless of whether an individual chooses to otherwise report an incident," saidTitle IX Coordinator Karen Tamburro. "The Office of Institutional Diversity and Equity (OIDE) will coordinate providing reasonable and appropriate interim measures and permanent remedies."
Interim measures seem logical in order to prevent further harm to the party that filed the complaint. However, interim measures are put into place with little consideration of the effects they may have on the accused student's life. A no-contact order is completely disruptive, not to mention one may also be suspended from school altogether. This kind of disruption is extremely detrimental to a student's education.
Students accused of sexual misconduct are punished through interim measures before accusations can be confirmed or denied by the school's trial. In a way, accused students are considered guilty before proven innocent, a clear violation of due process.
 An investigation conducted by a school is completely separate from any possible investigation conducted by law enforcement. The national Title IX website states that "the school's Title IX investigation is different from any law enforcement investigation, and a law enforcement investigation does not relieve the school of its independent Title IX obligation to investigate the conduct."
DePaul follows such guidelines in an investigation. DePaul's University Catalog states that "the outcome of a legal proceeding is not determinative on the Student Conduct Process."
It is necessary and logical for a school to conduct their own investigation into cases of sexual misconduct, but a problem arises when there is a possibility that separate investigations will reach different conclusions.
For example, if at some point a police investigation concludes there is no evidence of sexual misconduct occurring, the school may determine otherwise. The school may then order a variety of punishments, from suspension to expulsion, despite the conclusion of the police.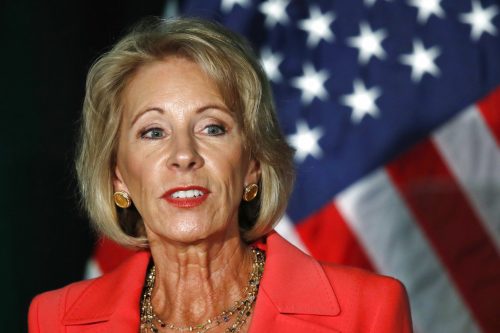 The reason the police and the school may come up with different conclusions is because schools are bound by a different burden of proof than the police. To obtain a guilty verdict in court, the jury must conclude, beyond a reasonable doubt, that the crime occurred. In the school setting the committee responsible for determining guilt uses a different measure known as a preponderance of evidence.
"Preponderance of the evidence standard constitutes more than 50 percent," Dean of Students Ashley Knight said. "Fifty percent would indicate that, based on the information available at the time, it is more likely than not that the student is not in violation of the policy at issue. Also, for student conduct matters involving sexual and relationship violence, a three-person panel decides."
This dichotomy between law enforcement and Title IX enforcement can create a system whereby the accused student is considered guilty until proven otherwise.
The injustice of campus sexual misconduct protocol is evident in both the "Dear Colleague Letter" and in DePaul's policies on sexual misconduct. Due process is completely violated and the required burden of proof is not great enough to convict someone of such a serious crime.
This issue is found in universities across the country. In February of this year, according to Watchdog.org, a student sued Allegheny University after he was expelled for sexual misconduct. In the appeals process, evidence was found that the student was falsely accused of charges.
This is not an isolated issue, as another student at the University of Massachusetts at Amherst was suspended for nearly a full academic year despite police finding no evidence of his sexually assaulting another student, according to The Atlantic.
The greater issue with campus sexual misconduct policy is that the school is required to investigate at all. Sexual misconduct in any form outside of the college setting should be investigated by police, and if sufficient evidence were found the accused would be taken to court.
What the Dear Colleague letter has done is divided the law between law enforcement and schools
With this in mind, I hope that Betsy DeVos' changes how sexual misconduct is handled on campus takes into account the rights of students and the small burden of proof required to potentially ruin someone's academic career.