Quigley talks Russia: Congressman says investigation "more important than Watergate"
Congressman Mike Quigley, who sits on the House Intelligence Committee, appeared at DePaul Law on Thursday, Sept. 21 for a half-hour interview. There, he answered questions from former federal prosecutor Renato Mariotti before a classroom of 50 to 60 individuals of all ages about the congressional role in the ongoing Russia investigations.
"This is so much more important than Watergate," Quigley said, comparing the ongoing investigations into whether or not President Trump had knowledge of Russia's interference in the 2016 U.S. primary elections with the national scandal that led former president Richard Nixon to resign from the Oval Office.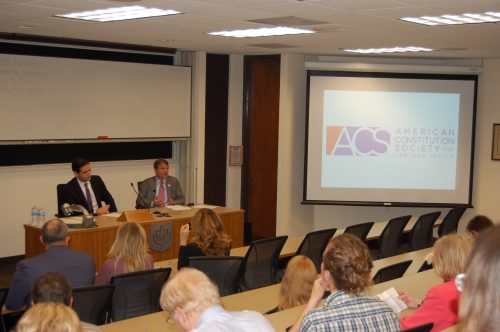 "If you had seen what I had seen (…) anything that makes the analysis of this inconsistent in any way reduces how important this is."
"Complicated, nuanced, layered," Quigley said, "compared to Watergate, this is international."
Quigley has represented Illinois' 5th District, which comprises much of the North Side and west suburbs, including Lincoln Park, since his election to Congress in April 2009. In 2015 he was appointed to serve on the House Permanent Select Committee on Intelligence or the House Intelligence Committee.
"The issue is about foreign influence in American elections," associate professor of history and education James Wolfinger said.
Wolfinger could potentially agree with Quigley, but it depends on the outcome of the investigations.
"What seems to be the larger issue at stake is whether the president has knowledge of it. If it turns out he new and was implicated, it would rival Watergate if not surpass it," Wolfinger said.
The Watergate scandal references the Watergate Hotel in Washington D.C. where burglars broke into the Democratic Party's National Committee in June 1972. Following the burglary, secret White House tape recordings were discovered, one of which revealed Nixon had participated in covering up the Watergate burglary. In August 1974, Nixon resigned from office.
The congressman also answered Mariotti's questions on the former chairman of the House Intelligence Committee, Rep. Devin Nunes and his replacement, Rep. Mike Conaway.
Quigley said that while he "thought (Nunes) was a great chairman" and that he "ran hearings and previous investigations in a fair manner," he has been "much more troublesome" since the Russia investigations began.
"For instance, he insisted that he still be the one who signs the subpoenas," Quigley said. "So who's the boss? You can't have two people running the investigation on the House side."
Nunes' replacement Rep. Conaway is "making every effort to cooperate," Quigley said.
Quigley's handlers rushed him out of the room at the 30-minute mark, leaving Mariotti onstage to continue discussing the Russia investigations from a federal prosecutor's standpoint.
Mariotti addressed the June 2016 Trump Tower meeting between Jared Kushner, Paul Manafort and Donald Trump Jr. that included at least eight people including Russian-American lobbyist Rinat Akhmetshin who works for the Russian organization focused on overturning the Magnitsky sanctions that led to Moscow's ban of U.S. citizens adopting Russian babies.
While the meeting was suspect, Mariotti said, it is "not that easy to convict beyond a reasonable doubt."
Quigley didn't seem to have much hope for a quick and final end to the investigations.
"Americans like sudden death, finale," Quigley said. "They don't have a lot of patience for something like this (…) Mueller's investigation could take at least another year, maybe two."
Former FBI director Robert Mueller was appointed in May of this year as the special counsel to oversee the department's investigation into Russian interference in the U.S. elections.
There is "a real threat" the Mueller investigation will be shut down even, Quigley said
Referencing Trump's recent pardon of the controversial Arizona sheriff Joe Arpaio last month, Quigley said he's worried "about a constitutional crisis," that the U.S. has already "come very close to the edge of."
Mariotti addressed Mueller and his potential to make any charges, especially concerning Paul Manafort, Trump's former campaign chairman who's house was raided by the FBI in late July.
"I expect Mueller to wait until the end of the investigation to charge who he wants to charge," Mariotti said.
While complex and seemingly no closer to an end, Quigley, before he left the panel, urged the importance of the current investigation and the democratic process.
"The American public needs to know everything it possibly can," Quigley said.