DePaul grad starts petition calling for discounted Metra tickets
Metra fares are projected to increase for the fourth consecutive year and college students are calling for change.
Recent DePaul graduate, Cedric Ngwa, started an online petition on change.org for discounted Metra fares for college students.
Ngwa first started the petition in January of this year when he witnessed a group of students trying to buy a Metra ticket using their high school I.D. so that they would get it a discounted price.
Seeing this, Ngwa realized there are many students who probably don't have enough funds to ride the train.
"I know how expensive it is to feed yourself, go to school and pay for your transportation to and from Chicago," Ngwa said. "The average student may not be making enough in wages to where they can afford to have a weekly expense of almost $100 in transit, whether they are full-time or part-time."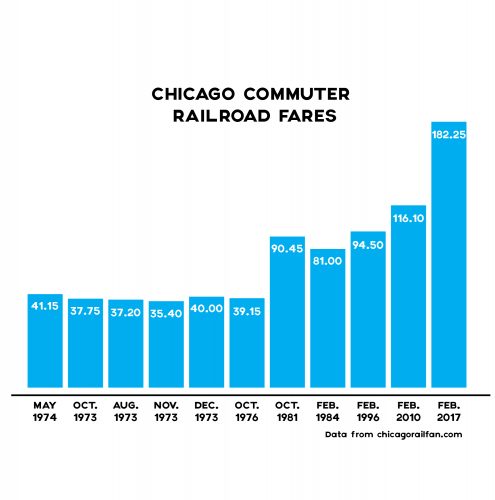 According to their website, the Metra is a sister agency to the Chicago Transit Authority, providing mass transit to Chicago and some suburbs. It operates on a distance-based fare system consisting of twelve fare zones. One-way fares to downtown Chicago range from $3.50 from the closest zone, Zone A, to $10.50 from the farthest, Zone M.
The petition calls for a reduced fare cost for one-way tickets — a $3 discount for full-time students and $1.50 for part-time students.
Ngwa lived on campus his freshman year, but for the next three years of his college career he took the Metra to get to school and back home. He admits sometimes he would purchase a ticket for a stop before his destination so the price of the ticket would be a bit cheaper.
"50 cents here and there, it adds up," Ngwa said.
The Metra does have discounted fares available for senior citizens, customers with disabilities, military personnel and full-time grade school and high school students. The discounted fares are not available to college students.
However, the CTA does offer college students at participating institutions a U-Pass, providing unlimited rides on the CTA for when they are enrolled full-time in school. The cost of the U-pass is charged on the student's tuition.
"There should be something in place, similar to how the CTA works with certain colleges to provide rides for students," Ngwa said. "The Metra should have something similar as a corporation with these universities as well."
According to research by StateUniversity.com Education Encyclopedia, approximately 86 percent of college and university students are commuter students. Typically, these students commute to school, as it is more economically beneficial for them since they cannot afford to live on campus. But while these commuter students may be saving by living with their parents, transportation prices are still concerning.
"Being a broke college student is real. If Metra prices keep rising, soon I'm afraid I may not have enough money for lunch," said junior Julie Gonzalez.
Gonzalez spends $12 daily if she buys two one-way tickets to get to school and back home, or $54 a week if she buys a 10-ride ticket. Purchasing a monthly pass isn't an option for her as she can't afford to spend almost $200 at once.
"It sucks because I go to school full-time and so automatically I have to get a U-Pass, it's charged to my tuition," Gonzalez said. "Why can't I get that same transportation benefit for the Metra?"
A discounted student fare would take some stress off of students since Metra prices will continue to increase each year.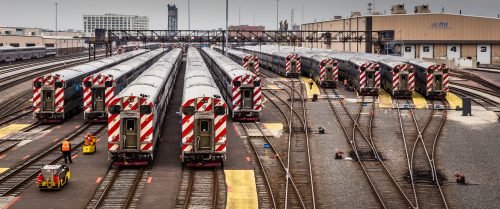 Metra announced the fare increases are part of a 10-year "$2.4 billion modernization plan" to buy new coach cars and rebuild train engines. But commuters argue that an increase in fares seem unfair when there are no improvements in the service provided by Metra.
"I understand fully that public transportation in Chicago needs appropriate funding in order to continue to provide around the clock transportation via bus, train, or subway train. But it is inappropriate to continue to charge these commuting students, and in some cases the family of these students, higher and higher fare cost simply because Metra has a monopoly on train transportation," Ngwa's petition reads.
Senior Jack Wagner travels from the South Side of Chicago four to six days a week for work and school. His schedule varies quarter to quarter, but on average he spends close to $50 weekly on Metra tickets.
"I think the petition is fair," Wagner said. "If Metra thinks they'd be losing money by giving college students a discounted fare rate then they should consider how much money they are losing when their conductors don't collect fares. I have been on crowded trains during morning rush and not seen a conductor pass through the car. I can only imagine how much revenue does not get collected daily."
As of Saturday night, the petition has close to 14,000 signatures. Ngwa's short-term goal is to reach 15,000 supporters, but he would ideally like to obtain upwards of 50,000 signatures before delivering it to the CEO of Metra and Gov. Bruce Rauner.
"I've reached out to DePaul's Student Government Association and the DePaul Transfer Student Union," Ngwa said. "My next plan of action is to have in-person meetings and conversations with students on the importance of this. This is not just for DePaul but for students from UIC, Loyola University, Columbia College, and various other universities as well."
This petition is for all students who travel in and out of the city for school. To sign the petition, please visit change.org and search "Metra discount for college students." Your information will stay private.