The nation mourns for Las Vegas
No motive has been discovered to explain the awful terrorist attack in Las Vegas, Nevada on late Sunday evening. An individual gunman who had checked into the Mandalay Hotel busted the window of his hotel room on the 32nd floor to set up a makeshift shooting range. However, instead of targeting paper cutouts of a person, he sought the real thing.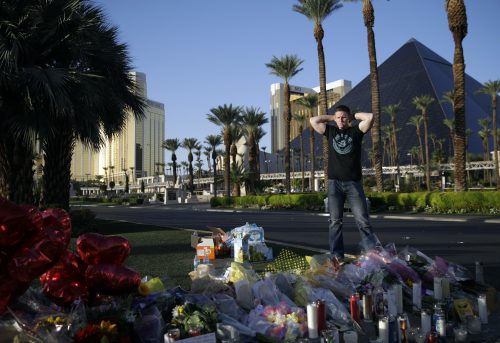 A country music festival took place below. Families and friends were dancing, singing along and celebrating a life that at least 58 people did not leave with. Another 500 individuals were injured from the attack and attempting to find safety during the commotion.
It's the deadliest mass shooting in modern American history, just scraping past the mass shooting at Pulse, a Florida gay nightclub, on June 2016 when 49 people were murdered. Before that, the "deadliest shooting rampage in modern U.S. history," was in 2007  when a senior at Virginia Tech shot and killed 32, according to a New York Times' collection of mass shootings in the U.S.
Although the Islamic State has taken credit for the shooter's actions, no records have confirmed any ties.
President Trump visits Las Vegas on Wednesday, a day after being in Puerto Rico.
On October 2, Trump addressed the nation and also took to Twitter about the attack in Las Vegas.
"My warmest condolences and sympathies to the victims and families of the terrible Las Vegas shooting. God bless you!" the president tweeted early Monday morning.
Among the dead are: Lisa Patterson, a mother of three. Bill Wolfe Jr., a husband. Jordyn Rivera, a senior at California State, San Bernardino. Heather Warino Alvarado, a wife and mother. Candice Bowers, a mother of three. Adrian Murfitt, a son and friend.
The full list of the dead victims, compiled by Eric Levenson and Emanuella Grinberg, can be found on CNN's website.