Women's tennis coach Mark Ardizzone's recruits in Europe
Serbia, Greece, Bosnia, Romania.  The women's tennis team is chock full of talented players from all over Europe, in large part due to the unique approach head coach Mark Ardizzone takes to recruiting.
Each year, Ardizzone embarks on a solo trek across several European countries, stopping only to scout players and reconnect with former ones.
Ardizzone didn't used to be a world-traveler, usually going to California or Memphis to scout a few tournaments, but rarely leaving the U.S. borders. About 16 years ago, when a friend asked him to go to her wedding in Hungary, that all changed.
He arrived in Hungary at the beginning of the week and didn't have much to do, so as any tennis coach would do, he found the nearest court.  One day, he went to the courts and he noticed the area was hosting a tournament.
"So, I watched this tournament for a little bit and the next day I went back and one of the kids came up to me," Ardizzone said. "I talked to her dad that day, I talked to her that day and a week later when I came home, she committed to DePaul."
Ardizzone realized that there was serious talent in Europe and he took it upon himself to find it.  The European trip became an annual experience.
Ardizzone began  returning to Budapest to see some athletes he knew, but each year he would try and add somewhere new.  This past year was his longest stay yet, visiting 14 countries in 36 days.
The trips are on DePaul's time, so Ardizzone tries to stay as busy as possible. Ardizzone said his goal is to see a junior competition for younger players and a small professional competition for 17 and 18-year-olds in each country.  Even when not at tournaments or scouting players, he says he visits tennis clubs or talks to coaches he knows about their players.
When he has a day when he is not seeing a player or coach, he says he feels like he is wasting DePaul money, so he makes sure that rarely happens.  Ardizzone, in fact, looks to save money at every turn, preferring to walk rather than call a cab, not buying meals and places to stay that are not exactly The Mandarin.
"I will walk everywhere. My record is three hours, because I just try never to rent a car.  In 15 years, I've probably rented cars three times total.  I'll try to just get by on transportation and it's kind of a fun challenge," Ardizzone said.  "I'll eat a huge breakfast where it's free, especially when it's free at hotels.  I bring my own food."
His food of choice is canned chicken.  He brings a large amount with him that he cracks into whenever he gets hungry.  Sometimes, some of his former players' (or their parents) will host him for a meal.  In Serbia, he was met by a former players parents who spoke no English.
"They just look at me and hug me and smile and they're so happy to see me, but there's no communication," Ardizzone said.  "It's part of the process.  That's why I tell players who leave here, we never say goodbye, we just say until the next time."
Keeping up relationships is a big part of what has made the trips so fun for him over the years.  So even while he looks to hit new spots, like Belarus this summer, he makes sure to hit most of his usual spots too.
"I'll always try to hit Zagreb every year.  I'll always try to hit Budapest," Ardizzone said.  "If nothing else you just say hi to a coach…I didn't go to Budapest for two years once…when I went back one of the guys said 'I thought you maybe you had died.'"
Relationships like that have lead to some interesting experiences.  Once, in Serbia after washing his clothes in the sink, he began hanging them up on the wall to dry.  He threw dripping wet socks and shirts over lamps, chairs and anything he could hang them on.  Once he found a spot for everything he ran out to the tournament he was scouting that day.  Towards the end of the day, he got back and entered the room to find everything was gone.  Clothes, passport, everything.
"I'm like, oh my god I finally got robbed," Ardizzone said. "So (the owner) comes running saying 'Mr. Mark, Mr. Mark…I had to move your room.'  So she gives me the key to the new room, I go down there and everything is hung up exactly as I had it. I was so embarrassed, I couldn't even look her in the face."
And of course the relationships with the players help to get them to DePaul.  Many coaches recruit off YouTube videos, Ardizzone said, but he wants the players and their families to be able to put a face to the name that has been contacting them.  For sophomore Aspasia Avgeri, an Athens, Greece native, this personal approach was the reason she chose DePaul.
"He came to Greece when I was 15, but didn't come to see me, he came to see another girl from my tennis club," Avgeri said.  "But he saw me playing, I was playing well that day, thank goodness."
Avgeri defeated an opponent in the top 200 in the Women's Tennis Association and after the match, Ardizzone asked her to come to DePaul.  Avgeri was flattered by the offer, but being 15, she decided to hold off on a decision. So, he just came back the next year.
"He would keep coming to Greece every summer and he met my family, and I think that's why I decided to come to DePaul," Avgeri said. "He was coming to Greece every single year and I couldn't believe it…so I was like, yeah I want to be on your team."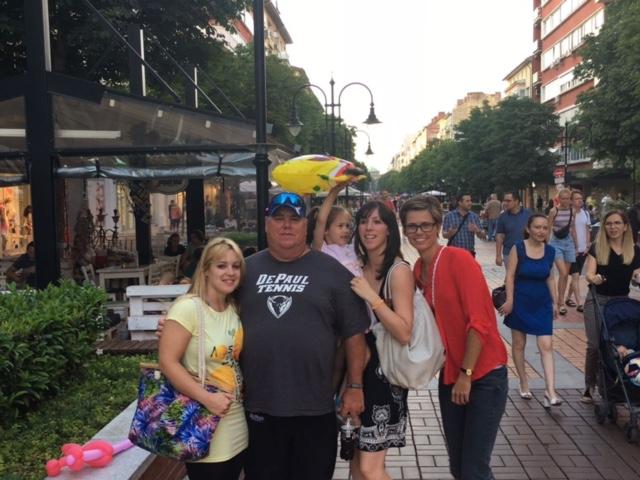 The repeated trips to Europe have given Ardizzone a bit of a celebrity status.  In America, DePaul is often behind some higher level teams in the minds of top recruits, but in Europe it is the other way around.
"I've had maybe five Hungarians, but helped 15 get scholarships so those coaches trust me and seek me out," Ardizzone said.  "One of our current girls, it was very funny, said to me…I couldn't talk to you because you were always surrounded by girls…She couldn't even come up to me because there were coaches, players and other people I know."
Planning these trips are not easy.  Ardizzone has to dig online to find out when and where the tournaments are.  Flights and hotel stays are planned almost to the minute, Ardizzone said, in order for him to make everything.  If things go wrong, Ardizzone has learned that panicking gets him nowhere.
When in London this past summer, Ardizzone was boarding the last train to the airports.  Almost just as he sat down, the train caught on fire.  A voice calmly came over the loudspeaker calling for everyone to evacuate.  Ardizzone didn't really know what to do, but he kept cool and followed the crowd back to the main station. He ended up having to pay for a ride, which killed him, but he said he got a refund later.
"I don't panic.  You just have to be able to handle it and be flexible," Ardizzone said.
Ardizzone already has his next trip planned for the Thanksgiving break. This time it will be four countries in eight or nine days, seeing some new players and some he has seen already.
"The journeys are long and tiring," Ardizzone said. "But it is one thing I've told every American girl on my team, that they need to go….It's an incredible experience."