Irish law banning most abortions could change in 2018
At a time of intense political polarization, the argument over whether abortions should be legal or not is at the forefront of many politicians' campaigns. The debate over reproductive rights has become an international issue, including in Ireland where the government announced in late September they plan to hold a referendum in the summer of 2018 on the Eighth Amendment, the section of the constitution that restricts abortions from only being performed in the most severe circumstances.
Protestors gathered in Dublin, Ireland on Sept. 30 for the sixth annual March for Choice, which is run by pro-choice groups in Ireland like the Abortion Rights Campaign, Union of Students in Ireland and the Coalition to Repeal the Eighth Amendment.
The march is a rally aimed to gather people in the typically-conservative country to call for change on Ireland's strict abortion law. The amendment, which was added in 1983, is the response to the idea that an unborn child has a right to life. Pro-choice activists want to relax the law for more women to have the ability to legally terminate their pregnancies inside of Ireland instead of having to travel outside of the country for the operation.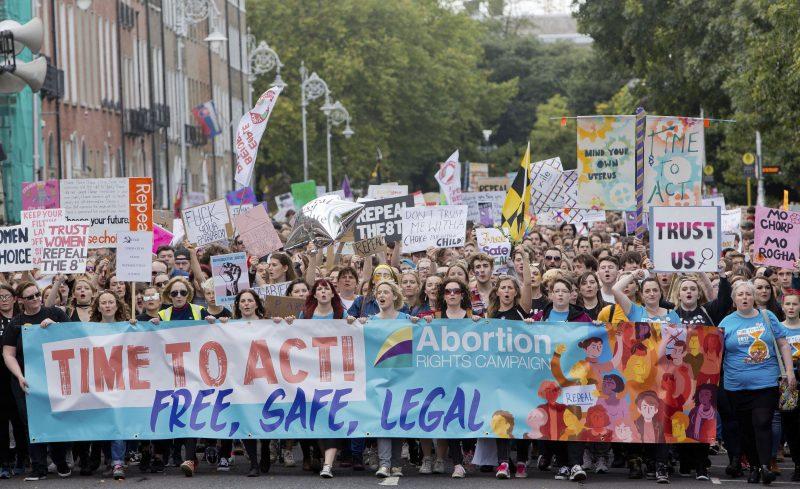 The march's theme, "Time to Act," urges for action "to ensure the upcoming referendum and any subsequent legislation…  provides for free, safe and legal abortion in Ireland," according to Abortion Rights Campaign spokesperson Clare Lanigan.
Abortion is a hot-button topic in Ireland as well as the United States, which is represented by two sides: pro-choice and anti-abortion.
Pro-choice groups are prevalent in the United States just like in Ireland. The American Civil Liberties Union (ACLU) of Illinois is an organization that fights to defend the rights of people who live in Illinois, including protecting womens' reproductive rights, including her decision to terminate a pregnancy.
"We've engaged in litigations to try and hold off those kinds of medically-unnecessary restrictions that don't do anything to advance women's health and to really keep Illinois a state in the Midwest where we protect reproductive rights," ACLU of Illinois staff attorney Amy Meek said. "And that's something we've been fighting for for decades and we've been very successful at this time where we're seeing hundreds and hundreds of (anti-abortion) laws being enacted all over the country.
On Tuesday, Oct. 3, the House pushed a bill that, if passed through the Senate, will block abortions from taking place after 20 weeks into a pregnancy. People were either up in arms or rejoicing after the news that it had passed through the House, showing the deep divide in our nation. Meek said, "these kinds of unnecessary bans don't have any basis in real science," and therefore shouldn't be put into place.
On the other side of the argument are anti-abortion groups, who fight to keep abortions illegal or increasingly limited. Executive director of the Pro-Life Action League Eric Scheidler works on grassroots activism groups that help to end abortions nationwide. The Pro-Life Action League holds prayer services for aborted fetuses, works to educate the community about abortions, talks to people outside of different clinics and organized protests following the release of the video allegedly showing Planned Parenthood selling fetal tissue.
Scheidler says his organization is in communication with pro-life groups and they work along the same guidelines toward ending abortion in their respective countries.
"We're in opposite situations (from Ireland)," Scheidler said. "We're dealing with one of the most radical legal regimes for abortion in the whole world. There are very few countries in the world where you can get an abortion as late in pregnancy and with as few restrictions or guidelines to it than you can in the United States, where abortion is, for all practical purposes, legal up to the very day of birth."
Abortion laws in the U.S. are usually dependent on individual state laws. In Illinois, the laws prohibit the abortion of a viable fetus, meaning the fetus can live outside of the womb.
Most hospitals in the U.S. register the age of viability at 23 or 24 weeks into a pregnancy. Abortions that are past the 21- or 22-week mark of gestation are usually considered late-term abortions and are only performed for health reasons, according to the Guttmacher Institute.
In Illinois, Gov. Bruce Rauner recently signed a controversial bill that expanded taxpayer-subsidized abortions for those who are covered by Medicaid or state employee insurance. Rauner said he passed this bill because he didn't believe that a person's income should play a factor in making a decision like terminating a pregnancy.
Illinois Right to Life, a pro-life organization, openly opposed this bill mainly because it now allows for abortions to be paid through tax-payer dollars. Program manager for Illinois Right to Life Regina D'Amico said that pro-choice groups and abortion providers are "attacking laws that enact reasonable restrictions and are trying to wwwpush through extreme, out-of-touch, abortion expanding bills."
Both Scheidler and D'Amico praised recent events like the passing of the 20-week abortion ban and the appointment of Justice Neil Gorsuch, who has a history of voting against abortion positive legislation, into the Supreme Court. The two said they believe this will bring them one step closer to placing more restrictions on abortions across the United States. However, Meek sees the future for reproductive rights as a bright one, even if pro-choice groups have to continuously fight in the streets and in the government to keep them there.
While the future of abortion laws in the U.S. are still unclear, the people of Ireland are patiently waiting for next summer when the government will review the Eighth Amendment. For the pro-choice groups who showed up to the march, the hope is that Ireland's government will allow full access to abortions. Lanigan said her group, "will not settle for exceptions-based access or mere amendment of the Eighth. Full repeal and proper abortion services in Ireland are needed now."
About the Contributor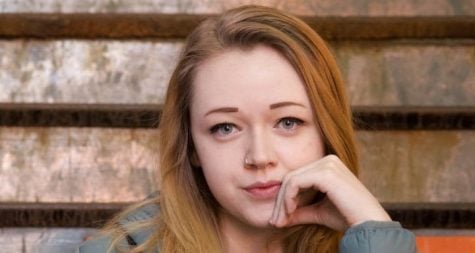 Carina Smith, Nation & World Editor
Carina is the Nation & World editor at the DePaulia. When she's not writing, you can usually find her wandering around the city listening to true crime...