Following the adaption of Chris Kyle's autobiography "American Sniper," Jason Hall ("Paranoia") makes his directorial debut with yet another adaption of Pulitzer Prize winning journalist David Finkel's second non-fiction book, "Thank You for Your Service."
Miles Teller (most notably in "Whiplash" and the indie breakthrough "The Spectacular Now") plays real life Sergeant Adam Schumann returning home from Iraq. Schumann, along with his tightly nit soldiers, has spent numerous deployments clinging close to his rifle. It's on the tarmac that we're introduced to who these soldiers – or brothers – really are as they approach their awaiting loved ones: they're simply broken.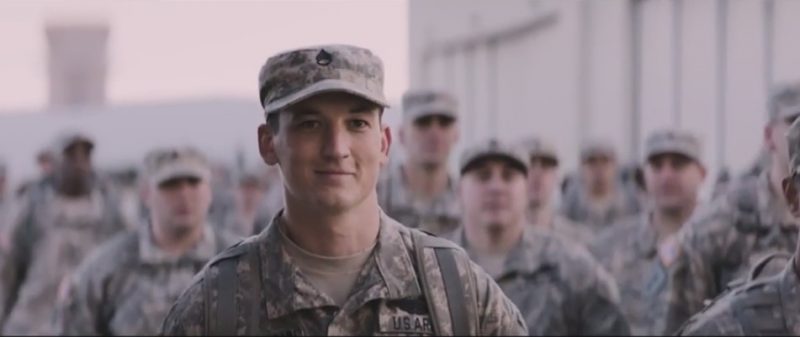 Schumann returns home to his wife Saskia (Haley Bennett in a very military wife kind of role) and their two kids. Although he is met with happy and open arms, it's the mental anxiety of his, and the other returning soldiers, minds that disable them to fit comfortably. Whether it's making pancakes that don't meet the liking of your daughter or waking up in the middle of the night in a frantic search for your rifle, these soldiers don't have it easy.
Hitting theaters on Oct. 27, "Thank You for Your Service" doesn't set out to provide us with the intense or incredibly realistic war scenes that say, maybe, "American Sniper" did, although Hall intricately places us in the mind and the hearts of the thousands of returning soldiers as they struggle to incorporate themselves back into the civilian lifestyle.
The DePaulia sat down with writer/director Jason Hall, Miles Teller and Adam Schumann, who Teller embodies in "Thank You for Your Service."
"The only time I was nervous or felt weird was on the plane going to see Adam for the first time," Teller said. "Adam and I became friends. Once he realized how seriously I was taking this by the questions I was asking him, he felt that I was on the right track. I felt like a journalist and I didn't like that feeling."
Finkel, who received a Pulitzer Prize for his reporting on the United States government's attempt to bring democracy to Yemen, initially approached Schumann on his last two days in the war. It was during these final moments in Iraq that Schumann was able to detail the tribulations of his traumatic experiences.
"Thank You For Your Service" followed an adaption process that differed heavily from Hall's past screenwriting project, "American Sniper," which starred Bradley Cooper. This time around, Hall's original material came from an active reporter seeking out the mental downfall of returning soldiers. Scott McEwen, co-author of "American Sniper," placed a tape recorder in front of Chris Kyle as he shared his war stories over some beers.
"The challenge with any of these true-life stories is to find meaning in someone's life. That's the challenge with biopics, you need to know specifically what it's about," Hall said. "For me, this movie is about homecoming, not only the soldiers coming home but every person and every human goes through this, finding a way back to themselves."
Ranging from a simple coming-of-age film to "The Pazmanian Devil" who shoots for stardom, Teller has exponentially grown on-screen in both his age and his talent. In "Thank You for Your Service," Hall offers Teller an opportunity for perhaps one of his, if not the most, mature roles in his extensive upbringing.
"I've grown up seeing movies on Vietnam, there's something oddly romantic about having a cigarette and a gun, being there with the boys. That was a world that I found very engaging, " Teller said. "I'm really glad that this was Adam's story that I got to tell. Who knows, maybe in 20 years I can play general sergeant dude."
"There's a real ease and comfort to him (Teller) and he's a leading man that has the ability to shift into character-actor mode and he loses himself within his character," Hall said.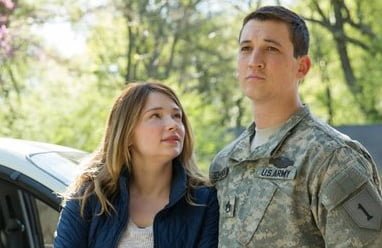 Hall had a keen eye for attracting the right look of the film, let alone structuring the plot in a non-war film way. With regards to staying true to Finkel's original material, Hall details the lengthy lines and the broken system of the Department of Veterans Affairs while mirroring that with family subtexts that provide a visceral struggle for all sides of loved ones that remain affected by the war.
"There are improvements in certain areas. It is getting better. Not by leaps and bounds, but stuff like this (the film) will only fuel the fire and get the discussion going," Schumann said.
"Our point was to not scare people away from the VA, but to shine a light on a broken bureaucracy with some very good assets with big hearts working there," Hall said. "That's what I wanted for this, I wanted the audience to forget that they are watching a film and to lose themselves in what was happening."
It doesn't take us too long to recognize the motive behind the film. For Hall, coming off of "American Sniper," it seems almost like a destined project for his debut picture. "Thank You for Your Service" premiered at the Heartland Film Festival earlier in October. The film opens next weekend to a wide release.
"You know everything about them, from the size of their underwear to the smell of their farts, and you love them. You have this huge bond and them you come home," Schumann said. "I want people to understand that it's a very confusing time and if they know someone to make sure their door is always open for communication and if they can help them, do so."
"You're just telling a story. But that's the magic of a movie. A movie can subject the viewer to this experience where you're transported and suddenly understand someone's POV. Our intent was to go out and make the most real and visceral film that we could of this experience," Hall said.