Dissecting Dia de los Muertos

Late October is a time of skeletons, cemeteries and spirits. Despite the ghosts that sit in the windows of costume shops, not all of these spirits are out for Halloween, nor are they all meant to be spooky.
Día de los Muertos is a Mexican holiday to honor and commemorate the lives of loved ones who are dead. The celebration begins on Oct. 31, when the gates of heaven open up and allow for the souls to return to earth so they can spend time with their living loved ones. Nov. 1 is when children and younger souls return and Nov. 2 is for older souls and ancestors.
The holiday has its origins in both Catholicism and ancient indigenous traditions. Día de los Muertos is celebrated at the same time as the traditional Catholic holidays of All Saints Day and All Souls Day and uses observances said to be practiced in ancient Aztec festivals for the goddess Mictecacihuatl, or "Lady of the Dead." The holiday also lands at the same time as the United States' tradition of Halloween, but Día de los Muertos is not to be confused with Halloween or All Saints Day.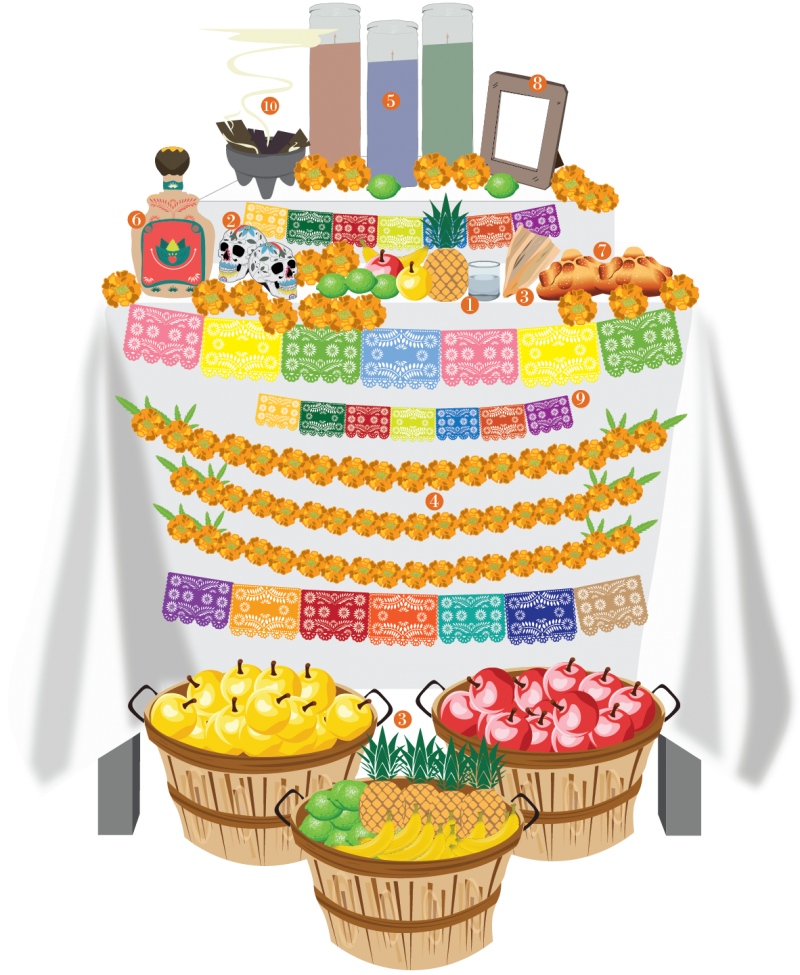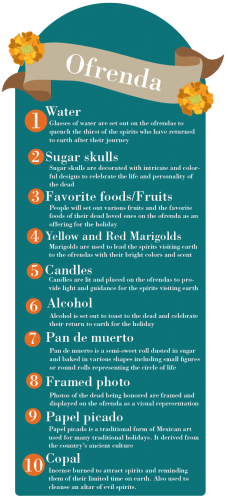 Día de los Muertos is not a time of mourning, sadness or fear, but instead a time for celebration.
"(It is) a time of communicating with, and celebrating our loved ones who have passed on," said Elizabeth Martinez, director for the Center of Latino Research and Latin American and Latino Studiesprofessor. "For All Saints Day, people in European custom go to the cemeteries, clean the graves or bring fresh flowers, and then leave. In Mexico and parts of Central America, the customs are very different and more extensive, due to there being a mixture with ancient Native customs."
Día de los Muertos illustrates the Mexican culture's unique relationship with death. Recalling a quote from Nobel Prize winning Mexican author Octavio Paz, José Perales, director of operations for the Office of Institutional Diversity and Equity said, "European Capitals have a very different relationship with death than Mexicans. We (as Mexicans) embrace it, we make fun of it, we tease it, it's part of our culture."
This celebratory outlook on death and life makes for an exciting holiday with colorful traditions and practices, including the display of an ofrenda.
Ofrendas are used to give offerings to the dead souls that are returning to earth for the holiday. They can be set up a variety of ways, like on tables displayed in houses or even on the actual graves of those who have died. The ofrendas are set up with many traditional elements including candles to guide the spirits and photos to honor the dead.
Alondra Valle, senior and Vice President of Gamma Phi Omega International Sorority, Inc., has been celebrating the holiday with her family since she was in high school. She looks forward to going home every year to see the ofrenda her family made to celebrate the lives of their dead loved ones.
"It makes me proud of my Mexican heritage to see such a beautiful display to commemorate our loved ones," Valle said. "It's especially touching to see the faces of our relatives with whom we had such precious moments with."
Most ofrendas also include objects relating to those being commemorated, but they are not limited to only celebrating the lives of people.
"The ofrendas connect you to our ancestors and people who are gone, but it may not always be a person," Perales said. "It can be a soul. A soul that lived with you or somewhere else in another time."
Any spirit with a strong connection to the living can be celebrated on Día de los Muertos.
Lisa Avila, program assistant for the Center for Latino Research and Latin American and Latino studies department, had a cat named Rambo who recently died at 19 years old. Avila and her mother are including Rambo in their ofrenda this year.
"My mom had to go through so much in life and Rambo was always there," Avila said. "That cat was our constant."
Although there are many consistent elements like the candles and photos set out on the ofrendas, the favorite foods, drinks and smaller objects of the dead that are put out make each display extremely unique. Among the flowers and food set out, Avila's ofrenda will also include a ring from a milk jug to pay homage to her cat.
"(Rambo) used to love playing with the little ring from when you take the top off a milk jug," Avila said. "He would play with those rings all over the house, and we'd find them everywhere."
The beautiful decorations and eye-catching artwork associated with the holiday hold deep meaning to those who celebrate. However, they have also been commercialized with big businesses like Target selling products and costumes emulating the traditional decorations and attire used for Día de los Muertos.
"It's beautiful that other people are becoming more aware of it, but I also see the commercialization of it," Perales said. "You see all these products that are made in a place that's not culturally based and it's just for commercialization, so it lends a different air."
Corporatizing elements associated with Día de los Muertos creates a complicated outlook for some people who celebrate the holiday. Valle has never been able to visit Mexico for the 3-day celebration since the dates conflict with school, but she still values Día de los Muertos as a part of her culture.
"I think my culture's traditions are beautiful and worthy of appreciation, but it's frustrating when people buy things without taking the time to learn for themselves what those objects mean for the culture they come from," Valle said.
Día de los Muertos brings a vitality to death through its deep cultural roots, and creates a more honest view on dying in a way that brings the living and the dead closer together.
"It makes death a little less gloomy and brings us happiness to dedicate a day to them, even if we think about them everyday regardless of the date," Valle said.
About the Writer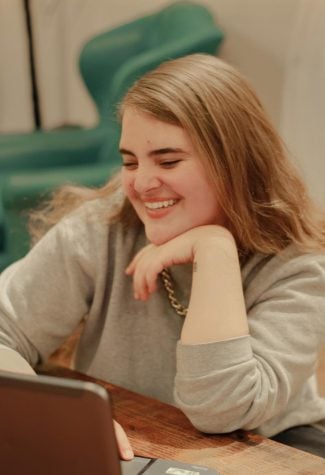 Rachel Fernandez, Managing Editor
Rachel Fernandez is the managing editor for the DePaulia, a dedicated millennial and a vegetable enthusiast. She is passionate about mostly everything,...