Milo denied again: Patio theatre cancels "Troll Academy" tour
What would have been Milo Yiannopoulos' second appearance in Chicago since protesters disrupted a May 2016 event at DePaul University hosting the former Breitbart editor has been cancelled due to cries of opposition and safety concerns.
The Patio Theater, located at 6008 W. Irving Park Road, was supposed to be the venue for Yiannopoulos' Chicago stop of the "Troll Academy" tour, taking place on Nov. 13. Following the announcement, the Patio Theater's event page on Facebook began to blow up with outrage at the theater for hosting Yiannopoulos as well as fewer messages of support.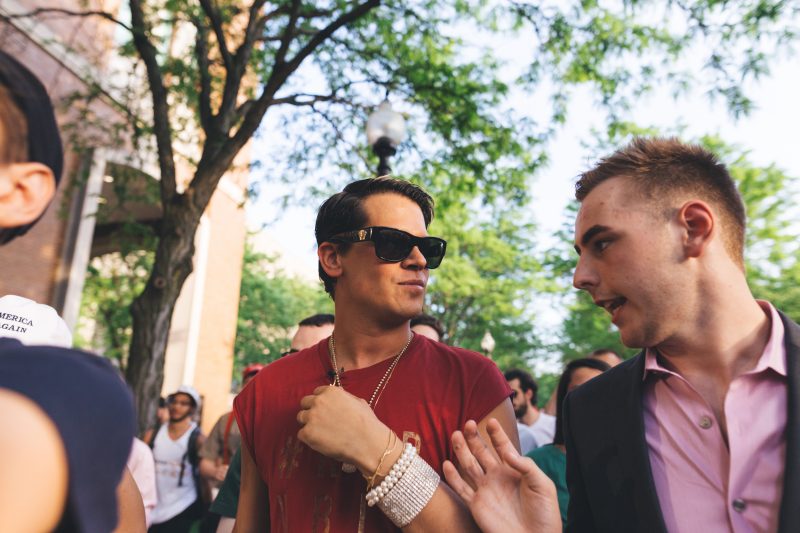 Answer Chicago, an activist organization in the city, created an event on Facebook planning to protest the Yiannopoulos show that garnered 461 participants and 2.5 thousand people "interested" as of Oct. 18, the date of cancellation. Neighbors of the theater told the Chicago Sun-Times they would lend their space to people interested in creating picket signs for the protest.
While Patio Theater operator Charlie Burns told DNA info's Alex Nitkin the booking was a "nonpolitical decision," and ensured his staff would have enough security to provide for the safety of "the tour, fans and any protesters," on Oct. 18, the theater released a press release cancelling the event.
"We have heard the voices of our patrons and neighbors and have cancelled the Milo Yiannopoulos show," it reads. "Patio Theater is committed to promoting and supporting diversity and culture, but spares no expense to ensure the safety of our staff, patrons and community at large."
Yiannopoulos, a British gay man whose support for President Trump and denouncement of Islam and feminism have earned him fame and popularity among the far right, is no stranger to controversy. He resigned from Breitbart earlier this year after publicly condoning some relationships between grown men and 13-year-old boys.
"Pedophilia is not a sexual attraction to somebody 13-years-old who is sexually mature. Pedophilia is attraction to children who have not reached puberty," Yiannopoulos said. In referencing his own former sexual abuse, Yiannopoulos thanked a former Catholic priest of his for teaching him "to give such good head."
The DePaul College Republicans invited Yiannopoulos to speak on campus and on May 24, 2016, the organization's current chairman John Minster moderated the Q&A section of the event as the protest began. A video of the event shows Black Lives Matter activist and DePaul alum Edward Ward walking through the room and onto the stage while blowing a whistle and being followed by a woman and fellow protester.
Sitting across from Yiannopoulos on stage, Minster addresses Ward and says "please sir, sir please" into the microphone as Yiannopoulos says, "hello darling, do you need some help?"
Ward and the woman remain on stage as the room erupts in yells from both the protesters and event attendees. The Q&A doesn't continue successfully and after more than twenty minutes, Yiannopoulos leads the room outside to march around the Lincoln Park campus.
The university subsequently denied a second request by the DePaul College Republicans to host Yiannopoulos in July 2016, citing inadequate security measures. The DePaulia's former managing editor Rachel Hinton reported that Vice President of Student Affairs Eugene Zdziarski said that "Mr. Yiannopoulos' words and behavior contained inflammatory-speech, contributed to a hostile environment and incited similar behavior from the crowd in attendance."
A recently published Buzzfeed article briefly reveals Yiannopoulos' thoughts on the May 24 event. In leaked emails between Yiannopoulos and Steve Bannon, executive chairman of Breitbart news and former White House Chief Strategist to President Trump, Yiannopoulos said, "I wouldn't confess this to anyone publicly, of course, but I was worried (…) last night that I was going to get punched or worse. (…) I need one or two people of my own."
Minster said the nature of Ward and others' protest encroached on the rights of Yiannopoulos and those who attended the event.
"I don't care if you protest as long as it doesn't stop other people from hearing the speaker," Minster said. "If you bring a speaker, that speaker should have the opportunity to come, to be heard and that speaker should have the opportunity to be challenged."
The opportunity to challenge a speaker and create a discourse, Ward said, was not present at the Yiannopoulos event.
"There was a lot of room to continue to have conversation," he said. "The thing is Milo was never really interested in having conversation. He was interested in dismissing the struggles of people, dismissing the struggles of women, dismissing the struggles of black people, dismissing the struggles of the LGBTQIA community."
Like Ward, senior Mikaela Zieger and president of the DePaul College Democrats said the Yiannopoulos event was not about discussing beliefs and sharing ideas.
"We know from the DePaul event that if you disagree with Milo he's not going to have a conversation with you, he's going to ridicule you. The audience is going to call you names," Zieger said. "To me, it's not a constructive exchange of ideas."
Graduate student Andrew Elam experienced both sides of a Yiannopoulos event. In May 2016, he attended DePaul's event as a listener and in January 2017 joined the ranks of protesters outside the University of California Davis that achieved in getting the Yiannopoulos event cancelled before it began.
From Davis, California, Elam felt familiar enough with the UC Davis campus to fit in with the protesters in order to observe.
"I decided to go, dressed up in all black with a hat on (…) and be in the protest to see that side of it," Elam said.
Having experienced what occurred at DePaul, where Elam said, " there were a good 200-ish legitimate, respectful protesters that we were greeted with on the outside (of the Student Center) when we left, I kind of wanted to see that going on from the outside."
Elam welcomed the controversy Yiannopoulos brought to DePaul and UC Davis in the name of free speech.
"The operative question for me when it comes to free speech is the element of actions," Elam said. "What crosses the line is direct incitement of violence or actual violence."
Free speech elicits different responses today than a decade ago. UC Berkeley held and ultimately cancelled a Free Speech Week that would have hosted controversial speakers like Ann Coulter, Steve Bannon and Yiannopoulos. The University of Chicago's acceptance letter told its accepted students to not expect a campus of safe spaces free of trigger warnings. College campuses across the nation are implementing free speech committees.
On Thursday, Oct. 19, white nationalist Richard Spencer spoke at the University of Florida in Gainesville. He was met with chants of "go home Spencer." As a public institution, the university could not deny him the right to speak on their campus, university representatives said.
"If you hold abhorrent beliefs − they're abhorrent because they're wrong, morally wrong − and people don't often enough challenge people for their disgusting views. And you lose that chance when you stop the person from coming period though," Minster said of Spencer's appearance in Florida.
Yiannopoulos has yet to respond to the cancelled event at Patio Theater as part of his "Troll Academy" tour that is set to resume on Oct. 27 in Scottsdale, Arizona.