America is in the height of an escalating opioid epidemic that has taken over 200,000 lives in the past two decades. According to recent data from the Centers for Disease Control and Prevention, more than 64,000 victims of the ongoing opioid crisis have succumbed to drug overdose in 2016, 12,000 more than in 2015.
The striking increase in fatality is a product of opioid fentanyl, a synthetic opioid of addictive and maleficent nature that is also fairly cheap and easily accessible. The rising death tolls due to opioid overdoses are higher than the total U.S. military casualties during the Vietnam War. This alone warrants an immediate call to action to solve this crisis.
Deaths due to opioid overdose have rose at a faster rate than the HIV outbreak at its peak. Scientists, in relentless pursuit for a cure to HIV/AIDs, have made great progress. Yet, our government and health care leaders have failed to address America's opioid crisis as a chronic illness affecting millions.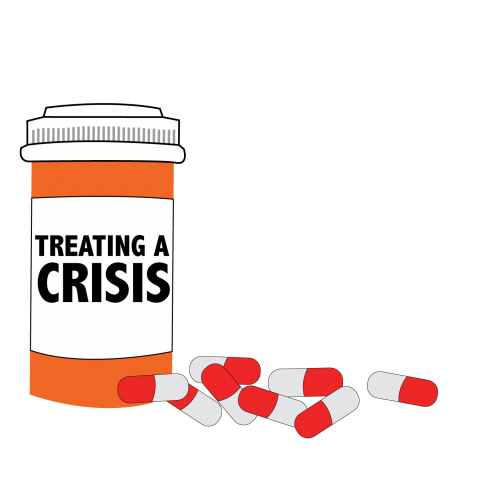 Despite declaring the opioid epidemic the deadliest drug crisis in world history and a "national emergency," President Donald Trump and his administration have yet to act on the promise to "help all of those people so seriously addicted get the assistance they need to unchain themselves."
The battle against opioid addiction has resulted in deceitful wholesale drug distributors, corrupt legislators and lobbyists, and pharmaceuticals triumphing over the U.S. Drug Enforcement Administration's (DEA) efforts to contain the crisis. Behind closed doors, we have congressional leaders under the influence of large pharmaceutical companies and drug distributors who are using their political clout to strip away the DEA's authority. This hinders the implementation of policy solutions to regulate the distribution of opioids. With no end in sight, and overdose fatalities still spiking, death rates are projected to rise significantly if no action is taken.
Who is accountable for the victims of opioid abuse? The prevalence of the public health problem surrounding the opioids epidemic raises this question.
The culpability rests on the shoulders and is shared by doctors who are overprescribing opioids, pharmaceutical companies that exaggerate opioid benefits and downplay the dangers, insurance companies that fail to flag patients receiving an excessive amount of opioids prescriptions, and members of Congress protecting their own self-interests.
"Collectively, communities and the healthcare industry must take accountability. It's super easy to pass blame from one to another. It's a completely other thing to actually work towards solutions to the problem," said sophomore Jack Evans.
Last year, the Ensuring Patient Access and Effective Drug Enforcement Act, passed unanimously in Congress. The legislation implemented protects pharmaceuticals and drug distributors under DEA investigation that are suspected of disbursing questionable orders of opioids, a drug with adverse effects on American communities This ultimately ensures that Fortune 500 drug distributors and manufacturers still profit from victims of the widespread opioid outbreak.
Introduced into the Senate by Rep. Tom Marino the bill discreetly paved the way for legislation that would undermine the DEA's ability to prosecute all parties responsible for encouraging widespread drug abuse. Marino recently withdrew his nomination to be Drug Czar of the U.S. due to his involvement with the bill. Lobbyists of powerful and malignant influence used their money and power to preserve their interest group's business model that entailed selling a lot of pills in order to earn high margins of profit.
It came as no surprise that by making generous campaign donations, lobbyists prevailed and legislation was enacted to benefit all culprits of the opioid crisis. According to the U.S. Senate Lobbying Disclosure Electronic Filing System in 2016, groups reported lobbying expenditures to support the Ensuring Patient Access and Effective Drug Enforcement Act that exceeded $102 million. Leaders in the effort were Pharmaceutical Research and Manufacturers of America, who contributed $40.8 million, and CVS Health, which contributed $32.5 million.
Campaign investments that could have been allocated toward funding effective treatment options to rehabilitate those addicted or dependent on opioids. There must be stricter clinical guidelines to ensure access to safe pain-relieving treatments and education for physicians and patients, so both parties are fully aware of the negative effects to prescribing opioids. This way, America can start to solve our addiction crisis.
"We have the solutions to the problem, it fully depends on if organizations and people are going to be accountable and willing to invest time, money, and resources," Evans said.
The far-flung nature of the opioid epidemic is what makes it such a perplexing problem. However, with both the Congressional leadership and all levels of the healthcare sector working collectively by taking a proactive stance can contain this crisis.
"While the healthcare industry must provide resources from the beginning to avoid the problem, the government must step in to invest in people that are already affected," said Evans.
As a united front, congressional leadership and all parties of the healthcare industry must work side-by-side by investing in preventative strategies, along with subsidized rehabilitation programs for victims of the crisis that are already struggling with addiction.
"There has to be a joint effort between Congress having immediate hearings and trying to entertain what legislation needs to be pass in conjunction with a full-blown investigation in the American Medical Association, those liable for over-prescribing the drug that is addictive in nature and has caused great harm, and all vested parties that are responsible for regulating doctors who are prescribing these drugs," said economics professor and co-director of the MS Program in economics and policy analysis, Robert Kallen.
Opioids have become a popular choice among the healthcare industry to alleviate pain. However, it is evident that the addictive nature of the drug has inflicted more harm over the long run than living with chronic pain.
"Primarily, the pharmaceutical industry did an effective job of convincing the medical industry the benefits of this opioids, so that it became the drug of choice," Kallen said. "Pharmaceuticals had no positive obligation to address the addictive nature of the drug until it became obvious to the public. There are still cases where this opioids under very control circumstances should be utilized, but as a drug of last resort."
Opioids are not the only option for pain relief. There are alternatives to mitigating pain in lieu of prescribing opiate medicines such as, "relaxation, stress management and behavioral medicine procedures," said director for the center of community research Jason Leonard.
The tragic story of the opioid epidemic has plagued American communities across the country. Oftentimes, there is a stigma surrounding addiction perpetuated by ignorance and insufficient information. As a nation, we need to recognize that drug addiction is a disease that must be treated through government funding for any proposed legislation as preventative measures and subsidize designated programs to help those overcome their addiction.  If the opioid epidemic is left untreated, opioid overdose and misuse will continue to be a rising issue.