Horror of the Humanities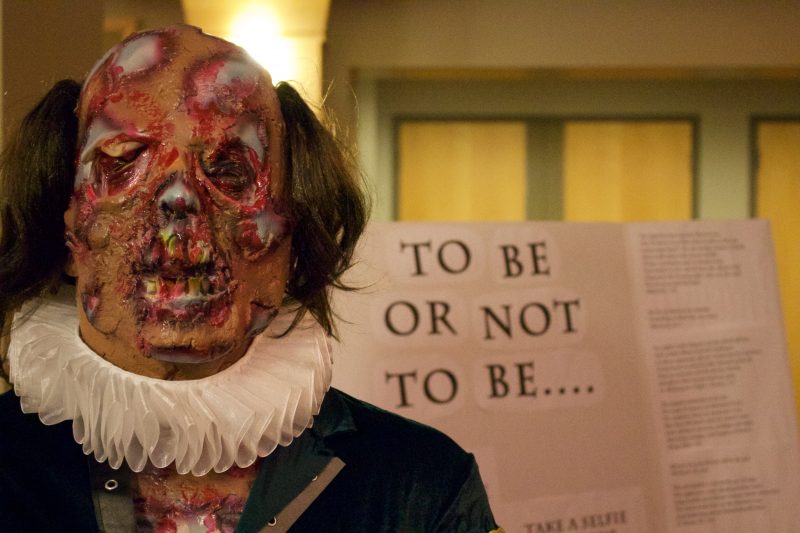 Zombie Shakespeare paid a visit to campus just one night before All Hallows' Eve, joining the patrons of the Humanities Center's fifth annual event, "Horror of the Humanities" for some of humankind's most horrific phenomena.
The large, towering sculpture of a bloodied, rotting Shakespeare stood at the entrance of room 120A in the Student Center, where students set up poster booths that showcased the uglier sides of topics such as serial killers, corn syrup and the "plant apocalypse."
In one corner of the room, a self-identifying witch read tarot cards for students and forecasted their futures. Dead poet and "rabble rouser" Mickey Virgin (student Logan Breit) took requests for spooky poems while reminiscing on the candlelit dinners he enjoys with his fiancee, who he may or may not have met in hospice.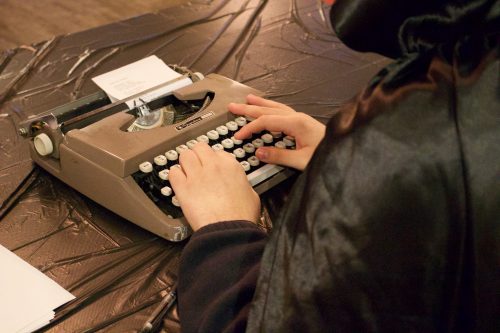 Virgin, who said he is the result of a test tube experiment gone wrong, spent the night tapping away at his typewriter just outside of a screening of the avant-garde film "The Eyes of My Mother."
After the movie was shown, writer and director Nicolas Pesce was joined by philosophy professor H. Peter Steeves for a question and answer session.
Pesce talked about the inspiration behind his film, which is a bilingual, black and white horror-drama that tells the story of Francisca, a Portuguese-speaking immigrant from an unnamed foreign country.
---
"The Eyes of My Mother" screening and Q&A
Francisca, a surgeon back home, is desperate to connect with others in her new land. Unsure of how to navigate the mass culture that many of us regard as "American" and are oh so used to, she begins to carve up her neighbors, friends and lovers to fit her preferences.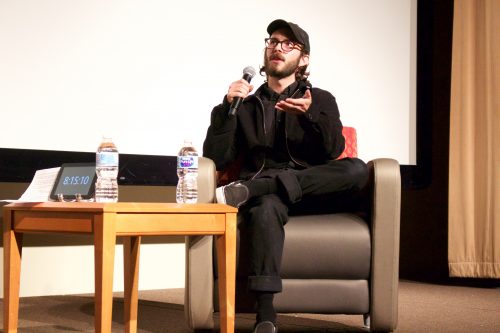 She's a lot like Jeffrey Dahmer-like in this way, but Pesce and Steeves argued that she is also just like every other American: acting on her duty and freedom to choose.
Humans can find themselves in a strange place when they first come to a new land, especially when it's one that's ripe with a culture that thrives off of practices or ideas that may seem strange, or even occult to newcomers.
Pesce wanted to highlight the fact that his film can universalized to fit any time and place in America. The focus of the film is on the struggles that immigrants face when they first come to this country and how they navigate forming meaningful relationships in the "land of the free" and the "home of the brave."
Perhaps the most hopeful part of the film is Francisca's son Antonio.
He's actually the son of a woman that Francisca took upon herself to "carve up" in order to make a friend that fits her needs, but in his young age he doesn't know or understand this. What he does know, however, is the woman's pain. He realizes a stranger in his community, just as the people who rejected his mother do.
What he does differently is based on what he's already seen. His response, to help the woman, comes out of empathy for the pain she feels.
"Is there hope for Antonio?" Steeves asked.
The answer to Steeves' question doesn't have a simple answer. Maybe it's in our thoughts and actions toward new people.
About the Contributor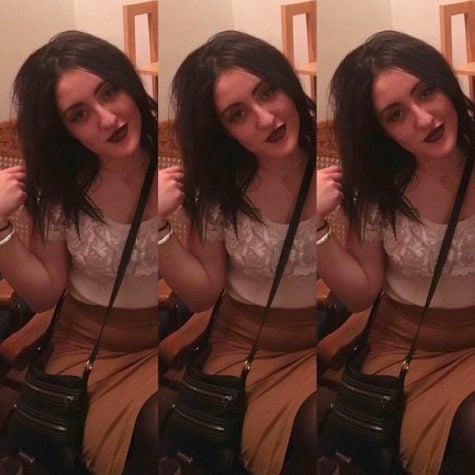 Amber Colón, Editor-in-Chief
Amber is the Editor-in-Chief at The DePaulia. When she's not working or in class, you can find her binge-watching The Office or napping in her Edgewater...