Former DePaul Blue Demons guard Billy Garrett Jr. earned a spot on the training camp roster of the New York Knicks' G-League affiliate Westchester Knicks via open tryout Oct. 23.  On Friday, Nov. 3, the team named Garrett to the final roster.    
Garrett impressed in Westchester's game against the Long Island Nets on Oct. 30 with 16 points, going 50 percent from the field and knocked down all eight of his free throw attempts.  The DePaul graduate also logged five turnovers, four rebounds, three assists and a block.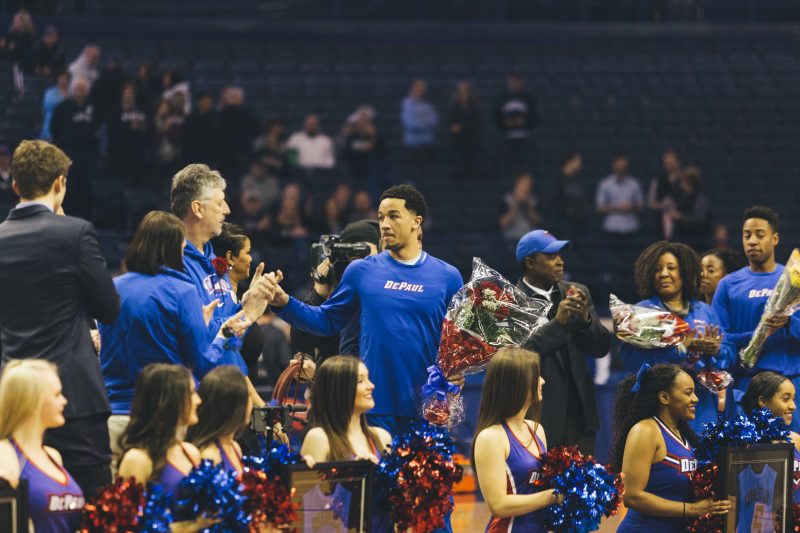 While Garrett came off the bench against Long Island, he played a team high 27 minutes, beating out starters Trey Burke (former Michigan star) and Xavier Ratham-Mayes who logged 23 and 24 minutes, respectively.
Sixteen points in a G-League pre-season game won't send Garrett to the NBA, but he is trending in the right direction. At least 30 G-League players were promoted to NBA rosters in each of the past five years, according to the G-League's official website.
"I'm happy for him and I just think it's the next step for him on his journey to reaching his goals and his dreams," Garrett's father, and name sake, said. "As you get older and you have your children who have a chance to realize what their dreams are, you are happy for them."
Garrett Jr. was a four-year starter for the Blue Demons. He averaged 13.1 points on 38.6 percent from the field and 3.5 assists per game during his career at DePaul.
In 2014, he earned the Big East Men's Basketball Rookie of the Year award after leading all freshmen in the conference in points and assists per game for the 2013-2014 season. He finished his career 34th on DePaul's all-time scoring list with 1,154 points.
The Chicago native also was a three-time member of the Big East All-Academic team (student athletes must maintain a 3.0 GPA for an academic year to earn this designation) and was one of ten players selected to the Division I-AAA Athletic Directors Association Scholar-Athlete Team in 2017 because he maintained a 3.24 GPA while making significant on-court contributions to the basketball team.
G-League training camp rosters consist of 17 players. Once the season starts, G-League teams must maintain a minimum roster size of 10 players and can max their rosters out at 13 if some of their players get called up to the NBA.
"He's defied odds all his life," Garrett's father said. "It'll just be more determination, a willingness to figure out what the coach wants to be able to mix in his talents, and just put his best foot forward. I think if he does that I like his chances of making the team."