Leitao records bittersweet victory against former player he coached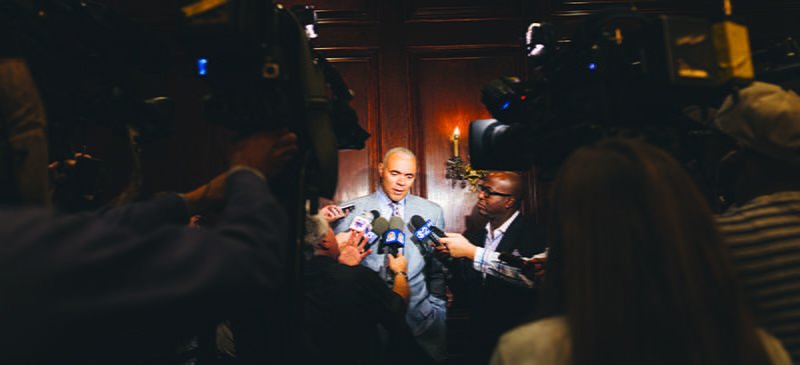 Apparently, DeP aul Blue Demon head coach Dave Leitao didn't teach Central Connecticut State head coach Donyell Marshall everything he knew about basketball when Leitao was an assistant coach at the University of Connecticut responsible for the development of star player Marshall from 1991-1994.
Leitao kept some of his basketball tricks to himself, which he deployed on Wednesday evening to help the Blue Demons beat the Central Connecticut State Blue Devils, now headed by Marshall, 85-57 at Wintrust Arena for DePaul's fourth win of the season.
"It was kind of painstaking to be honest with you because I root for him like nobody's business and it's hard to root for him today obviously," Leitao said after the game about facing his friend Marshall. "I wanted to compete as we always do and at the end of the game during our embrace, I kind of felt bad because I know how much he wants to win and how much he is growing in his second year and how much potential they have."
The Blue Demons buckled down right before the first half ended, manufacturing an 8-0 run over the last 2:31 of the first frame to take a 39-23 lead into halftime. An uncontested tip-in by Jaylen Butz in the middle of the lane off a missed jumper was the highlight of this run. In the first half, Eli Cain led the way with 10 points including two 3-point field goals, and Tre'Darius McCallum complemented this production with nine points of his own.
Central Connecticut State trimmed that lead down to 11 by the 15:08 mark in the second half behind a 4-for-7 start to the half. They cut it to seven at the 12:44 mark, but the Blue Demons rolled from there for a comfortable 28-point margin of victory.
Cain led the way in the scoring department with 17 points, while Brandon Cyrus came off the bench to chip in 16 points on 5-for-7 from the field. Butz had his most complete game of the season, scoring ten points, and pulling down nine rebounds.
"Really, we were just following the lead guys (the starters)," Cyrus said after the game when asked what allowed the bench players to have such a significant role in the game. "Those guys set the tone, so it makes it really easy for me to go into the game and keep that level (of intensity) high."
This game marked the first occasion Leitao and Marshall have faced each other from opposite benches as coaches for a basketball game. Friends turned rivals, at least for a 40-minute game.
"It's not easy for either he or I, but that is what competition is all about," Leitao said about coaching against a friend. "There's nothing to brag about. I love him dearly and it doesn't make me feel any better, other than winning games, to beat somebody that I care that much about. I'm as big of a fan of him as you can possibly be."
Leitao and Marshall even coached together. On July 21, 2011, Leitao was named the head coach of the Maine Red Claws of the NBA Gatorade League (formerly the NBA Developmental League). Marshall joined the staff of that team as an assistant coach for the one season Leitao was at the helm.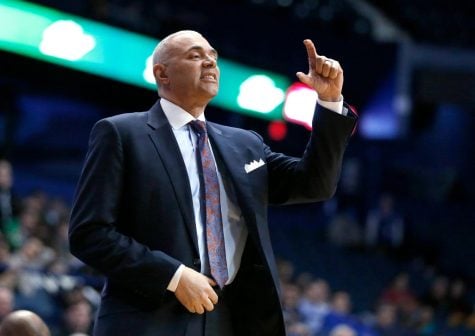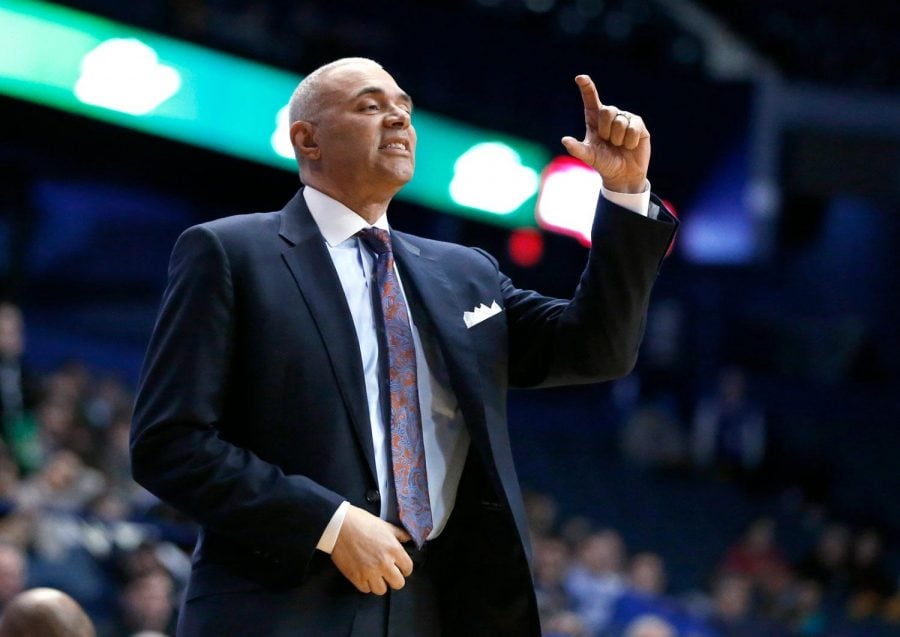 Prior to that reunion, their basketball paths diverged after crossing at Connecticut. Marshall became a 15-year NBA journeyman, before dabbling in broadcasting in 2009 and then beginning his coaching career at George Washington University as an assistant coach in 2010. Outside of a brief hiatus in 2010 and a gap year between his playing days at Northeastern and his first coaching gig, Leitao has been in the coaching business every year since 1984.
Neither coach liked to see DePaul point guard Devin Gage leave the game early in the first half with an apparent right ankle injury. Gage has had problems with both ankles all season.
Leitao didn't have any further information about the nature or extent of the injury after the game.
The Blue Demons make the short trip south to the UIC Pavilion to take on the University of Illinois at Chicago Flames on Saturday at 3 p.m. The Flames have started the season 3-5. The Blue Demons finish off their non-conference slate with matchups against Alabama A&M (Dec. 11), Northwestern (Dec. 16), and Miami Ohio (Dec. 21) before tipping off Big East Conference play on Dec. 27 against Villanova.  
Central Connecticut State plays at Northern Illinois University on Saturday at 1 p.m.