Schedule remains tough as Blue Demons travel to Xavier Saturday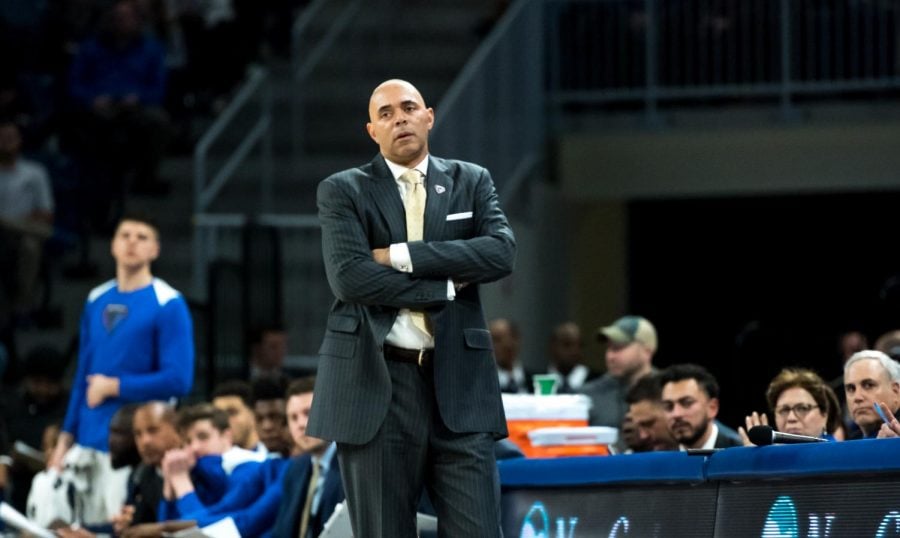 The DePaul Blue Demons celebrate the end of 2017 with another showdown against a top 10 opponent.
After a 103-85 loss against No. 1 ranked Villanova on Wednesday evening, the Blue Demons (7-6, 0-1 Big East) will travel to Cincinnati to square off against the No. 6/5 ranked Xavier Musketeers (12-1, 1-0 Big East) for a 1 p.m. tipoff at the Cintas Center on Saturday.
Senior wing Trevon Bluiett (20 points per game; 47.8 percent from the field) leads the charge for an Xavier squad whose only blemish on the record came on Nov. 24 against the currently No. 3/4 ranked Arizona State (unranked at the time of the game). The Musketeers have wins against No. 18/17 ranked Baylor and No. 21/22 ranked Cincinnati already this season. The Musketeers are coming off a hard-fought 91-87 road win against Marquette on Wednesday.
After giving up a season-high 103 points against Villanova, the Blue Demons will face a similarly star-studded and efficient offense when they take on Xavier. According to TeamRankings.com, the Musketeers rank eighth in the country in offensive efficiency (Villanova is No. 6 on the list and Creighton, another Big East team, is No. 4). The Musketeers rank fifth in the country in field goal percentage (52.1 percent) and 16th in points per game (87.2).
Controversial senior guard J.P. Macura is second for Xavier in scoring with 12.4 points per game and also checks in at number two on the team in player efficiency rating (21.5). He wears his emotions on his sleeve when he plays.
Fleeting Thoughts From Villanova Game
Blue Demon head coach Dave Leitao (who is now 0-5 all-time against Villanova) insists that his team is close to figuring out the formula to down the Wildcats.
#DePaul HC Dave Leitao on his team's recent performances against #Villanova: "We've played them five times now, and they've been good for five games. We've got to solve that puzzle." #dpubb

— Patrick Flowers (@pflowersTLS) December 28, 2017
DePaul has an 8-11 all-time record against Xavier, but has fallen six-straight times against the Musketeers. All six of these games have been double digit losses.
Strus Proving Himself Against Great Competition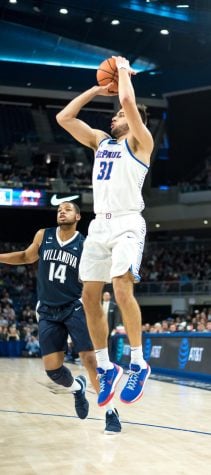 In the season opener against Notre Dame, Blue Demon junior guard Max Strus poured in 11 points, but only made three of his 13 shots from the field against elite perimeter defender Rex Pflueger. Leitao said after the game that Strus was "pressing." In the first six games of the season, he continued to "press" shooting 35.7 percent from the field.
However, Strus picked up that efficiency in the ensuing four games (48.1 percent from the field) against lesser competition, before exploding for 33 points on 11-for-19 from the field against Northwestern on Dec. 16. Against Villanova on Wednesday, Strus poured in 20 points on 7-for-15 from the field against Mikal Bridges, a lottery bound '3-and-D' NBA prospect who has a 7-foot wingspan, and a Villanova defense that is the 32nd most efficient in the country.
Both games were coming out parties for a player whose star continues to shine brighter and brighter and who has now proven that he can put up big numbers against elite competition.
Defender of the Three
Villanova poured in 15 3-point field goals against DePaul on Wednesday on 31 attempts (48.4 percent).
Absorbing an onslaught of 3-point field goals has been a common thread for the Blue Demons this season. Opponents have shot 38.9 percent from beyond the arc which puts DePaul's 3-point defense in terms of opponent 3-point field goal percentage at 322nd in the country this season.
Xavier has three players who shoot the ball over a 40 percent clip from beyond the 3-point line (minimum two attempts per game), and whether the Blue Demons can shore up their perimeter defense could factor prominently in the result of the game Saturday.
Coming Up
What does DePaul have in store for the new year?
Simply put, a grinder of a Big East schedule. The Blue Demons kick off 2018 with a game against Georgetown on Jan. 2 before playing at St. Johns (Jan. 6), against Providence (Jan. 12), and at Marquette (Jan. 15).
The Blue Demons enter the game against Xavier on Saturday with an overall record of 7-6  and an 0-1 record in the Big East Conference.