DePaul still looking for late-game solutions in loss to Georgetown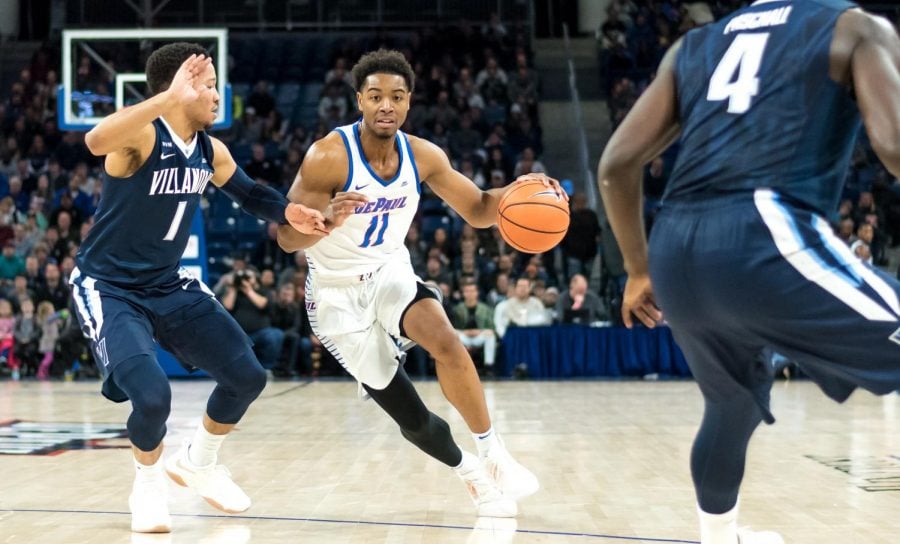 For the second straight game, the DePaul (7-8, 0-3 Big East) will feel like they let one get away with a 90-81 loss to Georgetown (11-3, 1-2 Big East) Tuesday night, their third straight loss to begin Big East play.
It was a familiar story down the stretch for the Blue Demons who cut the Georgetown lead to one with just under 10 minutes to play, but the Hoyas responded with an 11-0 run to take control and pull away for good to earn their first win of Big East play.
While new Hoyas head coach Patrick Ewing was enjoying his first Big East win, a visibly disappointed Dave Leitao cited his team needs to improve their belief in the system and fellow teammates in order to execute better down the stretch and turn some of the recent frustrating results in their favor.
"We got to have better belief in our system and belief in each other," Leitao said.
Once again the loss still featured some positives to take away including a career-high 10 assists from Eli Cain, although adjusting to the position continues to be a work in progress for him and his coach. Coach Leitao says he will remain as the primary ball handler.
"Well we got no choice obviously with Devin going down," Leitao said. "He was shooting the ball better today than he had been, he's growing in that position it's a work in progress it's not something he anticipated nor did I so it continues to be a work in progress."
Max Strus led the way with 19 points, but he was held scoreless the final 12 minutes and 45 seconds as the Blue Demons struggled to get anything going offensively. Ewing credited his team's ability to run Strus off the three-point line and force him to create for himself.
"We just played our defense, we played our normal defense," Ewing said. "The guys did an outstanding job of pressuring and running off screens, we just played our defense."
While Strus was shut out, senior forward Tre'Darius McCallum came alive with 14 second half points, to finish with 18 for the game. To McCallum's credit, he was active defensively in the first half, but struggled to get anything going offensively with just four points on two-of-six shooting.
"It just gave me a little bit of energy," McCallum said. "I've always been one to feed off my defense so I just figured if I got them on their toes early that would probably help me on the offensive end, so really just getting my confidence from defense really helped."
For DePaul to once again gain ground in a powerhouse Big East conference, it will now be about finding a way to get Strus, Cain and McCallum clicking at the same time, preferably for them down the stretch where all three have had their moments.
The Blue Demons next opportunity to pick up their first Big East win of the season will come Saturday afternoon when they travel to face St. John's who are also winless in conference play.