Student debt at DePaul surpasses Illinois average
Unrelenting tuition hikes are taking their toll
Editor's note: An earlier version of this story incorrectly stated Loyola University's rate of student indebtedness as 23 percent. In actuality, Loyola's rate of indebtedness is higher than DePaul's. The writer acknowledges and regrets this error.
An annual metrics report has revealed that more DePaul students are currently graduating with more student debt than ever before.
68 percent of the class of 2015 graduated with some form of student debt, a 6 percent increase from just four years earlier. This marks the first time in recent history that DePaul students are graduating with more debt on average than students of Illinois' other four-year colleges.
The amount of debt DePaul students are graduating with has also increased. In 2011, graduates $27,486 in debt on average. Four years later, that number has risen to $29,932.
Senior Vice President for Enrollment and Marketing David Kalsbeek urges caution when interpreting statistical averages about student borrowing because they might not tell the full story.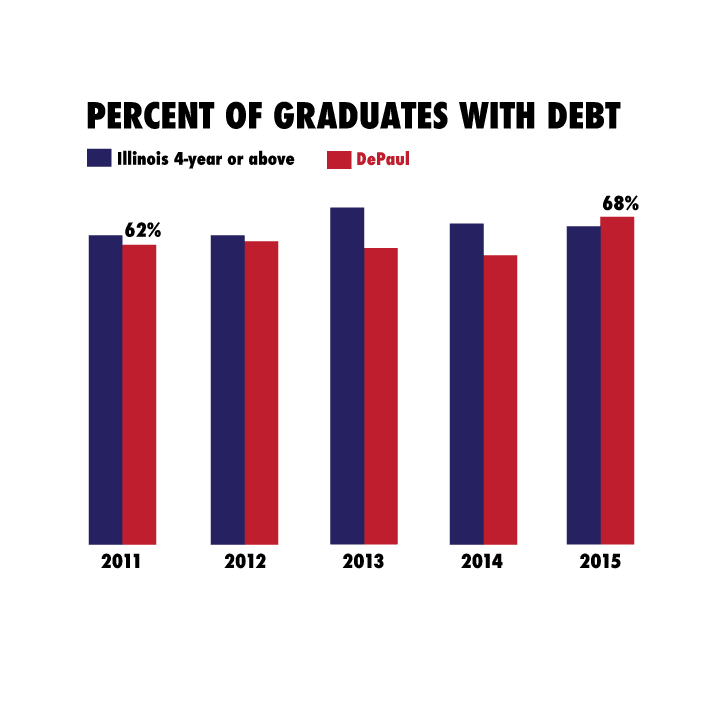 "One-third of DePaul students graduate with no debt at all," Kalsbeek said. "The average amount of borrowing varies by student circumstance, too. For example, students from families with higher incomes actually borrow more than students from lower income families."
But the fact remains that college, particularly DePaul, is becoming less and less affordable for a lot of people. Compounding the problem of rising student debt is the university's continued tuition hikes to mitigate the effects of enrollment declines in recent years.
Kalsbeek says that attending an expensive college is a "shared obligation" between government programs, the university and the student.
"Student borrowing is a natural and expected element of how students and families now pay for college," Kalsbeek said. "The real problem is when the level of debt and the financial obligations students bear upon graduation becomes excessive in light of their future earnings."
DePaul is currently working through a strategic planning process to determine a six-year plan to improve the educational value for students and correct financial issues. Curbing tuition costs and increasing enrollment will both be priorities in the plan.
Sophomore Nicholas Ogarkov isn't worried about the student debt he has incurred quite yet.
"I'm fortunate enough to have parents that are able to help me out, but I'm still taking on some debt," Ogarkov said. "Everyone knows DePaul is an expensive school when they come here, so if you don't like it you can go to (University of Illinois at Chicago)."
Other students are not as fortuitous as Ogarkov. Depaul USA, a Vincentian nonprofit that helps the homeless, estimates there are about 50 homeless students at DePaul in a given quarter. Sam Moylan, a junior finance student, said she her loans give her a nagging anxiety.
"At the beginning of every quarter I think, 'There goes another $14,000 that I'll be paying back for the rest of my life,'" Moylan said. "It's always in the back of my mind, which isn't always a bad thing. I feel like I value my education more because of it."
Cody Hounihan, program director for the advocacy group Student Debt Crisis, said the cost of higher education is ballooning at rates that are not seen in other markets.
"The rate of increase for the cost of college right now is not normal," Hounihan said. "When you compare it to the rate of inflation, the cost of food and healthcare, the rate at which the cost of college is skyrocketing is at a pace that is unmatched."
Adding to the difficulties of living with student debt is the rescindment of Obama-era student borrowing protections by Secretary of Education Betsy DeVos. She has blocked regulations on predatory for-profit colleges and the Trump administration is currently weighing whether or not to roll back loan forgiveness programs for people who work for the government for at least 10 years.
"Since this administration has taken over, I can't think of one example where a policy has been introduced for the explicit benefit of student loan borrowers," Hounihan said. "They're rolling back protections that hold (student loan) servicing companies accountable. Who are the victims of this? The students, often low-income, minority and under-represented students."